'Twas The Night Before The Big Day
Dos and don'ts for your wedding day eve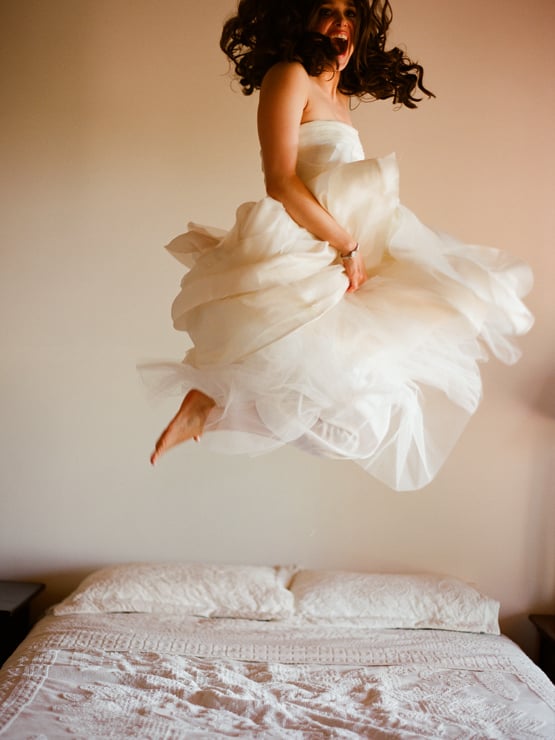 The night before your wedding can be a stressful one indeed. But, jitters aside, it can be completely exhilerating and exciting–and it should be. With every last detail in check, the day before your wedding should be one to breathe a sigh of relief, relax and relish the anticipation. At the end of the following day, if you have married the person you love, you've had the perfect wedding. Keep your focus on what matters, and if you can't shake the nerves, just follow the tips below to ensure a perfect prequel to the best day of your life.
Foodie
Skip comfort food today. No bride wants to feel bloated on the big day. Stick to healthy items and be sure to drink lots of water. Steer clear of excess alcohol. A mimosa or two will do just the trick.
Hey Hollywood
Watch your favorite romantic comedy with your bridesmaids. Seeing a happily-ever-after film will only build your excitement to start your own fairy tale. Choose one you've already seen. No need for a surprise sad ending to ruin your mood.
Shop Girl
Get in some retail therapy. Hit up the shops with your best girls and grab a cute extra for the honeymoon. Whenever you wear the item, you'll be transported back to the excitement of the day.
Girls Just Wanna Have Fun
Tonight, don't spend the night with your husband to-be. Opt for a sleepover with your ladies-in-waiting or sleep at your parents' house. Spend the night reminiscing and enjoying the company of your friends and loved ones sans fiancé. It will make it that much sweeter when you see him on the day.
Polished
Today is the day to get manicures and pedicures with the girls. Toast the occasion with a glass of champagne and enjoy an afternoon of pampering. Things to skip: facials, tanning (spray or outdoors), and waxing. Don't risk redness or skin irritation for the big day.
Practice Run
Rehearse wedding vows one last time. Though you should have them down pat by today, reciting them one last time to a friend or family member will keep them fresh in your mind.
Sleeping Beauty
Tomorrow will be an incredibly long day, and you'll be on your feet for the majority of it. Set an early bedtime and stick to it. Try a relaxing peppermint tea to help ease you into slumber. Dab under eyes with an antioxidant cream to look fresh in the morning.
Facebook Hiatus
Log off Twitter and Facebook for the day. Give guests an element of surprise for the main event. You can update your social media outlets after the honeymoon. Keep your focus on friends, family and the one you love, and stay unplugged. You'll be surprised just how relaxing it is.
Photo: Snippet & Ink