Twas The Weekend Before Christmas
...and all through the city there are still awesome events going on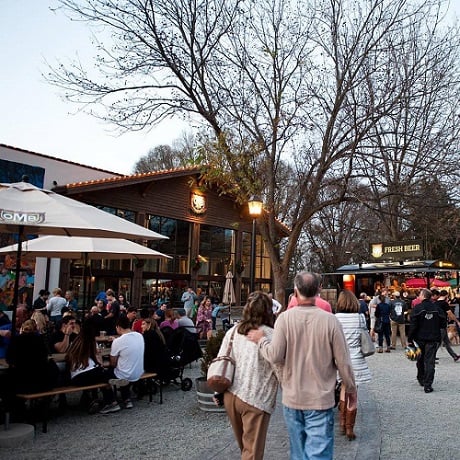 Ah, the last weekend before Christmas is upon us; the last weekend to savor a bit of quiet before the onslaught of cookies, new toys, those family members you only see once a year for a reason, and twinkling lights messing with our sleep patterns come to roost. Of course, it's a joyous time – don't get us wrong. This week and weekend we're celebrating with some festive events around Charlotte.
Cocoa Lab: There are plenty of new holiday-themed classes popping up on the Cocoa Lab calendar. Reserve your spot for the Lab's classes today, Thursday, December 17, and Friday, December 18, both from 6:45 to 9:30 p.m. Today's class will focus on traditional holiday cookies like the cherry pecan bar, cinnamon hot chocolate, and chocolate walnut cookies. Friday's class will let guests hone in on the art of gingerbread house construction. Both classes are $90 per person. Space is very limited, so reserve your spot now by calling 704-972-4397.
_________________
Olde Mecklenburg Brewery: The Christmas market continues this weekend: tomorrow, Friday, December 18, and Saturday, December 19. Head to OMB for the 6th Annual Weihnachtsmarket – the brewery's version of a traditional, German-inspired "Christmas Market" with open-air booths selling gifts and baked goods from local Charlotte vendors. Winter seasonal beers will be on tap, too.
_________________
The Ballantyne Hotel: Head down to Ballantyne for the ever-popular Gingerbread Lane, featuring masterpieces created by gingerbread artists – all competing for top honors. Visit the hotel through Sunday, December 27, to sneak a peek at the tasty creations. Attendees may vote on their favorite entries with $1 minimum donation per vote. All proceeds will benefit Levine Children's Hospital. Santa may stop by, too! Additionally, the hotel is hosting holiday afternoon tea in the lobby throughout December. The event includes a variety of seasonal loose leaf tea blends and a selection of savory tea sandwiches, traditional pastries and confections, and holiday treats. Tea is served Wednesday through Sunday until December 27 from 1 to 5 p.m. Cost is $36 for adults and $18 for junior patrons (plus tax and gratuity). A champagne tea is available for $45 per person. Call 704-248-4100 for reservations, which are required for the event.
_________________
Greek Pastry Sale: The Ladies Philoptochos Society of St. Nektarios Greek Orthodox Church will hold its 2nd annual Greek Pastry Sale on Saturdays during the holiday season across from the farmer's market in downtown Matthews. Keep an eye out for the white tent, then stop by for sweet Mediterranean desserts. Baklava is $12 for 6 pieces; Melomakarona is $8 for 6 pieces; Kourambethes is $8 for 6 pieces; Koulourakia is $7 for 12 pieces; and assorted boxes are also available.
_________________
Heirloom: Bar Manager Kelly Minton will host a cocktail class at the restaurant on Saturday, December 19, at 1 p.m. Cost is $50 per guest or $90 per couple and will include small bites and cocktails and cocktails made with exclusively NC products. Muddy River Rum's Caroline and Robby will also be on hand as guest speakers. For more information or to reserve spots in the class, call 704-595-7710 or book online at www.heirloomrestaurantnc.com
If this week is proving to be a bit hectic, don't forget to check out our roundup of restaurants hosting Christmas Eve and/or Christmas day breakfasts, lunches, and dinners here!