Tweet This: You're Fired
If you're not careful, your social media presence can cost you your job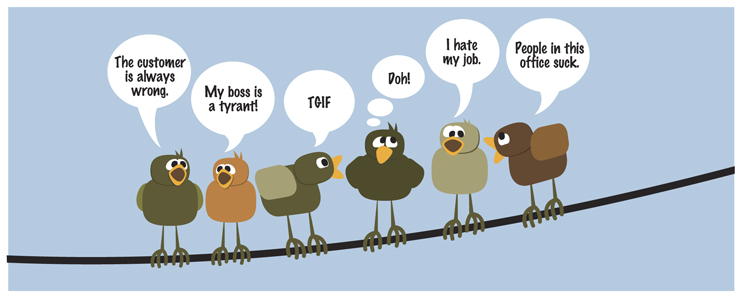 He's been out of work for more than a year, is about to lose his house, and his wife is divorcing him. Gregor Smith has a lot to complain about, but he won't be doing that on Twitter anytime soon. Smith blames the social media tool for his life spiraling out of control. The former Web designer says he was simply venting about loud coworkers when he tweeted, "It's really noisy in here. If I don't leave for 5 minutes I'm gonna choke a bit@#!" Days later, his bosses created a social media policy. But it wasn't until months passed, Smith says, that they found out about the tweet and canned him that same day. "I only mentioned where I worked once on Twitter but they went back through all my tweets," he says.
He's not the only one who faced the consequences of venting via social media. In May, a Facebook posting was responsible for the firing of a waitress at Brixx, who complained about customers on her personal page.
With the increase of Twitter's popularity, businesses like Smith's former employer have been forced to enact social media policies. The city of Charlotte recently adopted rules that encourage employees to be active on the Web and Twitter but also explicitly detail reasons an employee could be fired for doing so. It's a similar scenario at Wells Fargo, Central Piedmont Community College, and Carolinas Healthcare System, where the policy at the hospitals states, "Remember, your social media reflects on you … and the organization" and suggests workers always write in the first person.
Smith, who admits he is still very bitter, offers others some advice: "Make your account private and don't mention anything work related."