Twerking Yoga? Yes, It's a Thing.
Meet the woman behind Chakti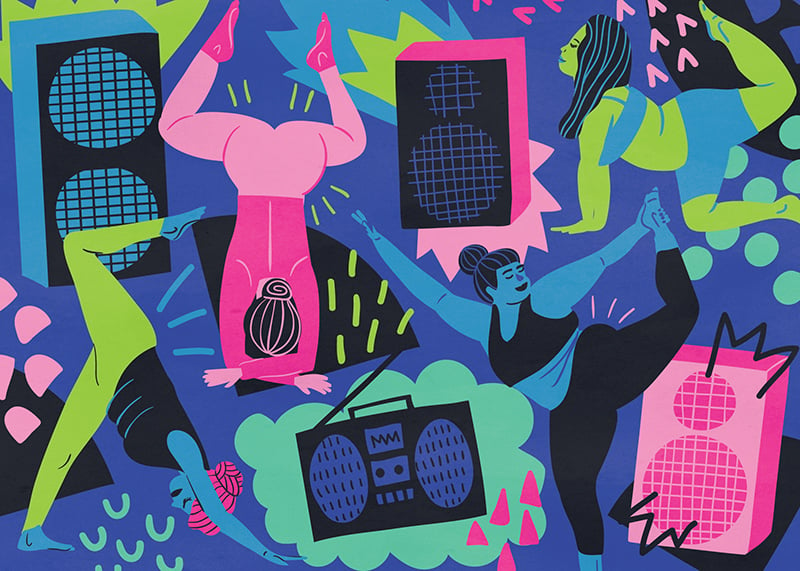 THE LIGHTS ARE LOW. The music is loud and heavy on the bass. You do some downward-facing dogs and some chair poses. And you shake your butt. A lot.
It has a name, this twerking yoga. It's called Chakti—a reference to the chakras, or energy centers of the body, and Shakti, the Hindu goddess of power. From the outside looking in, it may seem like a bastardized version of your typical yoga class, replacing all the ohms and stillness with hip hop and cardio.
But Lauren McAbee—the 36-year-old yoga instructor, holistic life coach, and mother of two who created Chakti—believes firmly that your standard yoga class isn't the only path to Zen. "We're meant to move this way. It's part of who we are," McAbee says. "My hope is, when people come to the class, they leave feeling empowered and balanced."
Those people (mostly women, but men, too) do come. McAbee and Chakti have attracted a diverse following in Charlotte largely through word of mouth. Move Studio, the Plaza Midwood dance and yoga studio where McAbee teaches, doesn't even list Chakti on the schedule. You've got to know about it to find it, and yet almost every class is packed with 40 or so people, who find their way there through friends, or friends of friends, or the almighty Instagram. They are financial advisors and small business owners, sales reps and single moms, 20-somethings and 50-somethings.
And for 60 minutes, three times a week, McAbee is their common thread.
When she arrives at the studio before each class, she's an explosion of color and glitter. Her hair is blond, sometimes with touches of pink, and a henna-like tattoo covers all of her left arm. She's not waifish or covered in Lululemon. She's strong—and barely covered at all. Her Chakti uniform consists of boy shorts and a bikini top.
She hauls into the studio a hulking speaker nearly half her size. The speakers that are already there, or in any studio where she's taught, are never big enough or powerful enough for her taste. "In a perfect world, I would have four of those in there," she says. "Not to hurt people's ears, but just to feel the vibration. How cool would it be if you could feel the music coming from the floor?"
The music she plays isn't just loud; it's dirty. In most cases, explicit. As she's tested Chakti out at different studios around town, she's had complaints: people who suggest she lower the volume and tone down the language. McAbee consistently, and politely, declines. "I could never teach at the Y," she explains. "If I want to give this (experience), I can't censor it at all."
McAbee spends the first few minutes of class hugging her regulars and introducing herself to newcomers. Then she makes her way to her mat at the front of the room, a barren space with wood floors and a wall of mirrors. The lights are turned down low. Participants are in child's pose, and McAbee reminds everyone that Chakti is a safe space. No judgment. This is your chance to let loose, get wild, free up the tension in your body.
"As women, we hold a lot of emotions in our hips. So that (twerking) movement is very freeing," she says. "I'll have people literally in savasana just bawl. Obviously you've worked something loose that just wants to get out."
One woman who came to class recently confided in McAbee that she had been raped in high school. As a result, she said she had never tapped into her femininity and her sexuality until she came to Chakti. "That's seriously the fuel for me," McAbee says. "The movement just makes you proud of who you are."
And it can become an addiction.
Kayla Frank, 30, started coming to Chakti in April of 2016, a month before her wedding. She was athletic—a former cheerleader and dancer turned "gym rat." She would do yoga in the driveway of her house in Plaza Midwood, and her neighbor took notice. She insisted Frank try Chakti. It has since become such a vital part of her life that she's planned vacations and work travel around the Chakti schedule, so she rarely misses a class. It's also inspired her to make big changes in her life to strike a better work-life balance, including changing jobs since she started the practice.
"As women, we forget that it's OK to spend time on ourselves. We forget that it's OK to be proud of our bodies," Frank says. "Then there's that moment when you're like, 'The lights are off in here. No one is looking at me. I can be myself.' It's so freeing to know that you can be in there and be you."
When class comes to a close, you're drenched in sweat. You lay down flat on your back, your arms and legs spread wide in final resting pose, and listen to McAbee tell you how amazing you are. She sprays essential oils into the air—something bright and citrusy. You breathe them in. Then class ends, and you find yourself signing up for 10 more.
MARY JOHNSON is a writer based in Charlotte. Reach her at mary@bnwcontent.com.