Two Charlotte Chefs Face Off; Charlotte Magazine Editor Kristen Wile Emcees
Chef Nicolas Daniels of Loft & Cellar will try to redeem himself against Stoke Executive Chef Chris Coleman in this Western-style showdown of six courses. Guests choose the winner.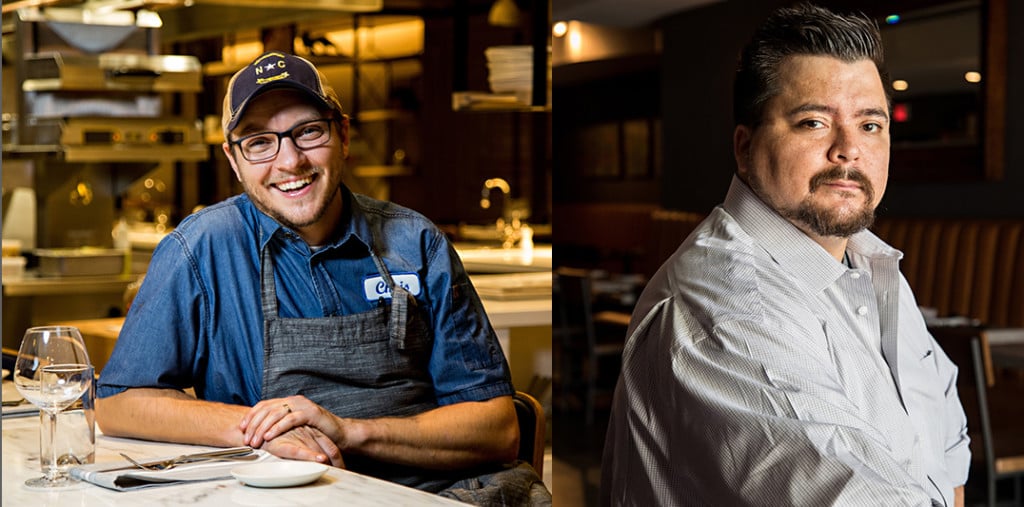 IN CASE you missed it, Chef Nicolas Daniels of Loft & Cellar and Stoke Executive Chef Chris Coleman faced off last month at Stoke in a food competition akin to those showdowns you've seen in Wild West movies. Chef Coleman took the win last time around, but tomorrow, November 16, Chef Daniels will be back for redemption on his home turf, Loft & Cellar.
The name of the game is Ten Paces, and it goes like this: The two chefs crowd-sourced a menu, which has just been revealed to Charlotte magazine today—the menu will feature three Southern dishes and three International ones. Chefs Daniels and Coleman will interpret each dish (there are six courses) and prepare each one to the best of their abilities. Diners can test their foodie chops by buying a ticket for $85 to judge both chefs' versions in tasting-menu style, which means the guests have full power in deciding who wins the second round of this event. It also means guests will technically get 12 courses of delicious dishes.
This magazine's editor and food editor, Kristen Wile, will be emceeing the event.
The two chefs will have the same exact ingredients to work with, and the culinary expert to win the most courses will take the overall win and bragging rights. In the event of a tie, Coleman and Daniels will resort to a karaoke battle to declare a winner.
Tomorrow's Menu for Ten Paces: Round Two
First course:
Yakitori
Second course:
Spoonbread
Third course:
Singapore Chile Crab
Fourth course:
Chicken and Dumplings
Fifth course:
Paella
Sixth course:
Chicken Fried Steak
Tickets for Ten Paces are $85 and can be purchased here. There will be a pre-showdown cocktail reception at 6:30 p.m., and the dinner will begin at 7:30 p.m. Loft & Cellar is located at 305 W 4th St., and you can head here for more information.