Two local 2015 festival tickets now on sale: Duckworth's Cask and N.C. Brewers and Music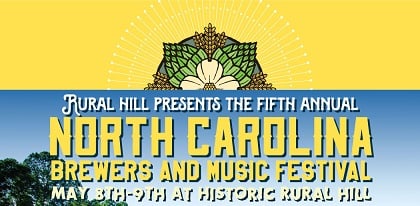 It's cold right now, but spring is on the horizon. And that means craft beer festival time. Here are two recently announced events to keep on your radar:
–We're about a month away from Charlotte Craft Beer Week, and one of the must-attend events is Duckworth's annual Cask Festival, held at the Park Road location. This year's festival will take place Saturday, March 21 from 1 p.m. to 5 p.m. You'll get a special tasting glass and the chance to try casks of rare beers from seven different breweries, and then vote on your favorite. This year's lineup features Birdsong (last year's Cask Festival winner), New Belgium, NoDa (the 2013 winner), Olde Hickory, Stone, Terrapin and Wicked Weed.
Beers have yet to be announced but trust me, they'll all be great. You can get your ticket, which is $25, by visiting Duckworth's or calling (704) 527-5783.
–As I'll say every year, the North Carolina Brewers and Music Festival is one of the most underrated events of the season. A ton of great craft beer, excellent music and the opportunity to camp out (saving yourself cab money) … what more could you ask for?
This year's NCBMF will take place May 8-9, once again at Rural Hill in Huntersville. To date, there are only 10 breweries confirmed (among them Birdsong, D9 and Triple C) but with the event just being announced recently, you can expect that number to rise dramatically over the next couple months. (Past NCBMFs have averaged around 30-35 total breweries, with many local and regional.)
The festival headliners for this year are Sister Sparrow and the Dirty Birds (who rocked Rural Hill a couple of years ago during an afternoon set) and Steep Canyon Rangers. Also performing are Dead 27s, Brushfire Stankgrass, Town Mountain and Sol Driven Train.
Last year marked the first time the festival was extended to two days and the response was so good, the NCBMF is doing it again. The campground will open Friday at 3 and there will be a campground jam that night featuring Edward David Anderson and Yarn.
Festival organizers have extended early-bird prices until this Saturday, February 21. Right now, you can get an all-day tasting ticket for $36 (there is also a $3.11 fee). After Saturday, prices will go up to $50. If you're going just for the music and no beer, there's a $26 ticket ($2.66 fee) offered.
For those camping, the cost is $18 ($2.30 fee) for one night or $38 ($3.20) for two. It should be noted that price is per tent, not per person. RV reserved tickets are $35 ($3.07 fee) for one night or $70 ($4.64) for two.
Click here for the direct link to purchase tickets.