Two Stories, Two Protests, and One Restless City
A night after the fatal shooting of Keith Scott, protesters again gathered in uptown Charlotte, only this time, one of them is shot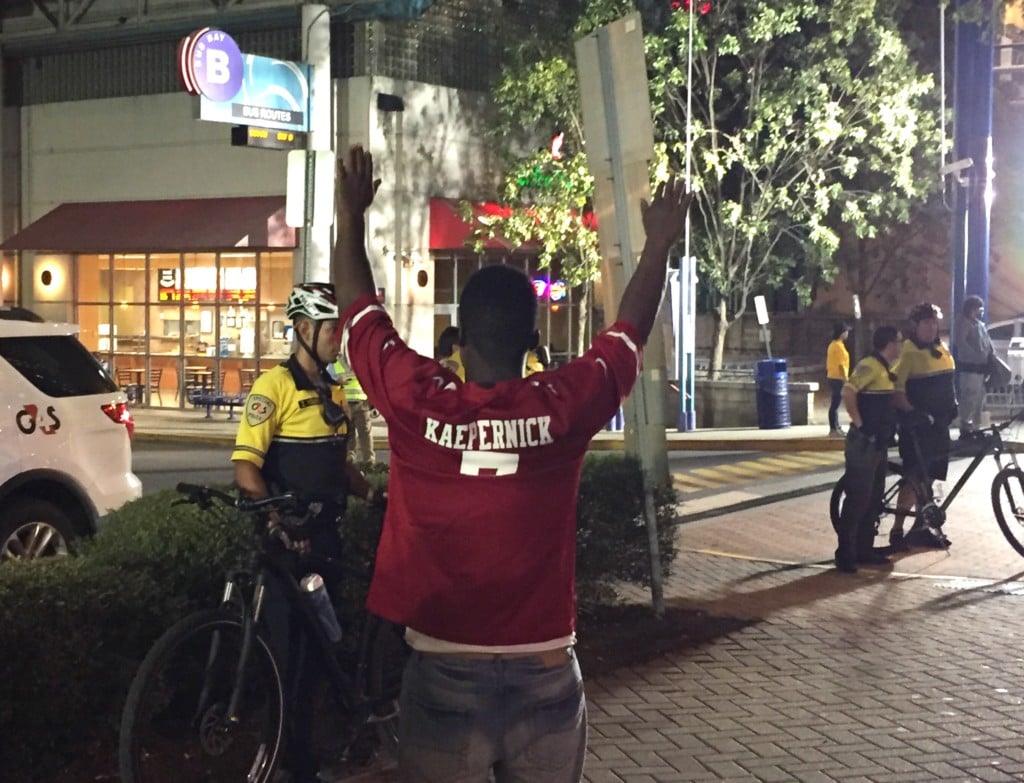 ​(Top) People hang signs at the EpiCentre, just before the rally moves back onto the street, where someone threw a trashcan through the window of City Smoke (bottom).
EVEN IN THE PEACEFUL PART of Wednesday evening, as ministers and parents and kids filled Marshall Park and talked of coming together, the sound of something else circled them. It was odd at first, then a bit unsettling, and it came during the familiar call and response:
"Hands up!" someone shouted into a megaphone.
"Don't shoot!" the ministers and parents and children responded.
But on a breezy evening when the clouds raced through a red sky over Charlotte, another response from a few in the back:
"Hands up!" the people with the megaphone said.
"Shoot back!"
They'd all gathered here at around 7 p.m., a little more than 27 hours after a black Charlotte-Mecklenburg Police officer named Brentley Vinson shot and killed a black man named Keith Lamont Scott outside an ordinary apartment complex in the University City area. And 26 hours after the police department said Scott had a gun. And about 25½ hours after family members were on social media and local television saying that wasn't true, that he was just reading a book. And 24 hours after the first protests began. And 20 or so hours after a dozen officers were hurt by bricks and other flying objects along Old Concord Road. And 15 hours after protesters moved onto Interstate 85 and broke into tractor-trailers and started a fire in the middle of one of the busiest highways in the South. And 10 hours after the police chief and mayor stood in front of cameras uptown to say there was no book, only a gun, and please, keep the peace. And less than an hour after Scott's wife released a statement telling protesters, "Please do not hurt people or members of law enforcement, damage property or take things that don't belong to you."
After all of those hours and all those messages, the peaceful demonstration in Marshall Park lasted all of 25 minutes. The organizers began to move east, hoping to lead a march along McDowell Street around the courthouse asking for justice, when another half of the crowd began moving west, one of the people at the front of this group saying, "Ain't shit happening here. Let's go. Let's go!"
It was now 7:30 p.m., at the height of a moment in Charlotte time when two different stories about the same police shooting were tearing this city apart, and the protesters were going in opposite directions—one group on McDowell Street and another up East Third Street. More broadly, at a moment in Charlotte time when the re-segregation of schools and social mobility problems were supposed to be the biggest things we addressed this year, another divide dominated the night—the divide between black people and people of any color who wear a police uniform.
The group that went west drew in other people. Local business leaders joined. Arts leaders. The owner of a place called the Common Market, which shut down two months ago. People said, "Excuse me," when they bumped into each other. Young families joined. "They have school tomorrow," one woman with two kids tugging at her hands said at the corner of Trade and Tryon, where others sat down and joined hands. People smiled and laughed with each other.
Still, another sound rimmed the crowd. "Fuck you," a woman shouted in the face of an officer in standard uniform. "What you gonna do?" a young man in a Colin Kaepernick jersey shouted toward officers on bikes, his palms in the air.
They went back and forth along Trade Street before arriving for a second time at the EpiCentre, the three-story, open-air complex of a million flashing lights and dance music on weekend nights. A place where, just this past weekend, a club was accused of denying entrance to black patrons. The protesters climbed the stairs, one floor and then another, laughing and chanting. Then, a new sound, this time one of something breaking, maybe a window or a bottle. "Move, move, move," someone shouted. Then, with people in the courtyard below, a water bottle fell from above, tumbling from the sky around the neon Howl at the Moon sign.
Thud, it landed.
With those two sounds, the crowd left the EpiCentre and moved again toward the intersection of College and Trade Streets, a block from the crossroads where Charlotte was founded, near where George Washington once called our city a "trifling place."
On this trip up this old street, they were followed by police in riot gear. Cameras flew out of pockets and people moved toward the shields for pictures, for the next viral Snap, even for selfies with the armored officers. Something happened in that moment that caused the police in riot gear to change their step, sending them marching through the crowd and to the bottom-floor door of the Omni Charlotte, a four-star hotel that hosts, among other things, this magazine's annual Charlottean of the Year awards ceremony. Just a few weeks ago, the Omni released initial plans for a major renovation that would create an entirely new street front with shops and restaurants along the sidewalk, where now there's only this valet parking entrance that leads to an elevator.
The officers in riot gear entered the hotel and the protesters began to bang on the glass and shove on the doors. At about 8:25 p.m., CMPD deployed tear gas for the second time in as many days. People ran and coughed and screamed.
Then, at about 8:30 p.m., a bang. A gunshot. Or, was it? People ducked and turned and ran. Someone yelled, "No, no, it was just a noisemaker." But others who were closer said other things. "Jesus, Jesus, they shot him," one woman yelled. "They done killed him."
A man lay on the sidewalk near the bus stop, bleeding. Somehow he was moved to a spot near the hotel entrance.
Around the corner, at the College Street exit of the hotel's valet drop area, a group of maybe a half-dozen people gathered and looked back toward the hotel's door. Most had their hands in front of their mouths.
"Oh my god, they shot him."
A man was on the ground with five medics kneeling over him, pumping up and down on his chest. A CMPD cruiser pulled into College Street near the intersection with East 4th. An officer spoke through the cruiser's speaker, "Someone has been shot. Clear the area. We cannot guarantee your safety."
Firefighters carried the victim to a waiting vehicle, with CMPD using flash-bangs and tear gas to clear the area. A news photographer who served in the military in Fallujah 12 years ago walked down Fourth Street holding his camera with trembling hands.
"They shot him," the photographer's voice cracked. "I gotta file. He's dead. I think he's dead. I don't know if he's dead."
At 9:33 p.m., the City of Charlotte tweeted, "ALERT: Fatal shot uptown was civilian on civilian. @CMPD did not fire shot."
For anyone who saw that, or saw reports of that, it was a lot to understand at once: The man "they shot" was dead.
And "they" wasn't police.
This has been a week, though, when the first report always seems to lead to another, conflicting report. Remember six days and a lifetime ago, when the biggest story here was that the former mayor had been released from prison after serving time for corruption? Was he home, or wasn't he? the news media wondered all day. Or even Monday, when HB2 was the only story, and the state had offered a potential deal to the city, a deal that basically went like this: Repeal your nondiscrimination ordinance, and we'll repeal our HB2 law? The city didn't even bring that up at a public meeting, and so the argument went on: Was it the city's fault, or the state's fault?
That was Monday. This was Wednesday.
An hour and nine minutes after the first tweet came another from the City of Charlotte: "CORRECTION UPDATE: Civilian who suffered gunshot wound during protests is on life support, critical condition, not deceased."
It was a hell of a correction.
As was what happened next, on social media, where people who claimed to be at the scene said they had another story about the man who'd been shot. They said they'd seen police shoot him; one said they'd done it with a rubber bullet. The city maintained that it was a civilian on civilian shooting throughout the night. The Daily Beast ran a story from a man who claimed to be there that said the same.
And in those minutes around the midnight that bridged Wednesday and Thursday, we again were left with two stories to believe, and very little in the middle. A book or a gun? A rubber bullet or a shot from a civilian?
By that point, though, protesters were breaking into the Hornets team store and stealing merchandise and blocking traffic on the busy Interstate 277 loop that circles center city, and all these images and all these stories made it clear that at a moment in Charlotte time when we've lost the NBA All-Star game and the ACC Championship and PayPal and the ability to even take a damn boat ride at a manmade whitewater center, the two stories that actually define us now are those that are hard to believe, and those that are just plain unbelievable.
*Adam Rhew contributed to this story.
Michael Graff is editor of this magazine. He can be reached at michael.graff@charlottemagazine.com.