Two Visions of a Growing Charlotte
Does a completed I-485 represent an outdated model for cities?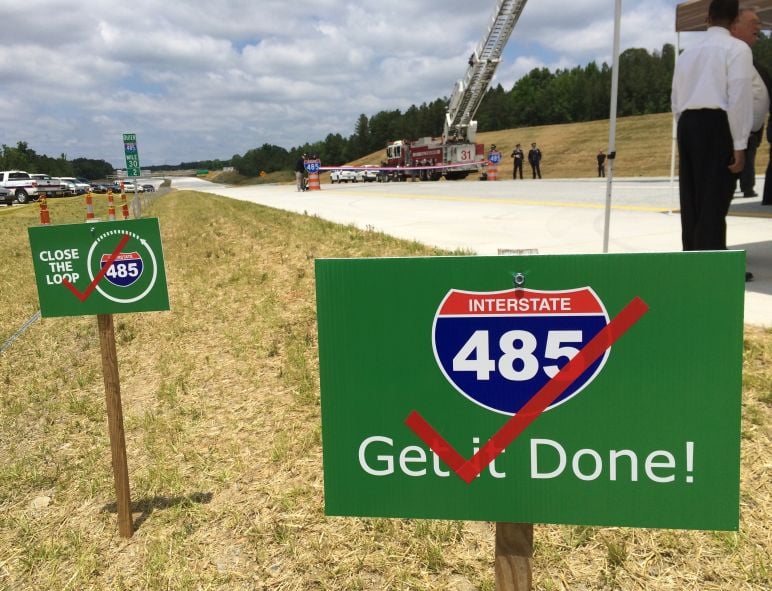 Here's Darlene Heater, the executive director of University City Partners. More important for the purposes of this story, she's an 18-year resident of the Highland Creek community in University City, living a little more than a mile north of the new, 5.7-mile segment of Interstate 485.
"Today, my husband drove down Mallard Creek Church Road, which is generally bumper to bumper until 6:30 or 7 in the evening," Heater told me Friday, about five hours after Gov. Pat McCrory drove a NASCAR Toyota Camry through a ribbon to commemorate the new highway. "He didn't have to stop once. And this was at 5:22. At peak rush on a Friday."
Heater had more to say as a professional representing a group that oversees the economic development of University City—about the new highway opening up 950 undeveloped acres in the area, improved drive times to and from UNC Charlotte, etc. But really, nothing beat the sweet, visceral relief of open road once choked with traffic. "We thought it'd take a few weeks to realize the benefits," she told me, "but it looks like it may be sooner than that."
Here's Tom Low, an urban planner, leader of Civic By Design and Charlotte's leading proselytizer for "smart growth"—eschewing big highways that attract big development in favor of carefully planned, discrete, urban villages people can navigate on foot or by bicycle. When the subject turns to the newly completed I-485 outer loop, his imagination turns on.
"What if the 67-mile, 34-interchange model had been like Baxter [Village] in Fort Mill, S.C., which is doing extremely well?" Low told me this morning. It all could have been done with one-third to two-thirds of the infrastructure at one-third to two-thirds of the cost."
The cost, incidentally, was $231.7 million and 27 long years since construction began. During those 27 years, urban planners began to think in new ways about cities and what they should look like.
For decades, planners assumed that urban sprawl was a natural, healthy thing. Cities were made to expand, and new roads were the blood vessels that carried people and their cars out to undeveloped, freshly valuable land. That's changed. The latest generation of planners place their energy and attention largely on city centers and alternatives to the car—bikes, buses, light rail, shoe leather.
So it's an odd coincidence that as Charlotte embraces much of the new thinking by developing its urban core, investing in its light rail system and new urban parks, it's lauding an urban vision that Low, among other planners, consider woefully obsolete. There's a price to pay for what he calls "autocentrism": too-expensive roads that disrupt the environment, lead to "placeless" subdivisions that recessions can render worthless, and separate classes of people—and people themselves—from each other.
In any case, Charlotte is willing, even eager, to live with both visions. We'll see over the next 27 years or so which one was better, or whether Charlotte can incorporate both into a future that's far from perfect but somehow works. Over the years, that's something we've gotten pretty good at.