Two Weekends of the Southern Spring Home & Garden Show
In its 54th year, the show will fill six days with ideas for your home, garden, and lifestyle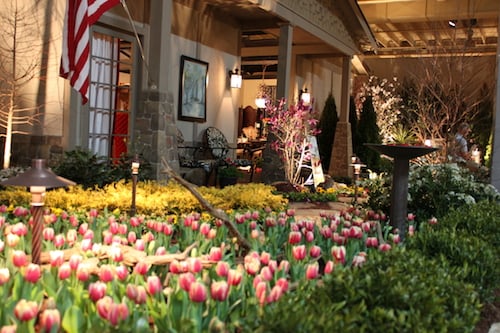 For the first time in its 54-year history, the Southern Spring Home & Garden Show will span two weekends. The show opens this Friday at The Park Expo and Conference Center on Independence Boulevard here in Charlotte.
The two-weekend (six-day) format is designed to give people more time to see the show and give die-hard attendees a chance to see it all twice. The exhibitors will be the same for both weekends, but the special guests, who give presentations and demonstrations throughout the show, will be different.
"We're so busy in our daily lives that we get involved in all our commitments and then it's Sunday afternoon and we had plans to go and we're disappointed," says Mardee Woodward, executive show manager, of the decision to expand to two weekends.
This year's show theme—Better Living: Home. Garden. Life.—also addresses many common issues and desires in today's households.
"When you talk to most people, their conversation almost always circles around to everyone wants to make better choices, have a garden, a comfortable living space, eat healthier," Woodward says.
The show introduced a health component for the first time this year. The Highway to Health Fitness Stage will include presentations about encouraging kids and adults to be more physically active, building confidence, and making healthy grocery-store choices.
On the garden side, an exhibit of 20 gardens, sponsored by Belgard Hardscapes, will provide inspiration for outdoor living. The gardeners started building the exhibit last week. Tractor-trailers arrived with bulbs. Dump trucks hauled in soil and mulch. This year, to encourage being good stewards of the earth, each display garden will contain a sustainable element and a repurposed item.
"One garden has half of a Volkswagen," Woodward says. "It's really cool."
After the first week, the show will donate the bulbs to the city of Charlotte to be planted in parks and schoolyard gardens. New bulbs will arrive at the show for the second weekend.
The show spans all income levels, styles, and stages of life. It provides encouragement for first-time home decorators and beginning gardeners and cooks, and rejuvenation for long-time homeowners and gardeners who've grown tired of planting the same things year after year.
"We allow pictures," Woodward says. "We encourage people to bring house plans, cameras, smart phones."
In addition to the more than 350 exhibitors and full slate of speakers, the show has special events and deals planned throughout the weekends. This Friday, Feb. 21 is the Celebration of Women luncheon from 12:30 p.m. to 2 p.m. The luncheon costs $20, including show admission, and requires preregistration. The private lunch and accompanying program will focus on gardening.
One of the most popular stages at the show is the Cooking Stage. Chefs from local restaurants, such as Block & Grinder and Passion 8 Bistro, will share their recipes. Also food related, Friday evening will include a chocolate tasting.
For a full lineup of exhibitors, speakers, hours, and specials, click here. Tickets for the show are $10 at the door, or you can purchase them for a discounted price by clicking here.