TyberPalooza, Grease It Up Party, Toga Party, Condom Couture and More, Feb. 25 to Feb. 28
This weekend has an overwhelming amount of parties and social events from which to choose. Whether you're spending your time at CIAA-themed parties or at the annual TyberPalooza or elsewhere, you've got plenty of options this weekend.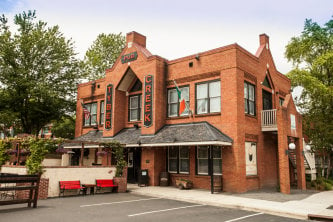 We take a lot of pride in compiling the best social events in Charlotte for you each week. We have experience attending the best and most fun events the city has to offer, so we know what's worth checking out and what's not. But this weekend, we were overwhelmed with the number of incredible parties and social events in store for the Queen City. Because of that, we've also created an entire separate compilation of your jam-packed weekend of Central Intercollegiate Athletic Association (CIAA) events here. We've included a few other CIAA-themed parties here as well, but take your pick this weekend, Charlotte. You've got a lot of options. See y'all out there!
Thursday, Feb. 25
The Exclusive Cigar Lounge
Kick back to kick off tournament weekend. There will be complimentary craft beers and specialty cigars and wine on hand at this event to get CIAA weekend off to a great start. DJ Phillingood will provide the music. Tickets are $10 online if you act quickly. The event is from 4 p.m. until 9 p.m. at Charlotte Cigar Club, 105 E. Morehead St. Buy your tickets here.
Welcome to the City Party
Sports One helps you kick off CIAA weekend with this welcome party. This party, from 6 p.m. until 2 a.m. features three DJs, so the music won't stop at all tonight. Tickets are $20, and you can buy them here. Sports One is at 521 N. College St.
Friday, Feb. 26
Grease it Up Party
If you haven't gotten enough of your Rydell High fix from "Grease Live," Mona's Lounge is throwing a "Grease"-themed party. Come dressed as Danny, Rizzo or any of your favorite characters from the classic. The free party starts at 9, and DJ BOB will spin the beats tonight. Mona's is a trek – 138 Village View Drive in Mooresville – but did we mention it's a "Grease"-themed party?
TyberPalooza
Tyber Creek Pub's annual two-day festival is back this weekend. Friday night hosts the pub's annual Flip Cup tournament with $200 in prizes up for grabs. Registration for the tournament starts at 7 p.m., and the competition begins at 8 p.m. A live band and DJ take the stage next at 8:30 p.m. and 11 p.m., respectively. Buy a weekend pass for $10 here.
Sixth Annual All-Black Affair
This annual glam jam features three DJs and free entry with an RSVP before 11 p.m. After that, admission is $25. All-black attire, obviously, is requested. Vida, 210 E. Trade St., hosts this party from 9:30 p.m. until 2:30 a.m. Buy tickets here.
Saturday, Feb. 27
Third Annual Toga Party
North Mecklenburg County is really bringing it's A-game with the themed parties this weekend. Bring out your togas (because we all just have those somewhere around our homes, right?) and get ready to get down. The free toga party starts at 9 p.m. at On The Roxx, 19712 One Norman Blvd., in Cornelius.
TyberPalooza Part Two
The annual two-day fest features a cornhole tournament today with more prizes up for grabs. Registration for the tournament today costs $20, and you're guaranteed at least three games. Registration begins at noon, the competition begins at 1 p.m., followed by craft beer tasting from 6 p.m. until 9 p.m. ($10 extra) and two live music acts at 9 p.m. and 11 p.m. Buy tickets here.
Condom Couture
Here's a fashion show that's sure to be, well, sexy. Planned Parenthood of the South Atlantic's annual fashion show features local designers showcasing their fashionable pieces made with, you guessed it, condoms. Aside from the latex-laced looks, there will be an auction, live music, two DJs, fire-twirlers, stilt-walkers and go-go dancers. Tickets are $35, and you can RSVP here. The event is from 8 p.m. until midnight at the Neighborhood Theatre, 511 E. 36th St.
Celebrate!
This grown-up event at a very kid-friendly place will leave you wondering why you don't spend more time here. Hosted at ImaginOn, this gala is a fundraiser for Children's Theatre of Charlotte. The evening features an open bar, heavy appetizers, both a live and silent auction and live music. Tickets are $125, but nearly two-thirds of that price is tax-deductible. The party starts at 7 p.m. at 300 E. Seventh St. Get your tickets here, you big kid, you.
Sunday, Feb. 28
The Grand Finale: Hangover Brunch Day Party
Close out your CIAA weekend right with a brunch buffet from noon until 4 p.m. DJ ExpensiveLife provides the music, so it'll seem like your night never ended. The hangover cure is at Apostrophe Lounge, 1440 S. Tryon St. Tickets are $35. Buy them here.
Dayjavu Day Party
With three DJs, a rooftop party and free admission until 4 p.m. with an RSVP, this seems like a no-brainer. General admission after 4 p.m. is $10. Rooftop210 is at 210 E. Trade St. Buy tickets here.
Verify dates, times, prices, and other info at the web addresses listed for each event.
Be sure to bookmark www.charlottemagazine.com/Blogs/Dusk-Till-Dawn to stay plugged into Charlotte's nightlife and social scene. Click here to sign up to receive the weekly Dusk Till Dawn e-newsletter.
Want your event featured in Dusk Till Dawn? Follow me on Twitter @Jared_misner and let me know about your event, or send me an email at dusktilldawnblog@gmail.com.
Send Jared an email at DuskTillDawnblog@gmail.com, or send him a tweet @Jared_Misner.

Also by Jared Misner:

→This Weekend's Social Events
→Bowling For Books, First Friday Fort Mill, Electric Luau Party, Soulmatic Carolina Music Fest and More, Aug. 6 to Aug. 9
→The Moon Walk, Candy Fest, Silly String Party, Booze Cruise and More, July 30 to Aug. 2
→Christmas in July, More Christmas in July, National Dance Day, National Tequila Day and More, July 23 to July 26