U.S. National Whitewater Center Unveils Massive Installation, Skating Rink
Artist Meredith Connelly on crafting LIGHTS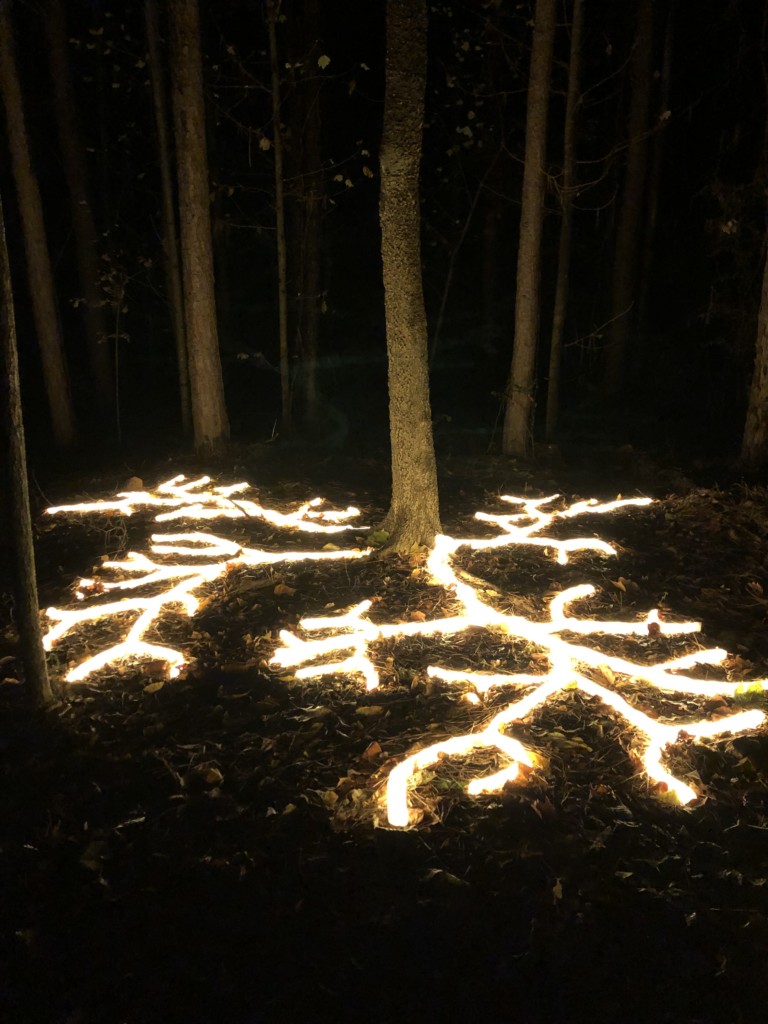 The U.S. National Whitewater Center is known for having a variety of activities, and this winter, that list grows even longer. In addition to a new skating rink, they will open Lights, a series of immersive light installations throughout a half-mile walking trail, designed and created by Meredith Connelly. Opening November 22 and on view through February, the installation is open nightly after sunset and is free to check out.
The Whitewater Center has more than 35 miles of developed trails, which see considerably less traffic in colder months. They sought to change this by creating an illuminated experience. Cooper Lambla, creative director at USNWC, said, "As an organization we are always looking for new and different ways of engaging our audience. Doing something that has a low barrier of entry in the winter months and that takes advantage of the sun going down earlier was of interest to us." The leadership began talks with Connelly last spring and after hearing her ideas, worked with her to begin making them possible.
Connelly is an installation artist who works with light. She has shown in galleries around town and at the Mint Museum in the 2018 juried exhibition MAINFRAME, which was organized by the Young Affiliates. Lights is her largest project to date.
She is now wrapping up assembly and installation for 15 different works on the site. During her research and planning stages, she became enamored with the small movements and faint sounds of the trail: birds, bugs, breaking twigs, crunching leaves, and even the faint murmur of water at the nearby rapids. When asked about how she decided what to create, she said, "When I approached it I was thinking about how I was when I hike. I don't look straight: I'm the person that stops and looks at the tiniest mushroom on the trail. That's what I want other people to do in a way, is to look at all areas of the woods."
This perspective, that there can be something special in every direction, is what guided her placement choice as well. Some of her installations are hung high in the trees, and others coat the ground below. These works are not interventions in the landscape as much as they are enhancements. "It's about accenting it and being present in it," she said.
Her well-researched materials had to be fabricated and installed in such a way that potential winter weather conditions would not become serious issues. She had to ask herself, How will ice and snow affect that material? What about tree fall? and most importantly, How much electricity needs to be routed here to power the lights? Installing art in nontraditional spaces is not for the faint of heart.
Her on-site studio is filled with common materials that she transforms into mesmerizing pieces with the flip of a power switch. Yards and yards of tube lighting are zipptied, looped and sculpted, while other plastics, outdoor fabrics, and weatherproof light strands are joined, cut, sewn and molded. For an installation artist, the scale of this project is thrilling. Connelly said, "Sometimes I think, I can't believe this is happening. This is so cool."
Lights and the new ice skating rink are now open at the site. The skating rink is 17,000 square feet, located in the Upper Pond of the Whitewater Center, with an on-ice airstream serving hot and cold beverages. While different, both of these activities fulfill Whitewater's mission. Lambla said, "Any chance we can get somebody outside and engaged is a positive for everybody."