U.S. Rep. Renee Ellmers, Apostate
Some observations on that abortion bill and the mess the N.C. congresswoman stepped in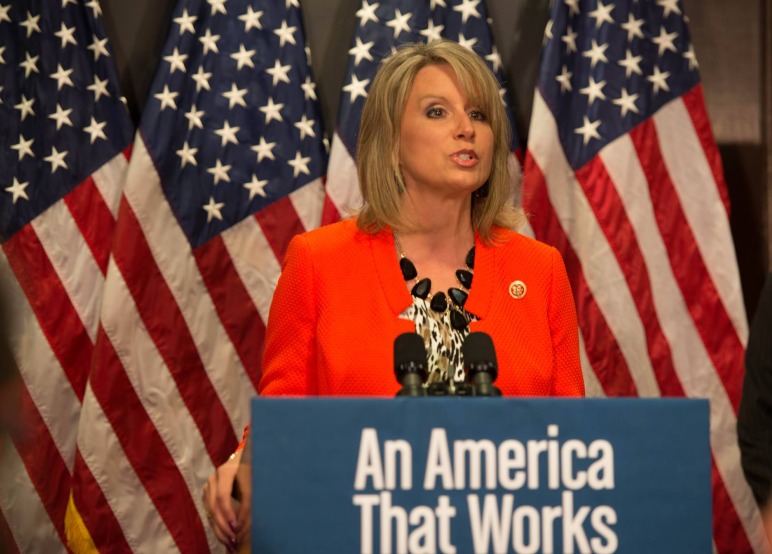 A few observations about this Republican Congressional circus fire over an abortion bill, and the large mountain of doo-doo that North Carolina's own Congresswoman Renee Ellmers stepped into:
The bill—which would have banned abortions after 20 weeks, with some exceptions—stood virtually no chance of becoming law. It was highly unlikely to win 60 votes in the Senate, and President Obama would have vetoed it even if it did.

The importance of H.R. 36 was symbolic, not practical. The new GOP-controlled Congress wanted a dunk heard 'round D.C. today to kick off the session, and they wanted to deliver a dose of feel-good to the hundreds of thousands of anti-abortion activists in Washington for the 42nd anniversary of Roe v. Wade.

As the decades pass, it's becoming clearer and clearer that Republicans' stated "respect for the rights of the unborn" is just symbolic as well, as even Ross Douthat, The New York Times' resident conservative, is starting to perceive. (Deep down, I don't think the GOP wants a full abortion ban. Legal abortion is too useful as campaign fuel.)

Of course, that cuts in more directions than one. Young people vote, too, and some of them don't necessarily like the idea of the government telling them they can't have an abortion after a certain point.

Presumably, a lot of them—and a lot of women of any age—don't like the government saying you can have an abortion after 20 weeks if you were raped, but only if you've reported the rape to the cops. That's one of the exceptions in the bill. (There's another for a minor who's pregnant from incest.)

Women who've been raped have all sorts of reasons for not reporting the crime to law enforcement. They might not want to relive it. They might not want to endure a rape kit shortly after the most traumatic experience of their lives. It might be too late. They may not want to face their rapists again, especially if the result is a dismissed case or acquittal.

Point being, it seems more than a little draconian and intrusive to force—key word there—a rape victim to report the crime to law enforcement if she's decided to have an abortion. (That is, unless you believe abortion is murder regardless, in which case the whole exceptions conversation is moot.)

Even though she didn't explain it terribly well, that was at least the stated reason why Renee Ellmers, a Republican from Dunn in Harnett County, voiced her opposition to the bill.

It's not that Ellmers opposes a post-20-week abortion ban—she thinks the reporting requirement would hurt the GOP's efforts to attract young people, who tend to vote Democratic. Her concern was over "that particular bill, and the path it was taking," she told Bloomberg. "It became more about rape and the victims of rape."

So the bill's sponsor pulled it, replacing it with another that bans federal funding of abortion—which the Hyde Amendment rendered illegal 39 years ago anyway. This bill, H.R. 7, would merely make permanent what's been renewed annually every year since 1976.

It, too, stands little to no chance of becoming law.

Ellmers then pulled a slick one, announcing on her Facebook page Wednesday that she would support the first bill, which she and other GOP women in the House had already succeeded in scuttling.

Assorted anti-abortion groups, right-wing media outlets, and professional implements of feminine hygiene responded to Ellmers' opposition and maneuvering by LOSING THEIR DAMN MINDS.

Which will make for a long next 22 months for Renee Ellmers.

Which serves her right anyway, considering how she won her seat in the first place—by hitching herself to the 2010 Tea Party wave and unseating widely respected seven-term Democratic Congressman Bob Etheridge.

Which brings us full circle: a Republican congresswoman reviled by the very people she courted to win office, people infuriated by the injection of politics into an issue of conscience that needn't—shouldn't—have been a political issue in the first place.