Ulysses Brings Russia to Charlotte
With a new festival, Charlotte will get up close and personal with Russian culture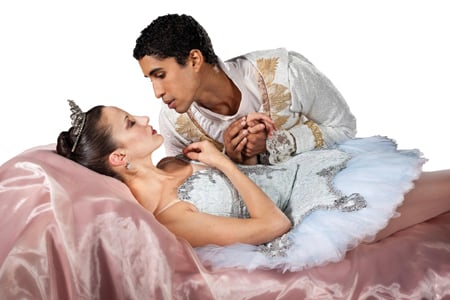 Charlotte's new arts festival happened almost by accident.
Ulysses: Charlotte's New Spring Festival of the Arts was born of a comment made in passing. James Meena, director/conductor of Opera Carolina, bumped into Charlotte Symphony Orchestra's artistic director, Tanya Davis Sparks, and remarked on the coincidence in their spring programming. Both groups were staging shows by Russian composer Peter Tchaikovsky. Meena suggested they cross-promote the opera Eugene Onegin and the concert the symphony had planned.
They enlisted symphony Maestro Christopher Warren-Green, and soon enough the idea was turning into a full-blown festival. "That's what happens when you get creative people in a room and you remove all barriers," Meena says. They named the festival after the Ulysses butterfly, as a symbol of spring. It kicks off February 25 with a free community day at Levine Museum of the New South. Our picks for the other events not to miss:
The 5 Browns
The Osmonds may be Utah's most famous singing siblings, but they don't have the Browns' pedigree. All five studied at Juilliard, and each is a virtuoso classical concert pianist. The sisters-and-brothers act will perform classical Russian pieces and rare masterpieces—sort of a Russian "Deep Cuts"—at Wingate University's Batte Center on March 6.
Eugene Onegin
In Tchaikovsky's lyric opera, based on the book by Alexander Pushkin, a country girl falls for a disillusioned aristocrat. Discounting her, Onegin traipses through life bored—as many other nineteenth-century Russian elites did—until he realizes Tatyana may be his savior. The libretto hews closely to Pushkin's original text, meaning much of the poetry is intact. It's considered Tchaikovsky's operatic masterpiece. March 17, 22, and 25.
Music and Museum: Tchaikovsky
The Bechtler Museum of Modern Art presents two chamber works by Tchaikovsky alongside artwork by Russian-born Nicolas de Staël. Both created art with a strong dose of national pride. March 18.
KnightSounds: To Tchaikovsky with Love
The Charlotte Symphony, NCDT, and Opera Carolina join forces for a one-of-a-kind artistic melting pot. March 23 at the Knight Theater.
Loznitsa's My Joy
This bleak film features a truck driver whose wrong turn leaves him lost in a Russian underworld. The first feature film by acclaimed documentarian Sergei Loznitsa, My Joy is an existential allegory of post-Communist Russia, shot by master cinematographer Oleg Mutu (The Death of Mr. Lazarescu and 4 Months, 3 Weeks and 2 Days). March 25 at UNCC's uptown campus.