Un-Conventional Plans
When the DNC arrives this month, the famous people will need to know where to go. I'm here to help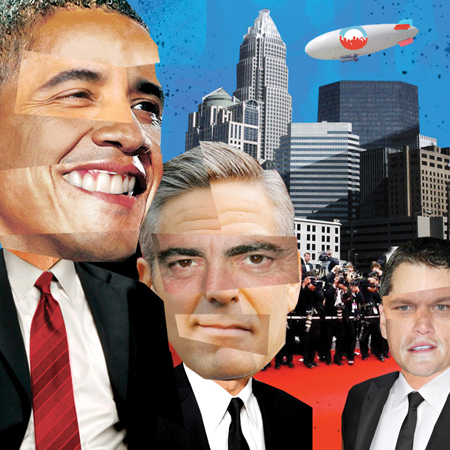 This month Charlotte finally gets the chance to prove itself in the political arena as being something other than the place where John Edwards keeps his former mistress and state representatives can't figure out which buttons to push. While Democrats may think they have a lot on the line with, well, the presidency of the United States, this city only gets so many chances to show off on the national stage that don't include bachelorette fantasy suites.
In honor of the occasion, I'd like to suggest a few extracurricular activities for visitors. (No, Bill, not that kind.) Conventiongoers can consider these activities to be helpful hostess gifts.
First, I'd like to address the celebrities. Specifically, I'd like to address George Clooney. Actually, what I mean is that I'd like to give George Clooney my address. Sorry, I got off track. My original point is that one of the best things about hosting the DNC rather than the RNC is the caliber of celebrity sure to attend. While Tampa police will likely amp up security in anticipation of Mel Gibson's arrival, President Obama has a Hollywood following that looks like the guest list at a Beverly Hills party. Hosted by Vanity Fair. After the Oscars. We need these celebrities to be photographed in front of notable Charlotte landmarks for their upcoming Us Weekly spreads. If there's not a "Stars, They're Just Like Us" photograph of Sarah Jessica Parker trying out the pit lane simulator in the NASCAR Hall of Fame, I'm going to be disappointed.
In honor of the occasion, I'd like to suggest a few extracurricular activities for visitors. (No, Bill, not that kind.)
And speaking of helpful celebrities and sports, President Obama is known to have a penchant for basketball. He's also known to have a way with words. We are known to have a professional basketball team that could use some hope and change. I think you see where I'm going with this. I'm sure the Bobcats' new coach wouldn't mind a quick motivational speech for his team—and the president could consider it a nice warm-up to his main event over in Bank of America Stadium.
I'm worried, though, that Michelle Obama may pose a threat to Charlotte's public image. I've had my concerns since 2011, when the first lady praised Charlotte barbecue and ignited a debate so heated it could rival the one over her husband's health care plan. But the main reason I think the Charlotte Regional Visitors Authority needs a crisis communications expert on hand is because there's a good chance that the woman behind "Let's Move!" is going to discover Charlotte's proclivity for fried food (see: pickles). And she's not going to be happy about it. Is there someone on the host committee who can ensure that the first lady's schedule never allows her to get close to Price's Chicken Coop?
Overall, Charlotte should thrive during its time in the spotlight. After all, we've been accustomed to local political speeches making national news since David Thompson's famed 2002 City Council rant about rogue helicopters. And we've had years of Ric Flair living in our midst to prepare us for bizarre celebrity behavior. As long as no one calls us "Charlotte, South Carolina," on the air, I'm guessing we'll be on our best behavior. Now if only the politicians could follow suit.