UNC Charlotte Football Worth the Wait
Before he's coached a single play, Brad Lambert's already shown why he's the right man for the job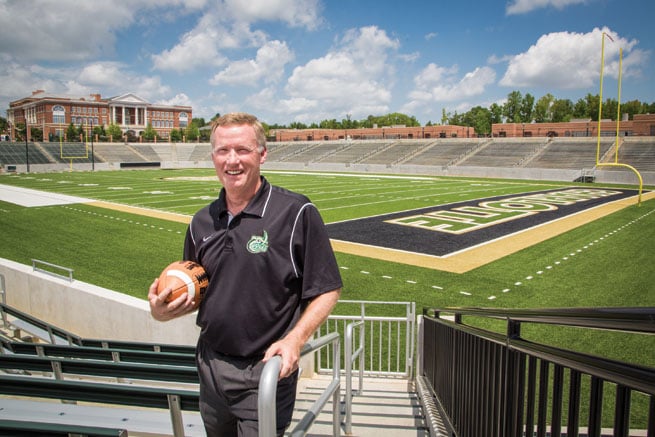 When the Hoxie High School football team faced the most important play of its 1981 season, a fourth down in the Kansas state semifinals, the offense ran a play called Purple 99. The purple, as one of the former coaches remembers it, referred to Purple Heart, which carried with it the idea the players must sacrifice themselves. The 99 signified the intended receiver: tight end Brad Lambert.
With no second option, the play would succeed or fail based on Lambert, a young farm boy with strong hands and character. If Lambert didn't get open or if he dropped the pass or if he caught it and the defense tackled him short of the first down, Hoxie would lose and the season would be over. But if Purple 99 succeeded, the Hoxie Indians would go on to play for the state championship.
Lined up on the right, Lambert sprinted off the line. The pass was on target. He raised his arms, snagged the ball, and raced to the end zone for a touchdown. At least, that's the story his mom and dad and four other spectators tell.
But Lambert, now head coach of UNC Charlotte's first-year football team, draws a blank when the story comes up in a recent conversation. Sitting in the cafeteria at the university's student center, he tries to remember it. He moves the spinach around in his salad. He takes a sip of iced tea.
He says "Purple 99" to himself. The sound of the words brings it back. He remembers that it was a pass designed for him. But that particular touchdown, the one everyone else describes as so momentous, the one that one of his former coaches described as his fondest memory of Lambert's storied athletic career, the one that sent his team to the state championship game and made him a hometown hero, is a lost memory.
Lambert, a 48-year-old in his first head coaching position, has had a long, winding course from there to here, one filled with thousands more football plays and one incredible building project. For the past two-and-a-half years, he has constructed the 49ers' football program from nothing but Charlotte dirt.
Lambert is here now, devoted to this upstart program that plays its first game on August 31 at home against Campbell University. But to really know him, to really understand who's guiding this team, you need to know where he came from and what he means to the people there. "He's one of my pride and joys," says Warren Sager, who was Hoxie's head football coach back when Lambert starred on the team. "The one thing I enjoyed most about him was his character."
When Charlotte athletic director Judy Rose scouted candidates for her new head football coach, one characteristic she wanted was the "wow" factor. She found it in Lambert's cover letter. He wrote about life on the farms where he grew up in Kansas and how it shaped him and prepared him for life as a coach. Lambert's entire hometown, Hoxie, consists of 537 acres. The Charlotte campus covers about 1,000. Hoxie's population is 1,198. Charlotte has 1,280 full- and part-time faculty.
Lambert's dad, George, taught farming at Hoxie High School before taking a job in the loan department at a bank. His mom, Helen, worked as a secretary in the school system. With those parents and that hometown, Lambert didn't have a choice but to learn to work hard.
"We had some guys who never played sports, never played football," Lambert says. "Their families wouldn't let them because they had to work. You learn at an early age to get up every day and work hard."
He spent his summers during high school on farms around Hoxie. He drove a tractor and a truck, killed weeds, and laid pipes to water the fields (this was before irrigation systems came to Hoxie). Jim Walden, an assistant coach on Hoxie's football and basketball teams when Lambert played on them, owned one of those farms. Walden's father got his loan for the farm through Lambert's dad.
Walden believes Lambert will succeed as a head coach, in part because of what he brings with him from Hoxie. "Farming, you put in long hours, just like you do in football. You've got your busy times and your down times, like when you're recruiting," Walden says. "When you're in the heat of the game, it's intense. Same thing during wheat harvest. You want to get that out of there."
Lambert smiles when he hears Walden's name and the analogy his old coach offered. Picking up on it, he says the 49ers football team will begin harvesting soon.
When Lambert arrives at the football facility for work, he fills his coffee cup—black, no cream or sugar—and hits the field for practice with his team. These are good days.
When he first arrived on campus in March 2011, he didn't have either—a team or coffee. "I was in this office with two or three women [from the] compliance [office]—who I call the FBI—and no coffee. Nobody drank coffee. I was like, what have I done?" he says.
He's joking, but it was a struggle to work for a team so long without playing a game. Before taking the Charlotte job, he'd worked Saturdays in the fall every year since 1987, mostly as a defensive coach, at Wake Forest, Georgia, Marshall, and Oklahoma.
When he applied for the job, he was skeptical about signing up with a startup team. But he instantly bought into Rose's vision for taking the program from words on a page to numbers on jerseys to butts in the seats. In particular, he liked that she had the progression mapped out—she already knew he'd be in that no-coffee office for only a short time, then he'd be in another one for a short time, then he'd be in the football facility. As a guy who plans his practices months in advance, he admired her attention to detail.
Lambert, who came to Charlotte after 10 years at Wake Forest, assembled a staff and then … not much happened, at least in terms of football. He began recruiting right away, but he didn't sign his first class until 10 months after he started. He worked for Charlotte for more than a year before he even had players on campus.
In the meantime, he sold the program to people in the community. He helped make decisions related to the stadium and other football facilities. He shook hands and showed up at events, including an all-you-can-eat taco contest. He attended practices of other football teams, those coached by his friends, to learn what he could, to steal their good ideas. He spent two days in San Antonio talking to Larry Coker, the first head coach of the University of Texas at San Antonio. And he waited.
All that time with no players to coach drove him batty.
"My son played fall baseball in the fall of '11," Lambert says. "I was standing out there on Saturday afternoons in the fall watching baseball."
He pauses. He checks the date on his watch in mock exasperation. "Like, what are we doing?"
Baseball?
On Saturdays in the fall?
Blasphemy!
As much as he missed games, he missed players more. He's drawn to football because it demands commitment from disparate parts. The quest to put pieces together drives him. "That's a huge challenge," he says. "Especially in today's world, with the iTouch and iPod and iPhone. Everything's about me, with Twitter, it's a 'look-at-me world.' All of a sudden, you come into a sport where you know what? You're really important, but for us to be successful, to win, it's going to take a lot of people."
Offensive lineman Thomas La Bianca knew within a few minutes of his first phone conversation with Lambert, in 2011, that he would attend Charlotte. "You could just tell that he cares about you as a person and as a player," he says.
As La Bianca has gotten to know Lambert, his admiration for the coach has grown. Lambert is a family man, with a wife and three children, and he talks to his players about their families, too. "Whenever I've been in the facility, he's always asking: How's my sister doing, how's my mom doing, how's my grandparents," La Bianca says.
After lunch in the cafeteria, Lambert drives a Gator, which looks like a cross between an ATV and a golf cart, across campus. He passes dozens of players walking back to the field for his football camp. He seems to want to say hello to all of them.
The path Lambert follows leads to the football stadium. It gets bigger as he approaches. The field sits low in the ground, built so people in the seats can look out on campus and people out on campus can look down on the field.
Lambert drives past the statue of a football player at one end of the stadium. An identical statue stands on the other end. The statues, the stadium, and the facility offer proof that physically, the campus is prepared for the team's inaugural game. The attendance of 14,000 at the spring game shows students and alumni are eager for the season to start. But is the team ready?
Because the 49ers are a first-year program and Lambert is a first-time head coach, it's hard to know what to expect from one week to the next, or one play to the next. Even Lambert feels the uncertainty. He says that for all he knows, quarterback Matt Johnson might throw the ball out of the stadium. Lambert won't know what kind of team he has until several games into the season. He's waited so long already, what's a few more weeks?
Lambert walks off the field at Jerry Richardson Stadium with black flecks on the side of his face. He spent the morning working with kickers at his camp. He held the ball as they kicked it, and bits of the artificial field flew up and stuck to his face. He brushes them away.
If the tension for Lambert early in his time at Charlotte was not having enough coaching to do, the tension since then has been to make sure he doesn't try to coach too much. He has had to learn to delegate; the only segment of the team he coaches directly is the special-teams unit. "It's hard when I walk onto the defensive field, because that's like riding a bike. I want to coach those guys," he says.
He had time to create a thick playbook but opted against that. Simple, he says, is better than complex. He knows the opener is more than just another game, but the more he treats it as just another game, the better he believes it will go.
Lambert already knows what he'll do on opening day. With a noon kickoff, he'll arrive on campus at 6 a.m. He'll drink coffee until the players arrive. He'll ride the team bus to the team hotel, eat, drink more coffee, and ride the team bus back.
"I lay awake at night sometimes and think about that moment in the locker room, before we ever hit the tunnel, before the smoke starts going, the crowd goes crazy," he says. "It's that moment where you realize everything that everybody's done."
He's looking forward to that moment more than the game itself. He wonders what he'll see when he looks out at his players that morning. He wants them to be calm.
He wants them to be themselves: He wants the quiet guys to stay quiet and the loud guys to speak up. He wants them to enjoy the moment, of course, but to remain focused on the game. In his pregame speech, Lambert won't get too emotional, won't go with a Hollywood-style motivational speech. Instead, he'll talk about X's and O's, about blocking and tackling, about the hard work they have put in already and have yet to do, because hard work wins football games.
Matt Crossman is a freelance writer based in Charlotte. Reach him at mattcrossman.com, and follow him on Twitter at @MattCrossman.