Under Foot
A Q&A with MHS Carpet Design's Bob Margies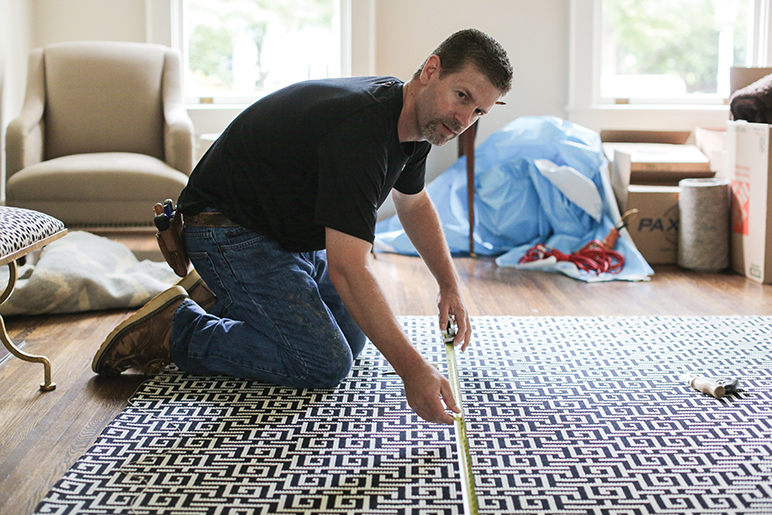 Bob Margies is always looking down. That's because after 26 years as a carpet designer and installer, he can't help noticing what's under his feet. The owner of Charlotte-based MHS Carpet Design, Margies learned his craft in a New York shop, where he and his father, also named Bob Margies, established their reputation by doing commercial and high-end residential work. From renovating a small antique rug to fabricating carpet for a two-story, circular staircase, every project requires not just attention but artistry.
You've been in Charlotte for nine years. What brought you here?
Opportunity. In New York, work started to get a lot slower. A friend had moved here in 2003; we came to visit and fell in love with the area—everything in general, the newness. The housing industry was exploding. So I started to make inquiries, and there was a really big need for quality carpet installation.
What makes your work special?
I do all my own work. I go to your house, I measure, I work with the designer, and then it's me that shows up. This is a dying art. I went to trade school in New York, and I was the youngest in that group of guys; as far as I know, I'm still the youngest.
I use quality materials. The tackless strip I use is bigger; I order it special. If you pull up the carpet in your home, you're going to see a rubbery pad. I don't use that. I use a very dense synthetic felt pad, which is a firm base. You wouldn't build a house on sand—don't do it with your carpet.
COURTESY
Stair installations take more planning and time to measure and install. Shaped or curved steps require even more planning and precision—especially for patterned carpets. "Balancing and centering the pattern on each step so the homeowner sees the same pattern in the same spot on every step is why I love doing what I do," says Margies. A typical stair installation takes about a day.
What do you like about this work? What are the challenges?
I never do the same thing twice, and rarely is it at the same place. I've worked in the south of France with my father in Monaco, right on the Riviera, in a sprawling residence. The biggest job we did was in New York City. It was 15 feet by 100 feet, and it went from 57th Street to 58th Street, literally. We went from window to window with one piece of carpet in the Solow Building, for basically an entire city block.
Carpet has to be sewn, all by hand. I cut and sew the miters; everything has to be square. There's a lot of math. I have to figure out the best locations for the seams. If you have a 16-foot room and carpet comes in a 12-foot width, the seam has to go somewhere.
I work for some very high-profile clients. I never mention names or addresses, but there are plenty of NASCAR [people], bank presidents, and CEOs. I go where the work is. I got a call from a designer in Cincinnati requesting that I meet him in Key Largo. So I'm leaving Monday.
Have things changed in your industry?
There hasn't been a huge technology shift because it's always been a labor-based operation. It's "hammer and nails, needle and thread." A lot of the industry is trying to be a jack-of-all-trades: put carpet in this room, linoleum in that room, tile in that room. The guys who can do that are talented, but I need to focus on my one craft, because that's what my designers want from me. I am not a jack-of-all-trades. I'm a master of one.
What mistakes do people make when buying and caring for rugs?
Getting a thicker pad because they want it to feel "squishy." That's detrimental to the life of your rug. Buy a thicker carpet. Don't buy a thinner carpet and try to make it feel squishy.
Most over-the-counter stain removers contain bleach. They're OK for builder-grade carpet, but you should use straight-up Ivory bar soap, warm water, and a toothbrush. You have to hit it immediately. You may not remove the entire stain, but you're giving it an opportunity to be extracted by a professional. Don't cover it with a bookcase and say, "I'll get it tomorrow when I clean up." It'll be there for the rest of your life.
If someone has a damaged rug or one that's too big for his or her space, what can you do?
I can remove the border, cut the carpet up, sew the border back on and make a runner. I can remove bad spots and make smaller rugs. No job is too small. Some people contact me through Instagram and Twitter. If I think they need to talk to a designer, I'll refer them.
Any other advice?
Don't be afraid to hire a designer. People have a misconception that they can't afford one and wind up spending more money than they should. I'm not inexpensive to use, but replacing a poorly done job will double your initial cost. You're spending a lot of money on the carpet. I'm the insurance policy on the investment.
What kind of carpet do you have in your home?
Regular builder-grade carpet. I put a custom runner on my main stairs, and I changed out the carpet in [my daughter's] room. She's got a nice pink geometric rug. I made a couple of custom area rugs for my living room. Eventually, we'll change it up.