"Under Pressure"
My Q&A with "Freddie Mercury," a.k.a. Gary Mullen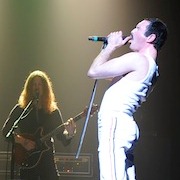 Was Freddie Mercury the greatest front man of all time?
Although I never saw him live, video evidence suggests — to me, anyway — that he was. He edges out the preening, prancing, and inexplicably sexy Mick Jagger and beats matinee idol Roger Daltrey by a mile. (And, I'm a fan of The Stones and The Who and have seen them both in concert.)
But the late Mercury had even bigger star quality. Was it his magical command of and rapport with the audience? Or the fact that he was often shirtless? Or was it the improbably sexy overbite? Whatever it was, Freddie Mercury had it.
And Gary Mullen has it, too. He even won an American Idol-style talent competition in Great Britain called Stars in their Eyes for his portrayal of Queen's front man. Mullen leads One Night of Queen, the tribute band that aims to recreate everything, exactly as it was, from a concert Queen would've put on its prime. He and his band bring the show to the Knight Theater on April 17. Get the scoop. I chatted with the Scotsman recently about life on the road as Freddie.
Revue: Your show sounds like more than a tribute. It sounds like a complete recreation of a Queen concert, right down to the lighting rig you use. Is it meant to feel and sound like a Queen show?
Gary Mullen: In a way, we're giving a people a taste of something they can't get any more. We'll never know the excitement of seeing a Queen show live. At least I never got to see them live. Hopefully, we're a good representation of what they were like.
Revue: Which came first? Did you love Freddie Mercury and then try to emulate him, or did you sound like Freddie Mercury, so you went with that?
GM: First of all, I'll say that I don't get what other people hear in my voice. I've been a fan of Freddie and Queen all my life. I was the kid using the hairbrush as a microphone and the bed as a stage. And I always sang Queen. People would say, "You sound just like Freddie." I was always quite pleased to hear it, because he was my hero. I thought, "OK then, I'll do my homework and try to get his mannerisms just right and look as much like him as I can." But it's not a trick. We're just trying to make people feel the energy that a Queen show might have had.
Revue: You mentioned Freddie's appearance. He really rocked an overbite. I have to ask if you have one, too, or if you wear …
GM: [Laughs] I don't wear false teeth. When I was on TV, they had a pair of false teeth made for me, but I couldn't even talk with them in — much less sing. So I decided to leave the teeth out. It was ridiculous to try. I do have a costume maker and have everything I wear on tour custom-made based on the original designs Freddie wore. Freddie wore Adidas wrestling boots, which you can't find any more. But we've found Adidas martial arts shoes, which come very close.
Queen fans are very fickle. They are true to their memories.They'll slaughter you if you don't get the details right. We try our best to get it right or to come as close as we possibly can.
Revue: I was wondering what you have to do to prepare. You already said you did your homework by watching the old videos. But you also have to be shirtless a lot. I mean, Freddie was. What do you do to stay in Freddie shape on the road?
GM: A lot of days, I just can't be bothered to get to the gym. I'm lucky to have a fast metabolism. I guess I'll need more trips to the gym as the years add up. I do go swimming when I can, and I do some yoga. I just can't go out partying every night.
Revue: But Freddie did.
GM: Yes, but it all caught up with him, didn't it?
Revue: True. What do you love about Freddie? I think he was the greatest of all time.
GM: I agree. He was the ultimate front man. He could hold the audience in the palm of his hand, he had an amazing ability to sing, and he was an incredible songwriter. He was the total package. We'll never see his like again. No one will ever be Freddie Mercury. I'm just paying tribute to him.
Revue: What's your favorite Queen song?
GM: Somebody to Love. It's also my favorite to perform. The audience stands up and dances; we encourage them to. We want everyone to have a damn good time.There's almost a gospel feel to that song. It's Freddie Mercury at his best.
Revue: What's next for you? Do you want to record your own music? Or, are you happy paying tribute to Freddie?
GM: I'm happy doing what I'm doing. I get a kick out of watching people have a good time. I do write some of my own songs with a buddy of mine, and we've put them on iTunes, but it's more of a hobby. This is my job, but I use the term loosely. I've never gotten bored with this. If I ever feel it's a chore, I'll stop. That's what I tell other performers who feel it's a grind: "If you don't enjoy it, you're cheating yourself, and you're cheating the audience."