Underdogs and Favorites: Edwin Peacock, Patrick Cannon, and the Race for Charlotte Mayor
The man who grew up poor has the clear numbers advantage over the man who did not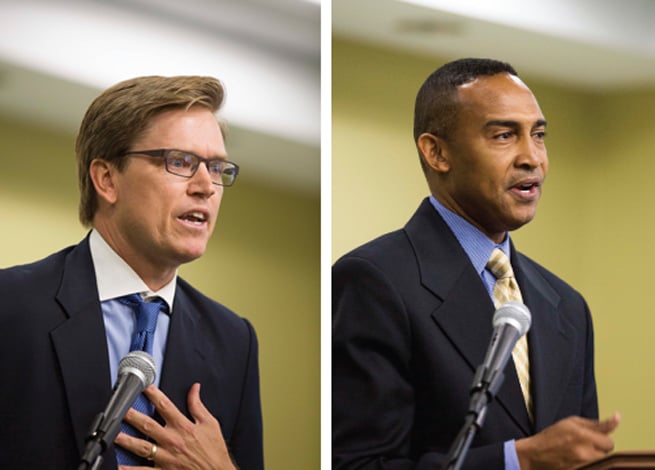 Patrick Cannon has spent most of his adult life on city council. A clean-cut but often controversial bulldog, he's usually the most sharply dressed man in the room. But he grew up poor in public housing projects—Fairview Homes and Double Oaks Apartments. When he was seven years old, his dad was murdered. He was bused across the city to get an education. Back in his home neighborhood, he was picked on for "acting white."
Edwin Peacock grew up in a house where his father was a county commissioner and city councilman. He has a boyish face with neatly combed hair, and he followed his dad into a profession in financial services. His last name still opens doors for him, and he's risen, at least for this fall, into a position as the face of Mecklenburg County Republican politics.
But as the two men square off in an important mayor's race, Peacock finds himself the underdog, while Cannon stands firmly in place as a favorite.
There are twice as many registered Democrats as Republicans in Charlotte, and blacks make up nearly 40 percent of registered voters. Some argue that Cannon's toughest challenge might have come in the primary, when he squared off against James Mitchell, another black candidate who also serves on city council. Cannon won 56 percent of the vote, Mitchell just 40. Others, though, believe Peacock stands a chance, especially if he can lure some Democrats with his moderate stances.
Cannon, CEO of E-Z Parking, is one step away from achieving a career dream, a dream that was nearly squashed under the large star of former Mayor Anthony Foxx. In a city where Demcrats rule, Cannon is the top candidate. Peacock, meanwhile, represents the local Republican Party's best hope at revival.
But what will the election mean for Charlotte? The city has had a run of successful mayors lately. Foxx is now the U.S. Secretary of Transportation. And the mayor before Foxx, Pat McCrory, is now governor. At a time when the city is searching for its next generation of leaders, Charlotte wonders: Do Cannon or Peacock have potential to be great? We probably won't find out until long after the winner takes office.
On an evening in Ballantyne late this summer, just before the primary election on Sept. 10, a cardboard cutout of Peacock stands outside the door of a hotel conference room. The cardboard is smirking.
Inside, though, Peacock is the only one saying anything close to substantive. And he is not smirking.
The Charlotte Chamber has gathered local municipal candidates, including Cannon and Peacock, for a meet and greet. Mitchell is here, too. While the two Democrats speak about things such as their families and achievements as council members, Peacock tries to
address more concrete issues—the airport, the Democratic majority in the city—in his comments.
"The culture of local government that I see developing in this community is partisan, divided, and increasingly ineffective," he says at the podium.
To win as mayor, Peacock needs more than Republican votes. He needs unaffiliated voters and moderate Democrats to trust another Republican after Pat McCrory, renowned as an excellent and moderate Charlotte mayor, but who has turned hard right during his time as governor.
Peacock is considered a moderate, too. In 2012, for example, while running in the Republican primary for the Ninth Congressional seat, he came out against Amendment One, which banned gay marriage. He's still a Republican, though, meaning he's anti-streetcar and an outspoken watchdog of city spending.
Peacock loaded his campaign staff with veterans of McCrory's 2012 gubernatorial victory: McCrory's senior strategist Jack Hawke, campaign manager Russell Peck, and pollster Bill Lee all serve the same role for Peacock.
In Charlotte, he is a challenger in a Democratic city. He campaigns on the idea that one party's dominance isn't productive. "One-party systems do not function well," Peacock says. "A one-party Raleigh is proving that, and what I see is a 9-2 city council that is making some really bold decisions that are lacking transparency."
Peacock, a financial advisor, works in a well-shaded office on the east side of Morehead Street. His office is in a cozy, two-story tan building surrounded by luxury cars and his yard signs. Inside, his finance director greets guests, seating them in a lobby of elegant but uncomfortable furniture. On the walls are pastel landscape paintings by Peacock's mother, Gail.
In conversations, Peacock bounces back and forth among topics such as the leadership of Thomas Jefferson, his conservative argument for gay rights, and Atlanta's failure to become the efficient Southern city he aspires to make Charlotte.
He's not the first Peacock to have this dream. Thirty years ago, his father ran against Harvey Gantt for mayor and lost. But, the son insists, the fact that his father lost gracefully still matters today.
"I would not be running right now, quite frankly, if I had a father who in 1983 made the race against Harvey Gantt into something out of Birmingham, Alabama," Peacock says.
Peacock recently read a book, he says, called Metropolitan Revolution, an account of how metro areas will fix both our broken economy and our politics. He's interested in wielding that sort of power. "I want to be a great American mayor," he says. "I want us to come back to being a beacon for the best and brightest."
A few days after the event in Ballantyne, a handful of plastic snack trays are set up inside Ramses Temple #51, holding grapes and cheese squares. The floor inside the building is tiled, and the furniture is old. Cannon's faith coordinator scopes the scene, waiting for his boss to arrive. It is one of the most important nights of the election season for a Democrat—a night where Cannon and Mitchell seek the endorsement of the Black Political Caucus.
This, Cannon believes, always should have been his crowd. He was groomed as one of the next leaders of Charlotte when he was elected to the city council at age 26 in 1993. But since then other politicians have stepped in front of him. Most notable among them is Foxx. The two developed a mostly silent political rivalry during their time sitting next to each other at City Council meetings. Cannon was part of a vote that shot down the first version of a controversial streetcar financial package last year, temporarily halting Foxx's favorite project.
But now, the streetcar has passed, and Foxx is gone. Cannon is more likely to support the current direction of Charlotte than to try to make dramatic alterations. He wound up supporting the streetcar in the final vote this year, but he's unlikely to vote for further extensions. He's more likely to build a power base of moderate Democrats on council to protect the business community.
For a time this summer, though, Mitchell attempted to again push Cannon out of the political picture. On the campaign trail, Mitchell tried to cast himself as a person who sided with Foxx, while trying to paint Cannon as an enemy to many of Foxx's top missions. It didn't work. A few days after the event, the caucus threw its support behind Cannon. A few weeks later, Cannon swept to the primary victory.
During the question-and-answer portion of the event at the temple, though, Cannon gives a glimpse of the person behind his campaign rhetoric. A person in the audience asks a question about cold cases that haven't been solved.
"This is a little bit of a tough question for me," Cannon says. Until this point, he'd left the next part out of interviews and off the campaign trail. "Many of you probably don't know; my father was murdered when I was seven years old. That case isn't a cold case; it's a frozen case."
A few days later, reached by phone, Cannon explains that his dad was killed behind an elementary school when he was a boy. The candidate talks about growing up in a single-parent home, about how one night, he remembers his mom going out to try to find someone to loan her chicken for them to have for dinner.
"I have felt since then that the odds have been stacked against me. I would hear people judge me because of the fact that I was from a single-parent home," Cannon says. "It was not always a good day, every day in our lives."
The conversation about his childhood struggle with poverty, and the loss of his father, comes to an end. Then, a few minutes later he calls back, to add only this about his father: "Because the person that took his life has never been brought to justice … I've never had any closure."
Then he stops talking about it. And he goes back to the careful campaign slogans, never wanting to appear to be anything less than the next mayor of Charlotte.
Email: editor@charlottemagazine.com, comment online, or tweet @charlottemag. Michael Cooper, a native of North Wilkesboro, contributes to Creative Loafing, Generation Progress, and the Record of Wilkes. He is a graduate of the Charlotte School of Law and was a 2009 New Leaders Fellow at the Center for Progressive Leadership.