Understanding a Governor's Gaffe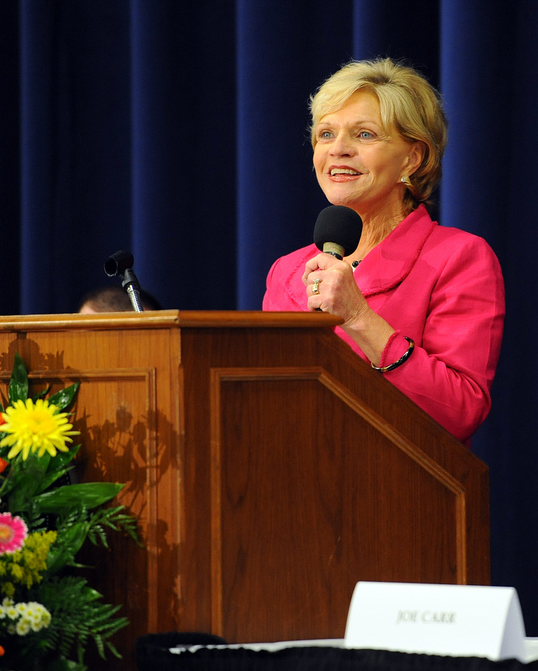 Charlotte officials are frequently telling us that hosting the 2012 Democratic National Convention here next year will greatly benefit the city and its people, regardless of your political party affiliation. But for every Kumbaya moment, such as Tuesday's announcement of the DNC's host and steering committee members that includes a handful of Republicans, we're quickly reminded how much politics are and will continue to be at play leading up to the 2012 elections. North Carolina Governor Bev Perdue is being reminded of that firsthand.
Around the time the Committee for Charlotte in 2012 was holding a press conference Tuesday at the Charlotte Chamber of Commerce, Perdue, an honorary co-chair of the DNC host committee, was speaking at a Rotary Club meeting in Cary. This type of speaking engagement is routine for elected officials, except Perdue made a remark that would be replayed and retold by bloggers and local and national media outlets within hours, and has continued to be analyzed for days now:
"You have to have more ability from Congress, I think, to work together and to get over the partisan bickering and focus on fixing things. I think we ought to suspend, perhaps, elections for Congress for two years and just tell them we won't hold it against them, whatever decisions they make, to just let them help this country recover. I really hope that someone can agree with me on that. The one good thing about Raleigh is that for so many years we worked across party lines. It's a little bit more contentious now but it's not impossible to try to do what's right in this state. You want people who don't worry about the next election."
Specifically, Perdue's comment about suspending elections is what has drawn so much fire (click here to hear the one-minute sound bite, audio courtesy of The News & Observer), even though her staff said she was simply joking.
The aftermath includes an article posted yesterday by U.S News & World Report that asserts "Why North Carolina's Perdue Is the Most Endangered Governor."
Another insightful article I've read regarding the whole debacle was published online today by The American Spectator. Written by Raleigh-based reporter David N. Bass, "Sarcasm-Gate?" describes the political climate at the state and national level—and how much North Carolina is a factor:
So, what to make of Perdue's comment? To comprehend fully, one must understand the present political dynamics in North Carolina. At the national level, the Tar Heel State is ground zero for the 2012 presidential race. To gauge how seriously President Obama takes winning the state, look at where the Democratic National Convention will be held next year: Charlotte.
Bass goes on to describe the opposition Perdue will face in the gubernatorial election, including from former Charlotte Mayor Pat McCrory. He ends the article by saying that we can expect to see Perdue's gaffe in a political ad next year. I can just see the Republican National Committee running a spot with Perdue's sound bite accompanied by images of her with President Obama.