Unexpected Gourmet at Bistro La Bon
A Plaza Midwood restaurant opens with minimal fanfare and begins serving some of the best food in town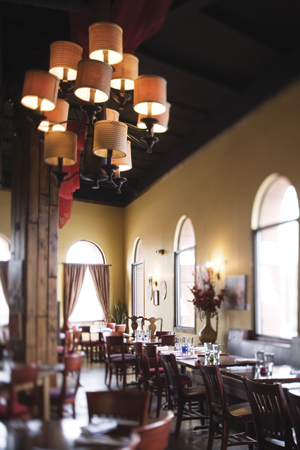 Nothing about Bistro La Bon makes sense. Its sophisticated interior and arched windows feel out of place in the same Plaza Midwood strip mall as a Family Dollar. A Swedish-Iranian chef prepares its Mediterranean-style dishes. Even the name doesn't make sense. It's a Scrabble-esque mixture of block letters left over from another sign.
But cut into the tender duck confit or take your first bite of the warm goat cheese and mushroom tart and it won't matter who made it or where you're eating it. This is food that transcends location. In fact, the complex tastes in some of these dishes transcend expectations of the pleasure that can be derived from food. Soft-steamed mussels swim in a savory saffron cream with leek confit ($8). Buttery oven-roasted prawns rest softly on crisp ciabatta toast ($9). Even the salads here are especially good, like a fresh spinach and peppery arugula mix sprinkled in candied walnuts and creamy goat cheese and then lightly coated with a subtly tart red currant vinaigrette ($7).
Chef Majid Amoorpour worked locally at spots like Blue and Noble's and put in time at Chicago's famed Charlie Trotter's, and his experience shines through, especially in his entrées. His attention to detail is found in dishes like the made-from-scratch spinach gnocchi,
delicate dumplings dotted with bits of spinach and served with lemon-honey-glazed salmon ($17). Amoorpour also frequently makes use of locally grown and seasonal food such as in the braised beef short rib ($21), a succulent piece of meat drizzled with a creamy béarnaise and served on top of slow-cooked winter vegetables like carrots, parsnips, and potatoes.

And this is the kind of restaurant where you'll want to stay for the third course. So order another glass of wine (servers are knowledgeable in their recommendations) and settle in to enjoy the view (the restaurant offers expansive views of uptown's skyline). Desserts are delicious and appropriately decadent, including a velvety-smooth chocolate truffle cake ($6), a zesty vanilla orange crème brûlée ($5), and a bourbon brioche bread pudding ($7) resting in a caramel sauce so rich the vanilla ice cream served with it seems light by comparison.

Bistro La Bon offers lunch as well, ranging from simple sandwiches and salads to pastas and seafood. And a Sunday brunch features a buffet filled with gourmet items like house-cured salmon and Moroccan couscous as well as family-friendly options including chocolate waffles and bacon. While the lunch and brunch atmospheres are a bit more relaxed, don't expect the kitchen's artistry to be any less visible. In fact, don't expect anything at Bistro La Bon. At a spot offering shrimp-stuffed squid next door to the Family Dollar, defying expectations has become the norm.
Bistro La Bon
1322 Central Ave.
704-333-4646
$$-$$$, BR, L, D, FSB, P, R. Closed Monday