Unhappy Feet
Walking around the least-walkable big city in America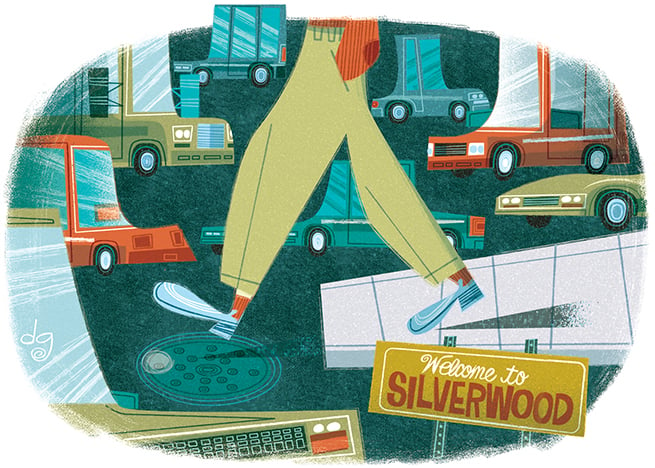 Last year, right around the time my wife and I bought our house near SouthPark, I wrecked my car. I've found ways around town without a car before, so I figured I'd try to do it again for as long as I could. After a week of trying to run errands on foot, biking to work, and riding the bus to events, I gave up. We bought a Chevy.
Charlotte is not the easiest city to navigate without your own four wheels. A University of Oklahoma survey found just 6.9 percent of people here commute without using a car. Only 2.5 percent walk to work, which seems impressive, considering that Charlotte is America's least walkable big city. The website walkscore.com revised its metrics this year and ranked cities with populations of 250,000 and more. Charlotte came in last. Behind Fort Wayne. Behind Wichita. Behind (sigh) Cleveland.
So for hyperbole's sake, I visited the least walkable neighborhood in America's least walkable big city. It's Silverwood, a small, slightly hilly collection of 25-year-old, more-house-for-your-money homes off Plott Road way out on the east side, past Hickory Grove but still inside the Interstate 485 loop. The cul-de-sacs scrape up against the city limits and the woods. Cars are parked in the narrow streets. Walkscore rates neighborhoods on metrics such as walking routes, pedestrian friendliness, and mixed-use development, then ranks the neighborhoods on a scale of 0 to 100.
Silverwood gets a 2.
There are sidewalks, but they start and stop with the regularity of an elderly person who is not getting enough fiber. About a third of the streets have sidewalks in Silverwood, but they don't connect to anything except other driveways. The closest bus stop is at least a half-mile away, on Harris Boulevard, at the end of Robinson Church Road. The sidewalks end before you get there.
I'd planned to get out of the car and talk to a walker. I saw none.
It's not a bad neighborhood. But if you move to Silverwood, you already know you are going to have to drive everywhere. In fact, if you live or work anywhere in Charlotte, with the possible exception of uptown (which has the highest walkscore), that's probably going to be the case.
This is, in all seriousness, a problem. In February 2012, two little boys were killed while walking along a section of West Tyvola Road that has no sidewalks. And there's more to the issue than just sidewalks and safety. In Charlotte, a child born into the bottom fifth of the national income distribution has only a 4.3 percent chance of rising into the top fifth during the course of his life, according to a study from economists at Harvard and Berkeley. In other words, if you're born poor here, it's extremely hard to become rich. Nobel Prize-winning economist Paul Krugman hit on a possible reason in a column last summer in The New York Times, arguing that in Sun Belt cities such as Atlanta and Charlotte, the sprawl literally makes it too hard for the poorest people to get to the jobs they need. Without cars, they're out of reach.
I walked to work once in Charlotte. It was five years ago. I wanted to prove I wasn't so dependent on my car, as if that would make me more noble, as if it would make Charlotte more real. More intimate. More romantic.
The walk to work was not romantic. My office was off of the Billy Graham Parkway, seven miles from where I lived at the time. I didn't walk down Billy Graham, because the speed limit is 55, and that's a good way to meet the Lord. I saw a lot of trash and beer cans. A tick quietly jumped on me, like a tiny ninja, and started to drink my blood. I decided that I would never walk to work again.
Yes, the city's building more sidewalks, bike lanes, and light rail lines. But they have to lead to grocery stores, schools, and offices. Charlotte is a close-knit community. But when it comes to walkability, we're still too far apart.