Unknown Brewing ready to open its doors to Charlotte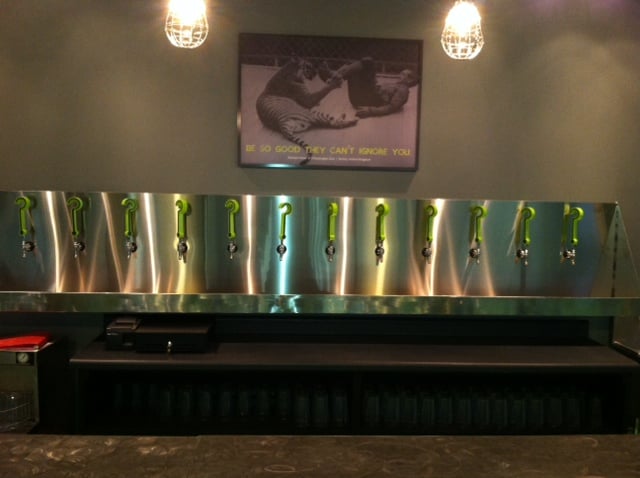 The Unknown Brewing Co. prides itself on keeping some mystery about it (hence the name), but it's safe to say Charlotte's newest brewery is ready for the city to experience what it has to offer.
That will finally happen this Saturday from 4 p.m. to 10 p.m., as Unknown officially opens its doors for a "grand opening throwdown."
"It's been unbelievable, the support we've been getting from the community," Unknown sales manager Larry Suggs says. "We've got so many people asking when we're going to open. And when we drive the van around, we've got people honking and waving.
"I get stopped by everyone from workers at McDonald's to businessmen asking, 'Hey, when are you all getting up and running? We've been hearing so much about it.' So this has been a long time coming."
The public's first look (Unknown had a invite-only groundbreaking during the summer) at the 25,000-square foot brewery will feature live music, catered food and, yes, donkeys (more on that below). Also being unveiled, and most importantly, is the beer. Unknown will be debuting its core beers at the grand opening along with tapping individual small batch specialty beers each hour.
Unknown received its brewing equipment a couple of weeks ago (all custom designed from Quality Tank Solutions in Wisconsin), and Suggs, owner Brad Shell and brewer Dave Scott have been working quickly to get everything in place. The 30-barrel brewhouse should be fully operational by the end of the year, which is when area establishments will begin seeing Unknown arrive in their taps (Unknown already has more than 1,400 kegs ready to be filled and distributed).
Unknown Brewing will feature a 30-barrel brewhouse.
But Scott (who came to Unknown Brewing from Dark Horse Brewing in Michigan) has been keeping busy the last few months even without his own equipment, traveling on numerous occasions to Atlanta, where Unknown has been contract brewing with Five Seasons in order to have enough beer to sustain the brewery until its own system is ready.
Unknown will feature three core beers, which are debuting Saturday. Over the Edge is Unknown's take on an IPA (they're calling it a USPA) featuring West Coast hops and coming in at 6 percent ABV. Head First Pale Ale (5.6 percent ABV) is a little lighter on the palate. The hops are added late, giving it a crisp taste without being too heavy. Finally, there's No Shame, a wheat beer at 5.1 percent ABV described as "a great summer beer or a great beer if your summer never ends."
During football season, Unknown will also serve Pregame, its 4.5 percent ABV session ale. The brewery's location (1327 S. Mint St.) is roughly three blocks from Bank of America Stadium, and to capitalize on that, Unknown will be selling pre-filled growlettes (32 oz.) of Pregame on Sundays to tailgaters in search of local craft beer.
Look for a number of specialty beers such as Pregame at Unknown Brewing, as its taproom features 12 taps. In total on Saturday, 13 beers will be served, and Suggs tells me Unknown's plans for the next year is to brew a total of 70 beers—between its core styles, specialties and one-offs.
Without spoiling the surprise too much, here's a taste of some of the specialty beers being served up Saturday: Vehopseraptor, Unknown's double IPA (8.5 percent ABV), a Lemon Drop Top Saison ("tastes exactly how it sounds," says Suggs) and a Vanilla Bean and Peach Berliner Vice, Unknown's take on a Berliner Weisse.
"I'm excited about our beer; that's what we do best," Suggs says. "It's been so long and we've been wrapped up in the construction phase, building the taproom and promoting, now we're just ready to drink some beer with the people who are going to help us become successful in Charlotte."
A look at Unknown Brewing's merchandise, which will be available for purchase at the grand opening Saturday
Guests at the grand opening will also be treated to live music from DeRobert & The Half-Truths, Bubonik Funk and The London Souls. There will also be a chance to participate in "donkey roulette." What's that, you ask? Well, if you've ever seen/heard of cow patty bingo, it's basically the same idea.
Donkeys will be placed in a pen with a grid on the ground. Each person who attends the grand opening will be given a wristband with a number, and if the donkey's "deposit" lands in the grid matching your number, you'll win a prize.
To better accommodate everyone, the event will be taking place outside in Unknown's parking lot, although the taproom will be open and tours of the brewery will be offered throughout the day. Merchandise will also be available for sale in the taproom. Free parking can be found across the street from the brewery, at Little Hardware and a secondary lot beside that.
After the grand opening, Unknown's taproom will be open a couple days a week, along with Sundays when the Panthers play at home. Beginning in late December/early January, Unknown will extend its days and hours, and that's also when you'll see the beer begin to arrive in local bars, bottle shops and restaurants.