Unlock Your Creativity at New Local Studios
Need help awakening your inner artist? These studios are here to help. The wine doesn't hurt either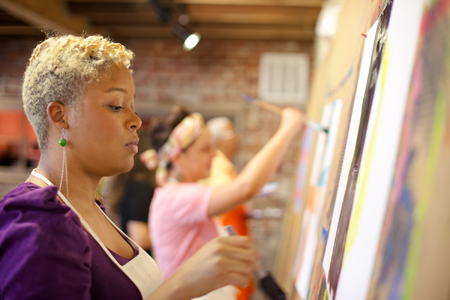 Picasso said all children are artists. The problem is how you remain one as an adult.
Don't believe it? Try holding a paint brush and staring at a blank canvas. People have been known to weep at the sight, says Erica Gibbert, founder and owner of Tangerine Sky Expressive Art Studio near NoDa.
Gibbert talks the terrified down from the artistic ledge. "I remind students that it's just paint and paper," she says. "A white piece of paper can create a huge sense of responsibility, but any meaning [it] has is only there because we assigned it."
Tangerine Sky is one of three new Charlotte art studios aimed mainly at adults. Along with Painting with a Twist, a studio in the SouthPark area, Tangerine Sky lets you bring your own libations. All the art supplies you'll need are laid out and waiting for you. You bring your friends—or come solo—and a pro guides you through the process.
The idea behind both studios is to help (non-artist) adults overcome the fear of trying to create art. The first step, says Tara Fitzgerald, owner of Painting with a Twist, is letting go. "I think we all have this feeling of being inadequate in some way. Art is the process of letting go of control to create something."
"Kids have parks and playgrounds," she continues. "We use music, humor, gentle support—and wine—to create an adult playground."
Catherine Anderson takes a different approach. The photographer converted her garage into an artistic playground. The lawyer-turned-photographer offers classes such as Visual Art Journaling, Photography as Meditation, and Turning 50: Exploring the Doorway to the Wisdom Years.
"I give [people] permission to play," she says. "I remind them that the process is more important than the product." She advises students to send their inner critic "out to tea."
And no special equipment is required at these studios. Anderson says a phone camera will do just fine for her photography classes.
If self-criticism is a barrier to creativity, so is something even more basic—fear. "In the creative process, as in life," Gibbert says, "there is no getting past fear." There is only moving through it, which she says involves "grabbing a color that jumps out at you and simply brushing, smudging, or squirting it on the paper."
At all of these studios, you'll get instant gratification: You leave with the art that you create. But you also leave with something even more important—confidence. "Any time we create something we didn't think we could," Anderson says, "we experience a sense of joy."