Unpacking the Magic of High-Flying 'Traces'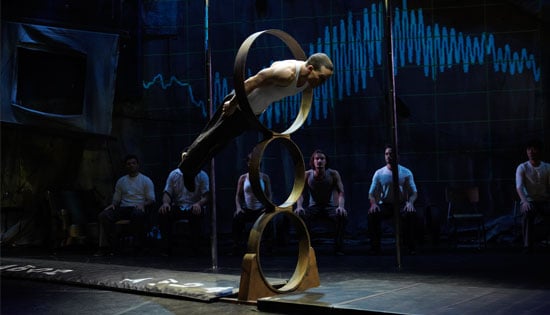 For years audiences have left this show wondering, "How did they do that?"
Traces, the beloved traveling Broadway show, is full of high-flying and frenetic performances and it's opening at the Knight Theater this week. The 90-minute show is unrelenting in its pace and full of unbelievable stunts. Performers stretch out horizontally on poles, dive headlong through impossibly high hoops, and flip and twirl with abandon.
Often compared to Cirque Du Soleil, Traces brings the talent of street performers and artists onto the stage. But where Cirque is big and heavily produced, this show is more industrial and feels more like a showcase.
The performers in this show have varied backgrounds but all possess an athleticism that rivals professional athletes and the grace of a seasoned ballerina. LJ Marles, 22, a self-taught street dancer who attended the circus school Circus Space in his native London, joined the cast last year. Marles is a member of the third cast of performers for the show since it opened in 2005. The performers are part of the Montreal-based troupe 7 Fingers
"It takes a while to really get all of the routines down," he said in a phone interview. "I trained for six full months before I felt I had it all down, but it took a lot longer for the nerves to go away. You have to build the trust in yourself and the others on stage, and once you do it's pretty awesome."
Here's a sampling of the show.
Marles says his favorite part of Traces is the opening scene. Many of those stunts are featured in the montage video above.
"That opening scene is a shock to the audience," he said. "It's the biggest, most over-the-top performance of the show, and it just startles audiences every time. Once you've made that initial connection with the crowd though, it makes the show feel more alive."
And while audience members may be gobsmacked by the relative ease in which the performers complete the stunts, there is a serious danger involved. Injuries are an inevitability for a show like this.
What is startling is that the cast doesn't travel with any understudies. Performers merely change up the routine by cutting certain tricks or allow an injured teammate to do some of the less strenuous feats until he/she is well enough to resume them. On rare occasions, and for more serious injuries, a former cast members have filled in as replacements.
This versatility makes the performers so unique and allows Traces to still feel electric and raw no matter how deep into the schedule it may be.
The show will continue at the Knight Theater through May 19. Tickets can be purchased here.
For more information on the show or the performers follow @TracesUSA on Twitter or like them on Facebook.