Up on the Hill: Blowing Rock
The air feels different in Blowing Rock, where the townspeople look after one another and the deer and turkeys run free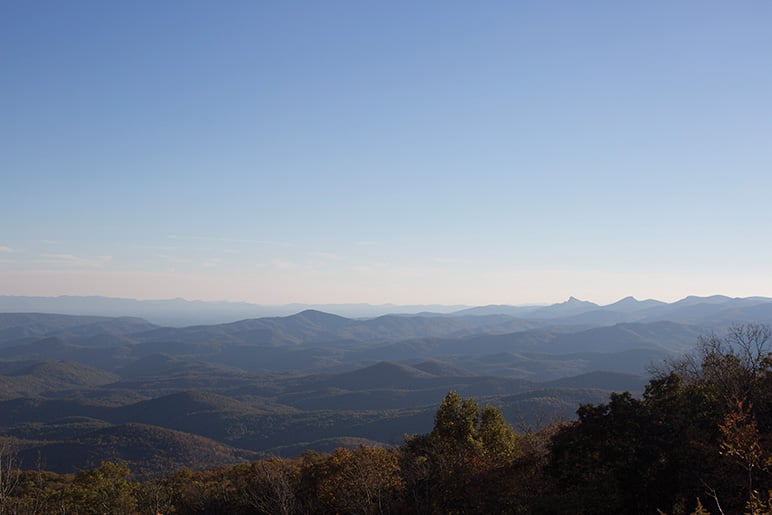 The white-haired man appears at my elbow just after the tuna salad arrives. I'm sitting on the patio at Kojay's Cafe, enjoying the view of Main Street in Blowing Rock: potted flowers hanging from old-fashioned street lamps, low stone walls lining the sidewalk, tourists eating ice cream as they wander from one shop to the next.
All the tables around me are full, but there is an empty seat at mine. The elderly gentleman is looking down at me with his newspaper tucked under his arm, waiting for me to look up.
He asks if he can join me. He promises not to be a bother. He'll just sit quietly and read the paper while he drinks his coffee.
I've just driven 100 miles into the mountains from Charlotte and would prefer to eat my lunch in peace. But I don't want to be rude.
So he sits, with his muffin and his coffee and his paper, and of course he isn't quiet. He tells me he lives in Boone, where he retired from the real estate business. His wife has passed. He's here in Blowing Rock today to visit a sick friend. His glasses are smudged and he's a bit hard of hearing, and I'm starting to warm up to the conversation.
After about half an hour, he makes a confession. His name is Wade Wilmoth, and he was the mayor of Boone in the late 1970s and went on to serve in the state House of Representatives in the 1980s and '90s.
These days, Wilmoth often drives over to Blowing Rock to get away. "I just loaf," he says.
This strikes me as funny. He lives in the next town over, and he comes here to escape?
Compared to Blowing Rock, Boone is a big city, a university town overrun by 18,000 students. It's quieter here. Wilmoth likes the people. And besides, "There's an air here."
By "air," he means money—people with money. "I see 'em on Sunday going to church," he says, sitting up straight and throwing his shoulders back.
That kind of air. But there's also something about the air itself. It changes as soon as you enter the town limits. It's crisp and cool, unburdened by the weight of car exhaust and humidity. It draws people from Charlotte or Raleigh or South Florida up the mountain for a vacation, and then tempts them to buy a house and stay for 30 years.
That's why I drove to Blowing Rock today. I wanted to understand that pull. What is it about this small place that incites such devotion? How is it different from other mountain towns? How can the air make you feel that you're far away from home, even if home is just the next town over?
***
CITY FOLKS HAVE BEEN coming to Blowing Rock in search of that air for more than 150 years, before the town was incorporated. In the late 1800s, they rode up the mountain on horseback to stay at hotels such as the Green Park Inn, which straddles the Eastern Continental Divide. Back then, it took three days to travel by horse and buggy from Charlotte.
More hotels, golf clubs, resorts, and tourist attractions followed. The town's namesake, "The Blowing Rock," is perched on a cliff 4,000 feet above sea level and gained fame from a legend about two Native American lovers reunited by a gust of wind.
Grover Robbins Sr. turned the area around the rock into a tourist attraction in 1933, making it the oldest such attraction in the state. Blowing Rock is also the only town in these parts with two exits off the Blue Ridge Parkway, Joe Lineberger tells me.
Lineberger knows this because he's been spending summers in Blowing Rock since 1949. His parents had a fishing cabin here and later opened a motel. They would travel up the mountain from Hickory and stay "up here on the hill, where it was cool," he says.
Today Lineberger sits behind the front desk at the Blowing Rock Art & History Museum, an impressive affair at the southern end of Main Street, with vaulted ceilings, a stone facade, and walkway pavers with carved messages such as, "Sunsets, Stardust & Snowflakes—That's Our Town."
Lineberger works for the visitor center, which is housed inside the museum. He wears khaki pants and red-framed glasses and leans back in his chair when he's swapping stories. In his own way, he's a living piece of history.
He was the first golf caddie at the Hound Ears Club in 1964, and he played both a cowboy and an Indian at the Tweetsie Railroad theme park. When he was a teenager, Blowing Rock was still a dry town. Lineberger and his friends hung out at the bootleg bars—Antlers, which is now part of a restaurant called Bistro Roca; and The Bark, which was once a brothel, bar, and casino, and is now Canyons Historic Restaurant & Bar, one of the only dining spots in town offering a view of the mountains.
Some of Lineberger's favorite memories are of the old auction houses on Main Street, where dealers once hawked everything from umbrellas to $100,000 diamonds. They'd claim to be selling Gloria Swanson's jewelry, and as a kid Lineberger had no idea if that was true, but it was fun to play along while feasting on free soda and ice cream. "It was a show," he says.
Then the summers ended. The auction houses closed. Lineberger grew up and moved away. He sold and restored cars and lived in California and Florida. But 26 years ago, at the urging of a close friend, he moved back to Blowing Rock. He married his second wife and stayed. It's tough to pinpoint what keeps him here. "Mostly the people," he says.
Mostly. But, as Wilmoth says, there must be something else, too.
***
THE NEXT MORNING, Ginny Stevens sits on the front porch of Edgewood Cottage, greeting visitors to the artist-inresidence exhibit. She's wearing an elegant blouse and cardigan, her gray hair smooth, her hands resting on the walker in front of her. She and her husband retired to Blowing Rock from Raleigh 30 years ago, and she understands how the town works.
"It's very important for us to be nice to these people," she says after a group of tourists walks by, "because they keep our village going."
Stevens, who has twice served as president of the Blowing Rock Historical Society, is trying to give me a brief rundown of the history of this cottage. She tells me that it's a reconstructed version of the 1890 summer home of the artist Elliott Daingerfield. He taught classes here every summer and prayed before he painted every day. Nowadays, a different high-country artist displays his or her work in this cottage every week in July and August.
Stevens interrupts herself to give driving directions to a young woman with a pixie haircut and a bright pink shirt. This is Melissa Pickett. She runs the Artists in Residence program and, along with her husband, Ray, owns the Blowing Rock Inn. She also serves on the board of the chamber of commerce, among countless other duties. In other words, she's like many other people in Blowing Rock.
Lineberger says there are 1,600 year-round residents in town, and that number swells to 9,000 in the summer. But Stevens puts the year-round estimate closer to 1,200 and, in her opinion, a much smaller group of people keeps the whole place
running smoothly. They serve on councils and boards, and they organize events such as the Hometown Harvest Supper in November. Some of them work three and four jobs so they can afford to live here.
And they look after one another.
"Alright, Grandma Ginny," Pickett says as she heads out to the parking lot.
The two women are not related, but it's clear why they feel like family. This is a small place.
Kent Tarbutton, the owner of Chetola Resort, remembers moving here in the late 1990s as a single father with a 13-year-old daughter. He was amazed to learn that after school, the local children played in a park until it was time to go home. One evening, another parent called to inform Tarbutton that his daughter was involved in a spat with another child in the park. His daughter was incredulous about this system of neighborhood watch. "How could you possibly know that? Were you there watching me?" she asked.
"Honey, we're in a little town," he told her. "Everybody's watching you."
That knowledge is especially comforting for older residents dealing with the challenges of illness or aging. They may have started coming to Blowing Rock years ago to escape their everyday lives, but they stay because the town
has become their home.
"I can't tell you how many people have been so nice to me since I've been so crippled," Stevens says.
She worries that her comments sound like a cliché. It's a small town; of course people take care of one another. But it's more than that. She tries again. "The joy of my staying here is that, if my car won't start and I'm at town hall, the fire chief will come out and start it for me."
***
ON MY THIRD DAY in Blowing Rock, I meet up with a Charlotte friend who has a cabin a few minutes outside of town. I'm hoping to explore the side of Blowing Rock that brings people up here in the first place—the quieter side. The Charlotte area is the number one source of visitors to Blowing Rock, and they don't all drive up to chat with people on Main Street.
Many come for the mountains, the leafy drives, the hikes through forests and waterfalls.
We descend a long driveway that winds down a mountainside, crunching gravel beneath my Camry's tires. Just as we round the last bend, two wild turkeys scurry across the road. Three deer—a buck and two does—gallop after them.
Their presence sets the tone for the rest of our stay. One afternoon, we pull off the Blue Ridge Parkway and pick wild blackberries on the side of the road. We spend a foggy, drizzling morning walking around the lake in Julian Price Memorial Park, discovering new species of moss and new shades of green, marveling at plants that look like sea anemones. The southern Appalachians make up one of the most biologically diverse regions in the temperate world, and a rainy day in Blowing Rock proves that point over and over again.
Back at the cabin, we fall asleep listening to the rain thrumming on the roof. In the morning, we awake to incredible stillness. Our cell phones don't have reception here, and there is no Internet service. The radio is unplugged, and the nearest traffic sounds are all the way at the top of that long, gravel driveway.
We stand on the front porch holding coffee cups, hushing one another as we stare out at the mist in the clearing. Two brown, pointed ears appear in a thicket, followed by the long, slender neck of a doe nibbling on low branches. We hold our breath. We share the silence.
The air is different up here.
Lisa Rab is an associate editor for this magazine. Reach her at lisa.rab@charlottemagazine.com or on Twitter: @lisayrab.