Upcoming Food Events (Dec. 22-Jan. 1)
Bring your hunger this holiday season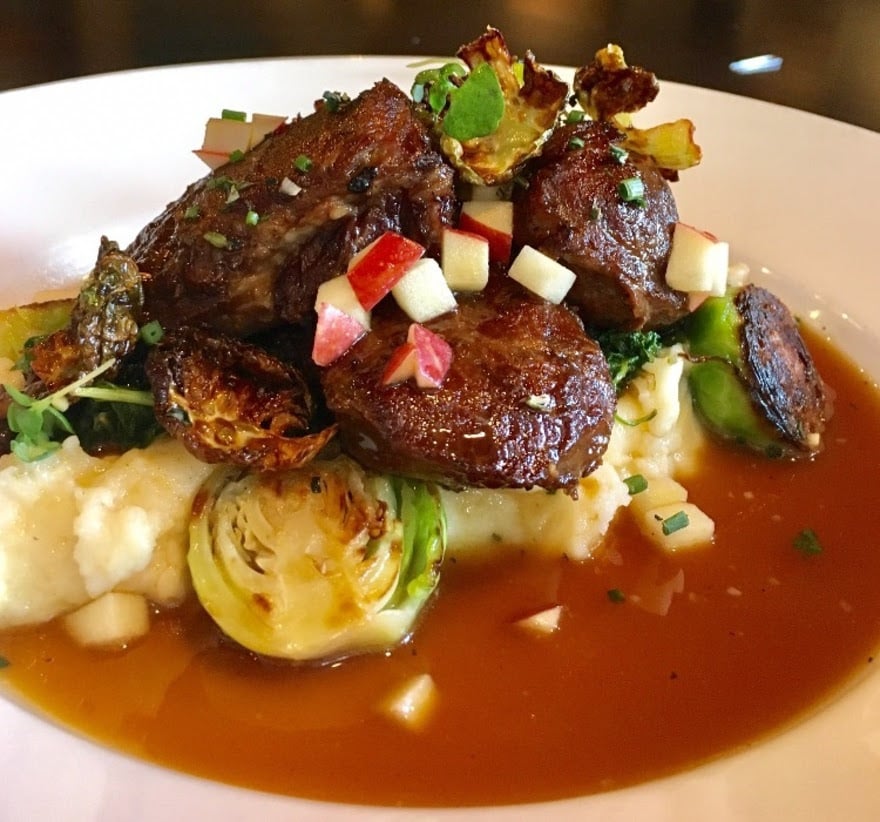 All of the holidays are about to hit, and we've got the round-up of food-based activities around the Queen City for your dining pleasure during this busy season.
Block and Grinder: If you haven't heard, Chef Ethan Moyer will be saying goodbye to the Block and Grinder team to pursue opportunities in Asheville, NC. His last day at the restaurant at the LangTree location in Mooresville will be Friday, December 23. Head out for a quick bite or a giant dinner at the spot as a send-off to this wonderful chef.
________________________
Aqua e vino: The Italian eatery is hosting its own Christmas Eve dinner on Saturday, December 24, with a special menu celebrating the classic Feast of the Seven Fishes along with plenty of other dishes to please your palate. The special menu boasts salmon, octopus, whole branzino, classic meat lasagna, and more. Plus, aqua e vino will allow guests to add fresh Italian white truffles to marked dishes for $10 per gram. Seating is limited; call 704-364-4445 to make a reservation.
________________________
Stoke: Christmas Eve and Christmas Day will be busy at uptown's Stoke, where Chef Chris Coleman will serve a 4-course prix fixe dinner for $50 per person. The menu includes dishes like deviled eggs, mushroom and Carolina Gold Rice bisque, frisee salad with bacon, avocado, and embered egg, Sunburst Trout with pecan gremolata, beef tenderloin, and more. Dessert is a special take on Stoke's signature one-pound doughnut topped with chocolate diplomat cream and peppermint. Seatings for Christmas Day, December 25, are available at 2:30 p.m.; 5 p.m.; and 7:30 p.m.; reservations are strongly recommended and can be made by calling 704-353-6005. The prix fixe menu will also be available on Christmas Eve, December 24, in addition to the a la carte menu.
________________________
Aix en Provence: Celebrating their one year anniversary on December 28, Aix en Provence will be hosting Christmas Eve and New Year's Eve celebrations on December 24 and December 31 respectively. Christmas Eve reservations will be accepted from 5 to 8 p.m.; New Year's Eve will host two seatings – the first from 5 to 6:30 p.m. and the second from 7 to 8:30 p.m. There will also be live music. You can book your spot for either event on the website or by calling 704-332-1886. The menus include oysters on the half shell, pan roasted tile file, beef wellington, poached pears, roasted duck breast, opera cake, and more.
________________________
Stagioni: Bruce Moffett's Italian eatery will host a five course meal served family-style on Christmas Eve, Saturday, December 24. The meal includes spuntini (snacks), antipasto, porchetta, pasta, whole roasted fish, AND dessert. Cost is $65 per person for adults and $25 for children aged 5 to 12. Call 704-372-8110 to reserve your spot; seatings begin at 5 p.m. Chef Andrew Dodd has also curated a four course dinner for December 31, New Year's Eve, beginning with a prosecco toast. The menu includes choices for antipasto, primi, secondi, and dolce. Visit the website for the full menu; call 704-372-8110 to make your reservation.
________________________
Good Food on Montford: Finally, we have Good Food on Montford as an option for Christmas Eve dinner on December 24! The restaurant will offer seatings for the festive occasion starting at 5:30 p.m. on Saturday, December 24; the catch is that Good Food will close by 8 p.m. that evening, so eat quickly! Reservations are being accepted now, so reserve your spot at this delicious small plate mecca by calling 704-525-0881. Additionally, the restaurant will be taking reservations for New Year's Eve, December 31. Call the restaurant to reserve your spot.
________________________
The Asbury: The little spot in uptown will host two seatings at $55 per person ($25/person for children 6-12 years old) on December 25, Christmas Day, for their three course special menu which includes choices of an elegant chicken pot pie; cranberry pecan trifle, and barbecue cauliflower with UAV burrata. Call 704-342-1193 to make your reservation and view all the details on the event page. The Asbury will also host a New Year's Eve tasting menu on December 31; seatings starting at 5:30 p.m. and extending until 9 p.m. Cost is $80 per person with optional wine pairings for an added cost. The prix fixe menu features butter-poached ham-crusted scallops, braised pork cheeks with whipped potatoes and apple and fennel demi, and more. Get all the details here; call for your reservation at 704-342-1193.
________________________
Chef Alyssa's Kitchen: Wondering what to get the kid who has everything? Chef Alyssa's Kitchen is hosting Kids Cooking Classes on Friday, December 30 with two cooking sessions and few spots remaining! Kids ages 7-16 cook adult meals made with fresh, local ingredients including butternut squash soup and gourmet mac and cheese. The first session is Friday, December 30 from 9:30 a.m. to noon and the second session is Friday, December 30 from 2 to 4:30 p.m. After each session, the kid chefs sit down and enjoy the fruits (and vegetables) of their labor. Price is $70 per child and includes a full recipe book to take home. Visit the website to reserve your spot!
________________________
Barrington's: Bruce Moffett's flagship restaurant is offering a five course dinner with Champagne to ring in the New Year on December 31. The menu includes choices of seared Hudson Valley foie gras; vodka cured salmon with caviar; roasted NC flounder with tempura shrimp; and more. Seatings begin at 5:30 p.m.; call 704-364-5755 to reserve your table.
________________________
Le Meridien Charlotte: Looking for a very fancy New Year's Eve? Le Meridien will be hosting the 4th annual Southern Skyline Grand Ball on Saturday, December 31, from 9 p.m. to 2 a.m. The black-tie-optional celebration is $130 per person for general admission; additional VIP options available. More info is available on the website; buy tickets here.
________________________
Heritage Food & Drink's New Year's Eve Dinner: Head to Heritage for a seven course tasting dinner celebrating the arrival of 2017 on Saturday, December 31. Cost is $80 or $108 per person with wine pairings. It's also Chef Paul Verica's birthday, so head out to the restaurant, raise a glass, and celebrate!
________________________
New Year's Eve at Lumiere: The French restaurant in Myers Park is hosting a very special New Year's Eve dinner, complete with five courses and optional wine pairings. Cost is $85 per person or $75 if you choose to eat early between 5:30 and 6 p.m. on Saturday, December 31. The menu already holds promises of wild boar tenderloin, pan seared scallops, duck l'orange, and salted caramel crème brulee. Make your reservations here or call 704-372-3335.
________________________
5Church's New Year's Eve Dinner: Uptown's spot to be seen is hosting its annual New Year's Eve bash with options for everyone on Saturday, December 31. A four-course menu, including half a bottle of Champagne for two or a full bottle for four is available for $75 per person from 5 to 5:45 p.m.; $80 from 6 to 6:45 p.m.; or $90 from 7 to 7:45 p.m. After 8pm, the four-course menu, Champagne, and post dinner dancing is $120 per person. There will be a Champagne toast at midnight, live countdown to the ball drop, party favors, and music. Available also is a $50 upgrade after dinner for the open bar and buffet, from 10pm-2am. A portion of all proceeds will be donated to the Levine Children's Hospital. Visit the website or call 704-919-1322 to reserve your spot! Additionally, the restaurant will host a New Year's Day brunch with dishes like octopus ceviche, Bourbon French toast, crab cakes with jalapeno beurre blanc, and fried green tomatoes from 9 a.m. to 4:30 p.m. on January 1. Cost is $35 per person and $21 for those 12 years and younger.
________________________
Passion8's James Beard Dinner: Make your reservations now for Chef Luca Annunziata's and Chef Sylvain Rivet of Renaissance Patisserie's James Beard rehearsal dinner on Tuesday, January 17 from 6 to 9 p.m. at Passion8. The reason for the rehearsal? The two Charlotte chefs will be joined by French master butcher, Marc Pauvert, of the Four Seasons in Baltimore as they present their dinner, "The Butcher, The Baker, and The Chef" at the James Beard House in New York City's Greenwich Village on January 27. Luckily for us in the Queen City, we get a sneak peek of the menu, which will feature a six-course menu including Gnocchetti Verdi (lamb ragu) with French classics like duck confit. To reserve your spot, call 704-910-3161 or visit the website. Cost is $75 per person.