Upcoming Sensoria 2016 Picks (Plus: Weekend Arts Events, April 15-17)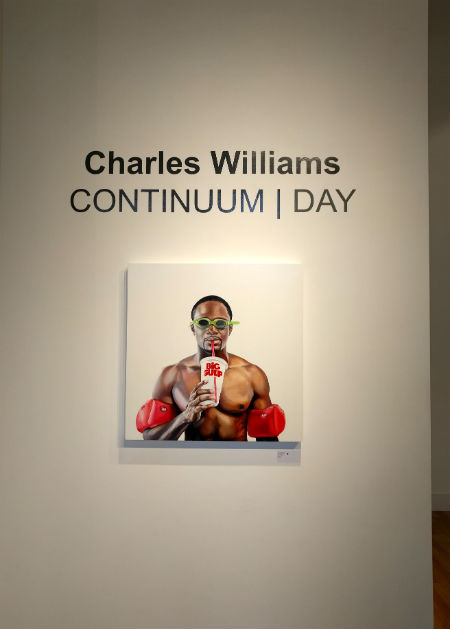 AS WE HEAD into the weekend, Sensoria Festival 2016 (April 8-16), a literature and arts festival at Central Piedmont Community College, offers several arts events open to the public. A few to note:
* Amy Bloom, the "Irene Blair Honeycutt Distinguished Lecturer," presents at Dale Halton Theater on Wednesday, 8 p.m. Bloom is the author behind the novels Lucky Us, Away, and Love Invents Us.
* CPCC Theatre's production of Rosencrantz and Guildenstern Are Dead at Pease Auditorium, with shows Thursday through Sunday.
* Charles Williams: Artist Lecture and Opening Reception, in which the artist talks about his latest works. Read more about that here, in Spring Arts Preview 2016. Thursday, 6 p.m., at Tate Hall for lecture; 7:30 p.m. at Ross Gallery for reception.
* Comics Are For Real: A Heroes Panel, a moderated panel in which comic pros Rico Renzi and Dustin Harbin talk about their medium, Thursday, 11:00 a.m., at the Levine Campus Auditorium.
* Film People Festival at 10 a.m. Friday, at Overcash Lobby. The showcase centers on film production roles outside of directing and acting, like special effects artistry, costume design, and broader production positions.
Otherwise, check out what else the weekend has in store below.
---
FRIDAY
CHARLOTTE SYMPHONY KNIGHTSOUNDS: THE JAZZ ROOM AT THE SYMPHONY
Jazz Appreciation Month continues with a special KnightSounds program. The Jazz Room typically focuses on one legend to emulate. But here, Ellington, Gershwin, and others are given the Jazz Room treatment.
FLY BY NIGHT
This musical, conceived by Kim Rosenstock, is labeled as a "rock-fable" by Actor's Theatre of Charlotte. A sandwich-maker's monotonous days are interrupted when two sisters come into his life.
SATURDAY
PAGLIACCI WITH ALEKO
One is the U.S. professional premiere of a Rachmaninoff work. The other is Pagliacci, a piece already regarded as a classic. Any fan of the form has a reason to check out this Opera Carolina production.
SINGIN' FOR A REASON: AN EVENING WITH DAVID BRITT & FRIENDS
This show, led by Charlotte country songwriter David Britt, benefits the Children's Brain Tumor Tissue Consortium at the Children's Hospital of Philadelphia. Also on the bill: Dave Desmelik, Jason Scavone, and Reeve Coobs.
NORTH MISSISSIPPI ALLSTARS
With that moniker, you know where this band was born. But you also hear it in the group's sound: Southern blues rock that's been nominated for Grammys several times over.
DANCING WITH THE STARS OF CHARLOTTE FOR THE PINK HOUSE
It's a ballroom dance competition that benefits Carolina Breast Friends, which supports those locally dealing with breast cancer. The show features instructors and professional dancers from Charlotte Ballroom and Mark Ballas Dance and Performing Arts.
SUNDAY
ALTON BROWN LIVE: EAT YOUR SCIENCE TOUR
Brown follows up his beloved "Edible Inevitable Tour" with a show in the same vein. Look for the comedic and musical style of the first show, but this time, there's more crazy experiments and flames. All serves to put the focus of what we put in our bodies.
CIRQUE MECHANICS PEDAL PUNK
Steampunks unite. This high-flying show combines acrobatics and cycling. It's framed in a narrative about a bike mechanic and his zany inventions.
BECHTLER MUSEUM OF MODERN ART
The Bechtler's building, designed by Swiss architect Mario Botta, is a modern work of art itself, and Niki de Saint Phalle's iconic outdoor sculpture, "The Firebird," welcomes visitors. Inside, you'll find fine art exhibitions, films, jazz and classical concerts, and talks. The Art of the Print (through June 19) explores the medium of printmaking, beginning at the point in which artists first implemented the form into creating new works. Works Eduardo Chillida, Marino Marini, Martin Disler, and others are included.