Uptown Encore: Rooster's
The restaurant's second location is something to crow about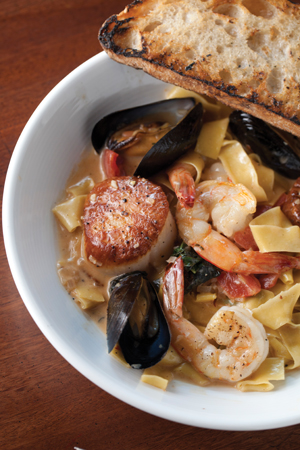 Five years after the original Rooster's Wood-Fired Kitchen opened in SouthPark, owner and chef Jim Noble has added a second location uptown inside One Bank of America Center. The new space echoes the elegantly rustic interior that has become as much a part of the Rooster's experience as the food, which is cooked in the restaurant's hickory wood–fired ovens and grills and served à la carte.
The lower level offers a cozy bar and high-top seating. A few special dishes are served only here (check the chalkboard menu, which changes daily, for details), but the full dinner menu is also offered after 4 p.m. Upstairs in the dining room, guests are greeted by a Rooster's signature—a flock of stuffed roosters—and a large display kitchen that's easily viewed from nearly every seat.
Not surprisingly, the menu at the uptown location doesn't stray far from its sister restaurant, but Executive Chef Joe Kindred (formerly of Delfina in San Francisco) leaves his mark on the daily specials menu. There's always a pasta dish (Kindred's specialty), as well as a selection of charcuterie that's made in-house. Fried oysters ($8) are plentiful, plump, and crispy, and ready for a dunk in the refreshing cocktail sauce served alongside. The seared sea scallops entrée ($18) offers three large, lightly seared buttery scallops on a bed of sweet-pea purée. The duck breast ($19) arrives seared, with a delicate sauce reminiscent of barbecue. A generous portion of haricots verts ($8) is made with a garlicky, herbaceous sauce and is perfect for sharing. One new addition to the menu is planned for the next few months: the chefs are crafting their own beer in-house with barley malt from Anson Mills.
Fans of the original Rooster's will find plenty to love at the restaurant's sophomore location. In its upscale, urban setting, the bar is a great spot for drinks or dinner before a show, and the cozy, intimate dining room works equally well for larger parties and romantic dinners for two.