Uptown I Do
The dos and don'ts of a Charlotte courthouse wedding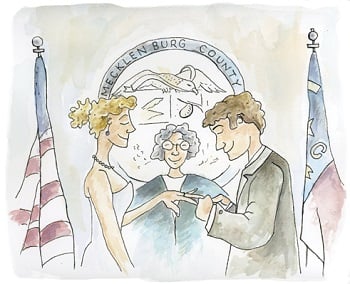 Andi Perullo and her husband, Argentina-born Lucas Ledesma Pavon, loved their dream wedding: a gorgeous, 70-person fete in Buenos Aires.
The only problem? Their marriage wasn't legal in the United States.
"We considered having a second wedding but decided that nothing could top the first," says Perullo. "And after spending a year of planning [for the first wedding], we just wanted something simple."
The couple opted for a courthouse wedding for their second ceremony. "Many couples choose to wed at the courthouse if they're having a destination wedding where obtaining a marriage license is more difficult," says Ivy Robinson of Ivy Robinson Events. "I had one bride who was getting married in Maui, and because the marriage laws were so strict in Hawaii, the couple chose to have a courthouse wedding."
Others go the courthouse route for simplicity and privacy. "The courthouse wedding is really meant for the couple that truly does not care to have the focus on them on a traditional wedding day," says Anne Markey of Favor Me Events. "It is meant for the couple that wishes to have a private and intimate ceremony without the fuss of florals, caterers, and even guests."
But getting hitched at the courthouse creates a specific set of factors to consider. Here are five tips for a flawless courthouse wedding in Charlotte.
Choose Your Date Carefully
If you plan on getting married at the Mecklenburg County Courthouse, know this: Ceremonies are performed in two locations, one of which you likely won't want. The first and most fitting option is in the actual courthouse, where ceremonies are performed on Mondays and Fridays between 2 and 4 p.m. on a first-come, first-served basis. "Be prepared to wait a long time," advises Perullo. "The line can be a long one." Tuesdays through Thursdays, ceremonies are performed at the county jail—yes, the county jail—between 7 and 8 p.m.
If you're planning to apply for a marriage certificate on the same day as your ceremony, your wait time may be even longer. However, marriage licenses are good for 60 days, so if you'd like to cut your wait time a bit, head to the courthouse before your wedding date to apply. Just be sure to get in line before 4:30 p.m., and be prepared to spend $60—cash, credit, or debit.
Iron Out the Details
Having the proper paperwork is key to a smooth, headache-free ceremony. You can find the necessary paperwork at charmeck.org. In addition to completing the marriage license forms (or bringing your previously completed paperwork with you), remember to bring $20 in cash and, most importantly, two witnesses. "Couples are able to bring others with them—other than the two witnesses," says Markey, "but should know that the courtrooms are small. Most couples, if they bring other guests, typically bring no more than six people."
Keep It Simple
Simplicity is the way to go, fashion-wise. "[Choose a] simple, classic, no-fuss dress," says Markey. "Let's face it: It's a courthouse wedding. So wearing the big, poofy wedding gown would just seem like an oxymoron." Perullo opted for a simple, white dress for her courthouse ceremony. Likewise, keep your accessories minimal. A nosegay or small floral bouquet is the perfect match for such a simple service.
Be OK With It
The courthouse weddings in the movies look romantic; they are, after all, in cities like New York and Chicago that are full of charming historic buildings. But here in Charlotte, a courthouse is simply a basic room that won't impress many brides. "The courthouse is really impersonal and not romantic at all," says Perullo.
A courthouse wedding is truly for the couple that craves simplicity. Ask yourself if you're really OK with not having a traditional wedding. "That means no walk down the aisle, no first dance, no guest list," Markey says. "If you are OK with this—or even happy about not having to deal with these things—then the courthouse wedding is for you."
Document It
A wedding at the courthouse means you won't have any keepsake images from your actual ceremony. All cameras—even cell phone cameras—are prohibited inside the courthouse.
But all is not lost. The courthouse's proximity to prime uptown locations makes lining up a photo session with a wedding photography post-ceremony a cinch. So while you may not have photos of you and your beloved exchanging vows and rings, you can still document the most memorable day of your life by booking a wedding photographer for a session after you've said "I do."