Uptown Respite: Wooden Vine
Let those crazy kids have the EpiCentre. We'll be having a glass of wine at Wooden Vine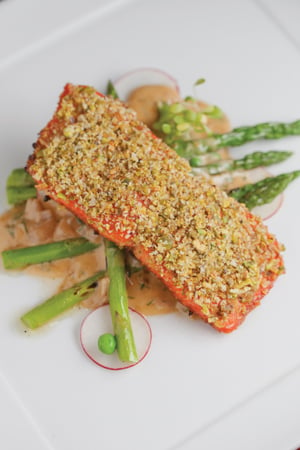 If you are over the age of thirty-five, do not particularly enjoy riding mechanical bulls, have never heard of Axe body spray, and gave up liquor shots around the same time Bill Clinton was exiting the White House, you know what uptown needs. It needs a place for adults to enjoy a nice glass of wine—and perhaps a bite to eat—after a show. A place that is not in the EpiCentre.
The Wooden Vine abides.
This cozy spot falls somewhere between a neighborhood pub and one of those hip, lounge-type places that seem to be so popular. As one might expect from the name, there's lots of wood—including striking bamboo floors—and the décor and menu emphasize wine. It's in an almost-ideal location for a place like this. It's one block from Spirit Square and two blocks from Belk Theater, but it's removed from the Fifth Street madness and the vortex of pheromones that is the EpiCentre.
Wine is the centerpiece. The list includes more than thirty by the glass. If there is an emphasis, it's on California, but the old and new worlds are well represented here. Bottle prices tend to run $40 and up, but we found a decent Côtes du Rhone for $38. Most of the seating is elevated, and there are several community tables as well as a few couches. A sign at the door encourages you to seat yourself, which is a bit jarring when juxtaposed with the pleasant servers dressed in sparkly eveningwear. Wooden Vine's most striking feature is the long, curved wooden bar that lines one side of the rectangular space. Its stools are usually filled with a mix of regulars who either live or work uptown. As evening turns into night, show-goers filter in, and as night turns into late night, the beautiful people stake their spots.
Wooden Vine offers a full menu for lunch and dinner, but the kitchen is in transition. This is probably a good thing. The all-tapas menu as of January, which was a mix of classic Spanish and contemporary small plates, contained few surprises. The shrimp and grits ($8) and beef short ribs ($8) were deconstructed, with each ingredient separate on the plate, but neither were executed particularly well. The tacos (two big ones for $8), with zingy chipotle-tomato braised chicken, and the lamb meatballs ($9), which were stuffed with melted hous-made mozzarella, fared better, as did the Berry Balsamic Bread Pudding, which came in little slices. Other dishes include two styles of scallops, herbed gnocchi with chicken confit, and seared Grateful Growers pork belly with grits and a soft egg (our server described it as "tasting like breakfast"). A new chef was set to unveil an updated menu in February, with more entrée-size portions.
It'll be a positive development if the food catches up with the atmosphere. Uptown Charlotte needs more places like Wooden Vine—locally owned, laid-back, and open late. Let the kids have the EpiCentre.
We adults deserve a place of our own, too.