Uptown St. Patrick's Day Bar Crawl, Barbie's Birthday Party, Shake Your Shamrocks Party Cruise, St. Patrick's Day Festival and More March 12-March 15
St. Patrick's Day weekend is looking good for you, Charlotte. And if dressing in green just isn't your thing, we've got a few events for you too.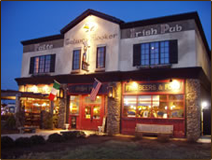 Break out your Blarney Stones and grab your greenest of beers. It's the weekend where everyone is Irish – if even just for a day. St. Patrick's Day weekend is upon us, and with it comes a whole lot of fun for the Queen City. As they say in Ireland, "Slainte!" See y'all out there.
Thursday, March 12
March Money Madness
Hosted by the Junior League of Charlotte, this fundraiser features a raffle, silent auction, complimentary heavy appetizers, beer, wine and a specialty cocktail. The evening starts at 6:30 p.m. at Dilworth Neighborhood Grille, 911 E. Morehead St. Tickets start at $25 and can be bought here.
NoDa Food. Art. Music. Rally
The spring season of this free weekly event starts today with live music, food trucks, artists and vendors. Bring the dogs along; there's a dog costume contest each week. The kickoff starts at 6 p.m. at 399 E. 35th St.
Friday, March 13
Barbie's Birthday Party
Charlotte Seen presents the annual birthday bash for the Barbie inside you. The party features a Barbie fashion show, Barbie birthday cake, Barbie-themed cocktails and free admission. The evening starts at 8 p.m. at Bubble, 210 E. Trade St. Bubblecharlotte.com
Shake Your Shamrocks
Come take a cruise on Lake Norman and get busy shaking that shamrock of yours. DJ Bob is serving up music at this event. If you wear green, rumor has it, you'll get the first drink on the house. Registration is from 6 p.m. until 7:30 p.m. with the last bus leaving for the party cruise at 7:45 p.m. The party starts at Mojo's Grill, 19901 Holiday Lane in Cornelius. Online sales have ended, but you can still purchase tickets at the event for $15.
Male Fashion Event
SILVERFLY presents its spring collection for men with all kinds of additional pizzazz, including manicures from AlphaMale Nail Care, door prizes, food, drinks and raffles. The free event is at 1111 Metropolitan Ave. starting at 8 p.m. silverflybrands.com
Young Professionals Social Mixer
Awesome Random Adventures group hosts this event that features an appetizer buffett, mix-and-mingle games, a gift certificate giveaway, BOGO drinks at Tilt on Trade following the mixer. The event starts at Blackfinn, 210 E. Trade St., at 8 p.m. Tickets are $10 and you can either reserve them online here or pay at the event.
Gold Digger's Ball
BAR Charlotte's annual St. Patrick's Day ball features a Michael Kors purse giveaway for the lucky woman who collects the most gold coins throughout the evening. May the luck of the Irish be with ye. Doors open at 9 p.m. and an RSVP gets you free admission before 11 p.m. The ball is at 300 N. College St. RSVP here.
Madness Bar Olympics
Join StrikeCity as March Madness kicks off for a chance to win March Madness tournament tickets. Registration for the basketball-themed bar games starts at 9 p.m. and the games begin at 10 p.m. at 210 E. Trade St. Send an e-mail to Kelly at kroper@strikecitycharlotte.com for more information.
Saturday, March 14
Rich and Bennett's Annual Pub Crawl
For the 15th year, Charlotteans will flood the streets of Uptown for this St. Patrick's Day pub crawl. Check in starts at noon and goes until 3 p.m. in the pub crawl's "Party Lot," 219 E. Seventh St. (behind Dixie's Tavern). Here, you'll get your T-shirt, itinerary and could win a few giveaways. The event costs $25 if you buy your ticket online or $30 if you buy your ticket there. Your ticket gets you free admission to more than 30 Uptown bars – and, assumedly, a fairly large hangover the next day. Buy your ticket here.
St. Patrick's Day Festival
The Galway Hooker's two-day festival (the festival continues on Tuesday) turns the block surrounding this bar into an Irish party for the ages. The festival features live music, bagpipes, Irish dancers, games and raffles. The event starts at noon and goes until 2 a.m. at the Cornelius pub located at 17044 Kenton Drive. VIP tickets are $40 and include VIP lounge access, a festival T-shirt, two beer tickets, one Irish meal ticket, private restroom facilities and reserved seating. You can buy your ticket here.
Craft Beer Crawl
If Uptown is too crazy for you today, try a toned-down version with this craft beer crawl. Starting at 11 a.m., a free trolley takes you to any one of six South End bars tapping craft beers throughout the day. Live music will be at every venue. The crawl is free. More information and schedule is here.
Nuv Yug India Fest International Women's Day Party
Sink your teeth into a piping plate of chana masala or enjoy a few Bollywood favorites at this two-day fest of everything India. The festival starts at 11:30 a.m. at the Park Expo and Conference Center, 2500 E. Independence Blvd. Children aged 5 to 12 are $5 and anyone older than 12 pays $8. Indiafestusa.net/index.php
Green River Revival
The river runs green today. The day starts at 10 a.m. with the Color Me Green 5K race, where runners try to avoid green dye through the forests. Then, at 1 p.m., the river turns green with live music. The event is at the U.S. National Whitewater Center, U.S. National Whitewater Center, 5000 Whitewater Center Parkway. More information is here is at the Whitewater Center's website, usnwc.org.
Latta Plantation Celtic Concert and Festival
Grab a beer and listen to two Irish bands, Temperance and Sterling Bridge, at this Irish festival. Admission is $10 and goes toward maintaining the historic plantation. The Irish music starts at 6 p.m. and goes until 9 p.m. at The Latta Plantation, 5225 Sample Road, in Huntersville. More information about the event is on the plantation's website, lattaplantation.org.
Sunday, March 15
Dining in the Dark
You'll wear a blindfold to dinner at this event. Bring your sweetheart for a eyes-wide-shut dinner or go solo for a fun new twist on dinner. A pair of two tickets costs $125 and a single ticket costs $75. The blindfolds come on at Heirloom, 8470 Bellhaven Blvd. Buy tickets here.
Mark Your Calendar
Wednesday, March 18
Dusk Till Dawn Social Series
Are you ready for the next edition of #DTDsocial? Charlotte magazine invites you out after work to a new hotspot in South End to enjoy complimentary appetizers, drink specials, and billiards. Plus, in honor of NCAA March Madness, we'll be showing the college basketball tournament games on plenty of big screen TVs. 5:30-7:30 p.m. Free admission. Slate Billiards (beside Oak Room), 200 E. Bland St. RSVP here.
Verify dates, times, prices, and other info at the web addresses listed for each event.
Be sure to bookmark www.charlottemagazine.com/Blogs/Dusk-Till-Dawn to stay plugged into Charlotte's nightlife and social scene. Click here to sign up to receive the weekly Dusk Till Dawn e-newsletter.
Want your event featured in Dusk Till Dawn? Follow me on Twitter @Jared_misner and let me know about your event, or send me an email at dusktilldawnblog@gmail.com.