Uptown Tree Lighting, Atlantic Coast Conference Championship Game Events, Holiday Home Tour and More, Dec. 3 to Dec. 6
This weekend is one of those times where "Charlotte's got a lot" seems like an understatement. From the Atlantic Coast Conference championship game's social events to the tree lighting and pop-up Christmas markets, you'll have no shortage of places to be this weekend. There's even a Star Wars costume party. Charlotte, you've got a whole heck of a lot this weekend.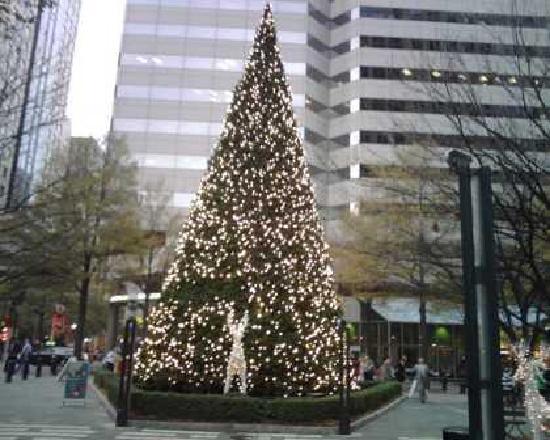 Charlotte sparkles with Christmas cheer this weekend. Christmas trees are being lit, Christmas markets are popping up, breweries are offering holiday beers even. You'll have no shortage of places to go to spread that cheer this weekend. Add the Atlantic Coast Conference championship game coming to Charlotte on Saturday, and we have ourselves a mighty fine weekend ahead of ourselves. See y'all out there!
Thursday, Dec. 3
Uptown Tree Lighting
It's officially the Christmas season when Uptown turns on the lights to its gorgeous tree. The flip is switched at 6:30 p.m., and after the lights go on, the free merriment continues at Founders Hall with music, food and opportunities to talk with Santa. The Uptown Christmas tree fun is at the intersection of Trade and Tryon Streets.
Tinselbox: A Holiday Pop-Up Show
If a tree lighting isn't enough holiday cheer for you, this pop-up market with more than a dozen local vendors is here to keep you feeling jolly. From Wednesday until Sunday, the market will be at 220 N. Tryon St. from 11 a.m. until 7 p.m. with free wine and appetizers from 5 p.m. until 7 p.m.
Friday, Dec. 4
ACC Bar Crawl
With the ACC's championship game this weekend, get ready for a bar crawl to celebrate all the ACC colleges. A $20 ticket gets you an ACC bar crawl T-shirt from your alma mater and free entrance to the participating Uptown bars. Registration is from 7 p.m. until 8:30 p.m. at Tilt On Trade, 127 W. Trade St. Buy your ticket here.
ACC Fan Central
Here's a bonus event once you've finished the bar crawl. At the EpiCentre, you'll be greeted by team mascots, bands, cheerleaders and DJs. Plus, the pep rally for the ACC's game is free. The EpiCentre is at 210 E. Trade St.
Fourth Ward Holiday Home Tour
For the 38th year, take a walk down Fourth Ward and see the historic homes gussied up in their finest holiday décor. The walking tours, which also stop at the Seventh Street Public Market for activities, are tonight and Saturday from 5 until 9 and Sunday from 1 p.m. until 5 p.m. A ticket for all three days costs $25, and you can buy one here.
Star Wars Costume Party
Come dressed in your best Darth Vader or Yoda costume tonight to prepare yourself for the Dec. 18 premier of the newest addition to the Star Wars family. The event features $3 Coronas, and Yoda says, "Smart you are to take part." The free event starts at 9 p.m. at Mona's Lounge, 138 Village View Drive in Mooresville.
Second Chance Christmas Cocktail Party
A cocktail for a cause is always something we can get behind. Bring a toy to this party, and you get discounted admission. At this rooftop cocktail party, there will be DJ, live band, a photo booth, free appetizers and a full bar. Ticket prices vary for the party that begins at 7:30 p.m. at Rooftop 210, 210 E. Trade St. Buy your ticket here and help make a Charlotte child's Christmas a little bit brighter.
Saturday, Dec. 5
ACC Fan Fest
This is the biggest day party in Uptown today, as the ACC championship game takes over town. This outdoor concert series leading up to the game begins at noon and ends at 7 p.m. before the game begins at 8 p.m. Whether you're a Tigers fan or a Tar Heels fan, this free event is for you. The concerts are along Stonewall, Mint and Graham Streets along Bank of America Stadium. For a schedule of events, go here.
ACC Championship Game
This year, two Charlotte-area teams battle it out for the title of ACC's best. The Clemson Tigers take on the North Carolina Tar Heels, and the Tigers are ranked No. 1, so this game is drawing extra special national attention for Charlotte. The game is at 8 p.m. at Bank of America Stadium. Tickets start at $50. Buy them here if you still can.
7th Annual Red Pump/Red Tie Affair
The Red Pump Project presents this annual event to raise awareness and funds for women living with HIV and AIDS. The stylish affair includes live entertainment, a cocktail reception with silent auction, runway show,and presentation of the 2015 Red Pump Award to a local community leader. The event is also co-hosted by Edward "Special Ed" Archer and Kendra James. Tickets are $40 for general admission or $75 for VIP admission. The party is from 7 p.m. until 10 p.m. at the UNCC Center City, 320 E. Ninth St. Buy your ticket here.
Twelve Brews of Christmas Brewery Crawl
If you'd rather get away from the Uptown ACC crowds today, come to SouthEnd for a day filled with holiday brews, live music, food trucks and raffles all for a good cause. Bring a toy to donate to the children at Levine Children's Hospital and the Down Syndrome Association of Greater Charlotte and you'll get access to drink specials and the free trolley to take you to different breweries. Participating breweries are: Unknown Brewing, Wooden Robot, The Beer Growler, Good Bottle, Lenny Boy Brewing and Sycamore Brewing. The free event starts at 1 p.m.
Ugly Christmas Sweater and ACC Championship After Party
Take off your jersey and throw on that ugly Christmas sweater because Label's throwing a holiday and football after party for you tonight. DJ Loui Vee provides the music tonight at the party that's free before 11:30 with registration. The party starts at 10 p.m. at Label, 900 NC Music Factory Blvd. Register here.
Sunday, Dec. 6
Holiday Tea and Shopping at the Duke Mansion
The Duke Mansion continues its centennial year celebrations today with a two-hour high tea and shopping event. Local boutiques will be located throughout the historic home, and with the holiday season upon us, it's time to get shopping. Tea, sandwiches, canapes, scones and other sweets will be served at 2 p.m. The shopping and sipping event goes until 4 p.m. at 400 Hermitage Road. Tickets are $35 for adults and $15 for children. Buy your ticket here.
Christmas in Cornelius
More than 60 vendors will be on hand today to help you shop for the Christmas season. Along with your shopping, you'll enjoy food trucks, live music and activities for kids. The free event is from 1 p.m. until 6 p.m. at 19725 Oak Street in Cornelius.
Verify dates, times, prices, and other info at the web addresses listed for each event.
Be sure to bookmark www.charlottemagazine.com/Blogs/Dusk-Till-Dawn to stay plugged into Charlotte's nightlife and social scene. Click here to sign up to receive the weekly Dusk Till Dawn e-newsletter.
Want your event featured in Dusk Till Dawn? Follow me on Twitter @Jared_misner and let me know about your event, or send me an email at dusktilldawnblog@gmail.com.
Send Jared an email at DuskTillDawnblog@gmail.com, or send him a tweet @Jared_Misner.

Also by Jared Misner:

→This Weekend's Social Events
→Bowling For Books, First Friday Fort Mill, Electric Luau Party, Soulmatic Carolina Music Fest and More, Aug. 6 to Aug. 9
→The Moon Walk, Candy Fest, Silly String Party, Booze Cruise and More, July 30 to Aug. 2
→Christmas in July, More Christmas in July, National Dance Day, National Tequila Day and More, July 23 to July 26