USC vs. ECU Is Bringing Football and Partying to Charlotte Labor Day Weekend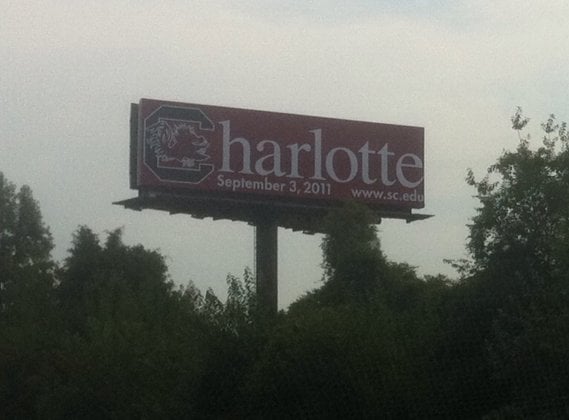 I love Charlotte—been living here six years this month. But I'll always be a Rembert, SC boy at heart and a South Carolina Gamecock fan until they bury me in a Garnet and Black casket. So when I hear folks around here saying they went to Carolina, if it ain't my Carolina (USC) then they need to elaborate and put "North" in front of it (UNC).
So imagine how happy I was when I learned last spring that my alma mater South Carolina Gamecocks football team would be opening the season against the East Carolina Pirates during Labor Day weekend at Bank of America Stadium in Charlotte. The home of the Carolina Panthers is about to be taken over by Gamecock Nation.
South Carolina and East Carolina will play Saturday, September 3 at 7 p.m. The game is actually considered a home game for East Carolina. Both schools have a large alumni presence in the Charlotte area, but with the ECU campus located four hours away in Greenville, NC and the USC campus less than an hour and a half away in Columbia, I expect more Gamecock alumni, students, and fans to make the trip (plus, to be fair, USC has a much larger enrollment).
And a weekend of parties awaits my fellow Gamecocks. I'm sure several bar events and after-parties at clubs are going to pop up over the next week, inviting Gamecock fans to come out. But it won't get any bigger than with Charlotte's two mega entertainment complexes hosting events on Friday, September 2. The My Carolina (USC) Alumni Association and the Gamecock Club (led by the Charlotte chapter) have declared the EpiCentre as the "Official Gamecock Party Headquarters." But not to be outdone, the NC Music Factory is inviting fans to the "Gamecocks Party Headquarters."
For those of you visiting Charlotte, you should know that the EpiCentre and NC Music Factory are both located in uptown and both house multiple restaurants, bars, and nightclubs—so they're in competition long before USC faces ECU.
Here's the rundown.
Friday, September 2
Paint Charlotte Garnet—Gamecocks Party at EpiCentre
Presented by My Carolina Alumni Association and the Gamecock Club, organizers want to "paint Charlotte garnet" with a celebration that kicks off after work at Pavilion at EpiCentre.
6-8 p.m.: Free food at Moe's (EpiCentre location only) for fans in Gamecock attire.
7- 8:30 p.m.: Enjoy music from Ben Fagan and the Holy City Hooligans.
8:30-9 p.m.: Pep rally with Cocky (mascot), South Carolina cheerleaders, and special guests.
9-11 p.m.: Enjoy music from The Lovehandles.
11 p.m.: Festivities continue at BlackFinn American Saloon and Wild Wing Café.
Free. EpiCentre, 210 E. Trade St., mycarolina.org, charlotte.gamecockclubs.com, epicentrenc.com.
Gamecocks Party at NC Music Factory
The Music Factory and its bars, restaurants, and nightclubs are waving the Gamecock flag. There will be live music featuring Early Ray and Skopa Sleezy, and other South Carolina bands, plus DJs. There will also be ticket giveaways for the big game. Festivities will take place at the Fountain Plaza, and will include surrounding venues: The Saloon, Wet Willie's, Bask on Seaboard, VBGB Beer Hall & Garden, Mattie's Diner, The Comedy Zone, and Halo; and an after-party at Butter NC. Drink and food specials will be featured. 5-11 p.m. Free admission and free parking. NC Music Factory, 1000 Seaboard St., ncmusicfactory.com.
And since I don't want to be completely biased, here's info on a couple of ECU events for Friday night.
Pirates' Night Out at Whisky River
Enjoy a night out with your ECU Pirate alumni and fans. Complimentary appetizers will be provided and the first 100 people to RSVP will receive one free drink ticket. A cash bar will be available and food can be purchased from the menu. Sponsored by the East Carolina Alumni Association and Pirate Club. 7-9 p.m. Free. Whisky River, inside EpiCentre, 210 E. Trade St., piratealumni.com, facebook.com/charlottepirates, whiskyrivercharlotte.com.
ECU Kick-Off Party at Tilt
CarolinaNightlife.com is rounding up Pirate alumni and fans for a wild party. Two sets of tickets to Saturday's game will be given away via two contests: sexiest pirate (with the most booty…LOL) and champion of beer pong tournament (sign up by 10 p.m.). Come dressed in your tailgating gear. Music by ECU defensive lineman, DJ Duc-Zilla. Drink specials include $2 drafts, $3 frozen drinks, $4 "Pirate Shots," and more. 9 p.m. Free. Tilt, 127 W. Trade St. carolinanightlife.com, facebook.com/tilt.trade.
Saturday, September 3
ECU/USC After-Party at Suite
After you leave a great game at the stadium, rush home or to your hotel room, shower, change (dress to impress), and head back out for an after-party at one of Charlotte's hottest nightclubs. Music by DJ Nova. VIP tables available. 9:30 p.m. Cost varies. Suite, inside EpiCentre, 210 E. Trade St., suitecharlotte.com.
USC After-Party at Dixie's Tavern
One of Charlotte's most popular bars, which usually waves the Terrible Towel in support of the Pittsburg Steelers, is going Garnet for the night and welcomes Gamecock fans after the game. Enjoy a casual atmosphere, and drink specials including "Gamecock Shots" and $2.50 Corona/Corona Light. Music by DJ Fat Kid. 9 p.m. Free. Dixie's Tavern, 301 E. Seventh St., dixiescharlotte.com.
Click here to visit CharlotteMagazine.com's quick guide for USC and ECU fans.
And be sure to bookmark www.charlottemagazine.com/Blogs/Dusk-Till-Dawn to stay plugged into Charlotte nightlife.