Vans Warped Tour 2013 Comes to Charlotte July 29, Get Exclusive Access
Also enter to win a pair of tickets to the all-day concert festival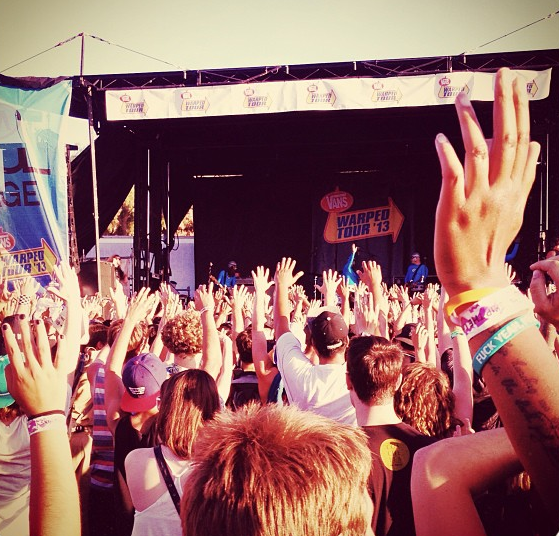 Vans Warped Tour 2013
is coming to
Charlotte
on Monday, July 29, taking over Verizon Wireless Amphitheatre. Now in its 19th year, Vans Warped Tour is the country's longest-running festival concert tour, reaching more than half a million fans each summer. Not the least of which are high school and college kids who've long circled their city's tour date on the calendar.
Dubbed as "Best Day Ever," it's an all-day and night event, featuring more than 100 bands (yeah, that many) from around the country and representing just about every genre under the sun, along with several vendor booths, creating an all-around fan experience. Now that a second generation of young people are flocking to Vans Warped Tour, they have the added element of social media and technology (smart phones, tablets) to incorporate into their experiences.
Automotive company Kia is a major sponsor of the tour—you'll find their tent on site offering fans the opportunity to participate in challenges, get airbrush tattoos and hair coloring, and get autographs and watch acoustic performances from some of the bands.
Plus, you can download this free Kia Warped widget below, and get an inside look at the tour, the artists, and the fans. While you're at the festival, the widget will give you real-time updates of when your favorite bands will be in the Kia Soul Lounge tent.
Below is the list of bands that are scheduled to perform during the Charlotte outing of Vans Warped Tour.
Action Item • Alcoa (Derek of Defeater) • Allstar Weekend • Alvarez Kings • Anarbor • Architects (UK) • Art of Shock • August Burns Red • Beebs And Her Money Makers • Big Chocolate • Big D And The Kids Table • Billy Talent • Billy The Kid • Black Veil Brides • blessthefall • Brian Marquis • Bring Me The Horizon • Charlie Simpson • Chiodos • Citizen • Craig Owens • Crizzly • Crossfaith • Crown the Empire • Defeater • Echosmith • Five Knives • For The Foxes • Forever Came Calling • Forever The Sickest Kids • Gin Wigmore • Go Radio • GOLDHOUSE • Handguns • Hands Like Houses • Hawthorne Heights • Heritage • Hey Ocean • I Can Make A Mess (Ace Enders from The Early November) • I See Stars • Issues • Itch • Juliet Simms • Kairo Kingdom • letlive. • Like Moths To Flames • Mac Lethal • Madchild • Man Overboard • MC Lars • Memphis May Fire • Middle Finger Salute • Mixtapes • Motion City Soundtrack • Never Shout Never • New Beat Fund • New Years Day • Oh, Sleeper • Outasight • RDGLDGRN • Reel Big Fish • Run DMT • Set It Off • Shy Kidx • Silverstein • Sleeping With Sirens • Stephan Jacobs • Stick To Your Guns • Strawberry Blondes • Super Water Sympathy • Texas In July • The American Scene • The Amity Affliction • The Black Dahlia Murder • The Chariot • The Cleopatra Complex • The Early November • The Indecent • The Sheds • The Story So Far • The Summer Set • The Used • The Wonder Years • TheCityShakeUp • Tonight Alive • Upon A Burning Body • Vinnie Caruana • Wallpaper. • We Came As Romans • While She Sleeps • William Beckett • Woe Is Me • Young London