Vapiano: Italian Charm
Vapiano brings a modern edge to traditional cuisines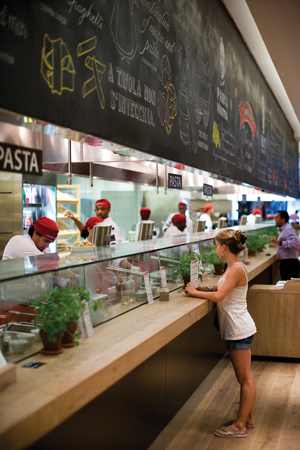 Vapiano doesn't fit neatly into any single dining category. The new uptown restaurant serves gourmet dishes, but you must stand in line to order them. It offers authentic Italian fare like hand-tossed pizzas and house-made pastas, but it is an international chain owned by a German company. The atmosphere, featuring a brightly lit dining room with fresh herbs growing on wooden tables, is chic and cosmopolitan—as long as you ignore the fountain soda machine in the corner and the lack of wait staff.
When you arrive at Vapiano, you receive a card, which you swipe at the food stations to record your food and drink orders. When you leave, you turn in the card and pay your total. It's a simple system once you're accustomed to it, but it can be intimidating on the first trip. However, the savory Italian food and upscale décor make a trip worth any initial confusion. The menu offers options like a spicy orange fennel salad with glazed shrimp ($9.95), beef carpaccio with freshly shaved Parmesan ($8.95), and a ham-and-arugula panini on fresh sourdough bread ($7.95). The pastas and pizzas are the real crowd pleasers. Popular choices include a generous serving of shrimp scampi ($9.95) and a chicken barbecue pizza with smoked Gouda and fresh cilantro ($9.95).
While it's already become a favorite for uptown workers looking for a fast, tasty lunch, the large restaurant's central location also makes it a popular destination for those in search of a quick bite before an uptown concert or show. And a stylish bar-and-lounge area means that from happy hour to late in the evening, you'll find a group as eclectic as the restaurant itself swiping cards for cocktails and snacks.