VBGB holding "Name that Beer" contest, brewed by Triple C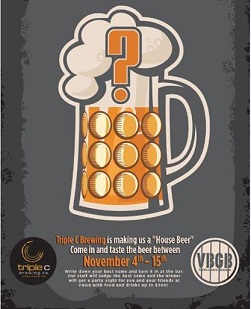 VBGB has teamed up with Triple C Brewing for its first-ever house beer, and the best part is you get to name it.
Well, if you enter the contest, that is.
Head over to VBGB today through Saturday and try said house beer, described as a sessionable blonde ale. You can then write down your most creative name (samples so far include: "Mr. Boombastic Blonde Ale" and "Orange You Glad You Drank Me" … hey, I'm just the messenger) and turn it in to a VBGB staff member.
After Nov. 15, the VBGB staff will judge all entries, and the winner gets a party at VBGB with $300 worth of food and drinks, along with a pair of tickets to a Charlotte Hornets game in the future.
You can also try the as-of-yet unnamed beer at Triple C's taproom, along with the brewery's latest release, White Blaze, a spiced winter ale that is being bottled into 22 oz. bombers as we speak.
I'll have more on Triple C's upcoming releases later this week in On Tap.