Vending the Rules
When it comes to vendor etiquette, there's no need to go Emily Postal. Here are six tips on vendor relationships from Charlotte industry insiders to offer guidance through the gray areas of your white wedding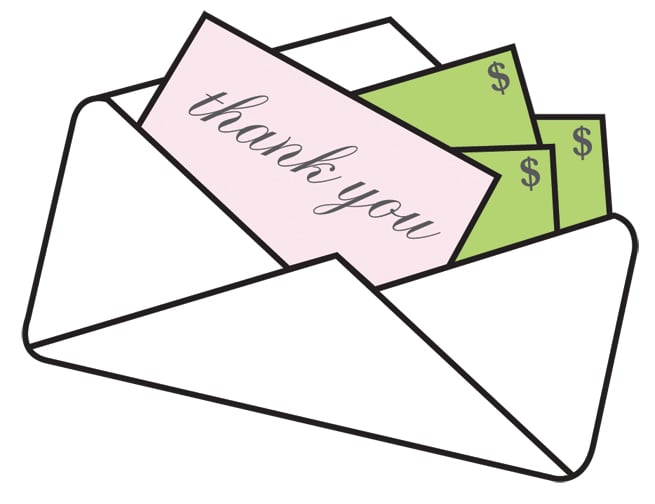 1. Tipping Points
The good news is, when it comes to tipping vendors, there's no real right or wrong. "There is a general rule of thumb that [tipping] is not required for vendors, but it is always a pleasant surprise," says Anne Markey of Favor Me Events. Just make sure gratuity isn't already included in your contracts to avoid double-tipping—or add it to the contract beforehand so you don't have to worry about it on your big day.
2. Present Company
If you prefer not to give cash tips, vendor gifts are another thoughtful way to express thanks. "I do think gifts work better for vendors that you've gotten to know a little better throughout the planning process, so you know more about the vendor personally and what they would really like," says Erica Stawick of Ashley Baber Weddings. Gifts can run the gamut from custom stationery to a gift card to a favorite restaurant.
3. The No-Show
What do you do when a vendor flakes? "If a vendor does not show, it is important to remain calm and allocate a lead person, preferably not someone in the bridal party, to handle the task in either locating the lost vendor or finding a replacement vendor," says Markey. Stawick says she communicates with each vendor at least once in the week leading up to the wedding day to make sure everyone knows where to be and when.
4. Feast Or Famine
Most vendors who work your wedding day will make the need for a meal clear in their contracts. If it's not in writing, it's not mandatory—but it is always appreciated. "I would say any vendor that is present at the time that dinner is served (and is working for more than four hours onsite) should be offered a vendor meal," says Markey.
This can include bands, DJs, photographers, videographers, and wedding planners.
5. Destination I Do
Tipping and other customs can vary tfrom country to country, so if you're tying the knot abroad, check with your wedding planner or venue beforehand to plan your budget accordingly.
6. Invite-Only
Stawick suggests couples send invitations to planners, photographers, and sometimes officiants, if there's a close relationship.
"As far as the 'plus one' goes, I usually recommend couples base that on their relationship with the vendor," she says. Planners will add your invitation to their files, while photographers may appreciate an opportunity to snap some photos for your wedding album—before the busy wedding day.