Vi Lyles Goes All In
The mayor pro tem helped craft a new agenda for Charlotte after the Keith Scott shooting in September. Will it help?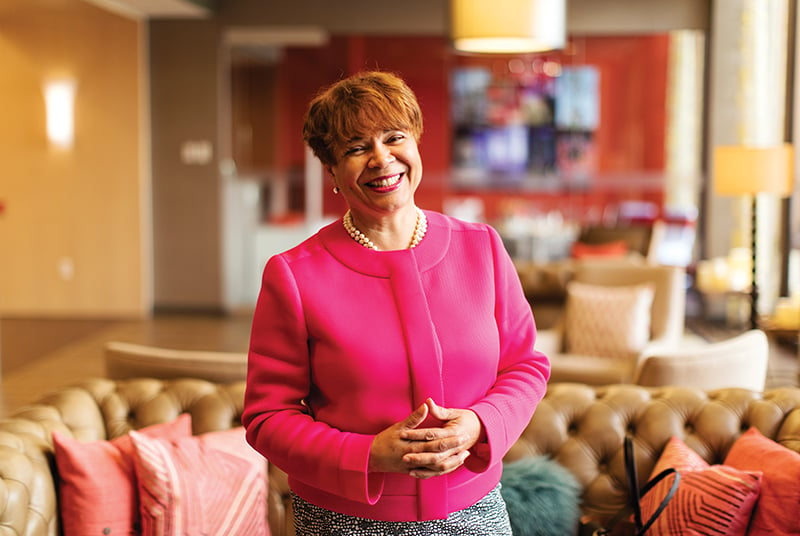 NEAR THE END of the most chaotic Charlotte City Council meeting in memory, council member Vi Lyles indicated that she wanted to speak. For nearly four hours on September 26, speakers in the packed council chambers vented their rage at the council—over the police shooting death of Keith Lamont Scott, over police brutality in Charlotte and elsewhere, over the social and economic conditions that keep most of the city's poor residents separate from its affluent ones.
The crowd shouted down Mayor Jennifer Roberts and council member Julie Eiselt, who finally gave up trying to finish her remarks. But the chambers quieted for Lyles, 65, a petite, bespectacled grandmother and fellow Democrat.
"I have raised two children in an environment that is black and African American, and when I think about this, I want you to know I'm sitting here because I love this city, and I love the people of this city. I love each and every one of you, and that is why I'm sitting here," she said. "There are some things that are big on our agenda. It's trust; it's jobs; it's giving people a decent place to live so they can work and raise a family without fear. That is our commitment. No more talk. It is time for some action. … We are going to do something together; we must do it together."
Her remarks were met with polite applause.
***
A LITTLE MORE than three weeks later, Lyles meets me at the Whole Foods Market near her home in SouthPark. She's clad in workout gear, having run to our meeting; the previous weeks have left her little time to indulge in such luxuries as exercise. Few people in leadership positions in Charlotte emerged from the events of September and October looking like leaders. But Lyles, who was an assistant city manager and budget director before she became a council member three years ago, stood out.
"Every now and again, you get an event that makes you pause and reflect and say, 'Why are you doing this? What is this about?'" she tells me over coffee. "The last couple of weeks have really helped me get focused and intentional about our future in this city."
Keith Scott was killed on a Tuesday. Before the week was out, Lyles had publicly proposed a "7-Point Plan" to ameliorate some of the city's underlying issues of racial and class disparity. The plan includes expanding a citizens' board that reviews complaints of police action and forming new community advisory groups; promoting more inclusive hiring in the city and adding new job training endeavors; fast-tracking affordable housing units; and making a renewed effort to raise the minimum wage for city employees to $15 per hour.
At its October 10 meeting, the council acted on several of her suggestions. It approved a measure to build 5,000 new affordable housing units over the next three years instead of five. Council members also decided to invest $1 million in a new job training program and approved an external review of police practices.
They were specific changes proposed and enacted quickly, reflecting Lyles' experience in city administration. First elected in 2013, she's a neophyte on the council compared to veterans such as Patsy Kinsey, the longest-tenured member, who was first elected a decade before. But last year, Lyles' fellow council members elected her mayor pro tem, which means she runs council meetings in Roberts' absence; it's an honorific that holds no real power but indicates respect.
"Change is incremental in government," she says ruefully at Whole Foods. Lyles tells me she's spoken with members of Charlotte Uprising, a coalition of activists that organized after the Scott shooting, and wants to continue the conversation about improving employment, housing, and public education.
"We're still building that foundation. But we didn't have enough of one. It's like we'd put in the footings, but we hadn't gone above ground."
***
THE SCOTT shooting's aftermath exposed fissures in city government. Roberts published an op-ed column in The Charlotte Observer on September 26 that criticized CMPD for "lack of transparency and communication" about the investigation and video footage of the shooting. A week later, Lyles and the other 10 council members issued a statement outlining their priorities and explicitly standing behind the department and Chief Kerr Putney.
"We're not always going to be aligned," Lyles tells me, pointing out that the council, not the mayor, sets city policy. "It's what I call a little bit of creative tension, and I think that can be a healthy thing."
But she affirms her support for Putney, despite the livid calls for his and Roberts' resignations at the September 26 meeting and the distrust between citizens and CMPD.
"Trust is earned. … Do I believe it's been compromised? Yes. Do I believe that there is a way to rebuild it? Yes. Do I believe it's there now? No," she says.
"That has to be done, and I think he's the person who's willing to do it and can do it more quickly than anyone else, because he gets it. We can't take out an ad in the paper and say, 'Believe in us again.' So we've got to do it by action."
GREG LACOUR is a contributing editor to this magazine. Read his political commentary and other work in "The Buzz" section of www.charlottemagazine.com.