Violinists Post YouTube Video From Charlotte Airport Incident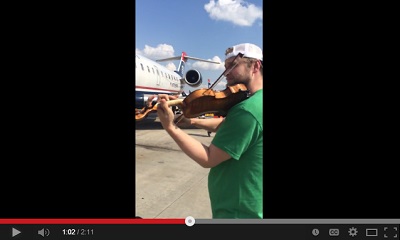 Two members of Time for Three, the Philadelphia-based classic trio, were set to board their connecting flight from Charlotte Douglas International Airport to Fayetteville, Ark., on Monday. But they hit a snag when they tried to enter the plane: According to the group, they were barred from bringing their violins aboard.
A YouTube video would seem to corroborate their story, as member Zach De Pue offers an impromptu performance on the tarmac and US Airways staff walk around the pair. In the video's description, violinist Nicolas Kendall writes that they were left outside of the plane "without any direction." They were on their way to meet bassist Ranaan Meyer and perform at the Artosphere Arts and Nature Festival.
"Bach would be very upset," De Pue says, at one point in the video.
The video has garnered over 160,000 views, and the musicians cite the incident as an example of how hard it can be for musicians to travel. Comments on the video include stories from other musicians who have had difficulty traveling, and fans of the group who say that the two violins carried by the men are worth nearly $500,000 combined. Others take up for the airline, saying members of the staff were just doing their jobs.
Kendall and De Pue ended up catching a later flight with US Airways, and a spokesman with the airline later provided a public apology for the delay.
Check out the video of the pair below. To check out the classically trained group's music, which ventures into genres like jazz, rock, hip-hop, and bluegrass, check out their website here.