Violins of Hope: Notes from the Holocaust
This spring, UNC Charlotte brings eighteen violins to town. Each is a relic and reminder of the Holocaust. Each one has a story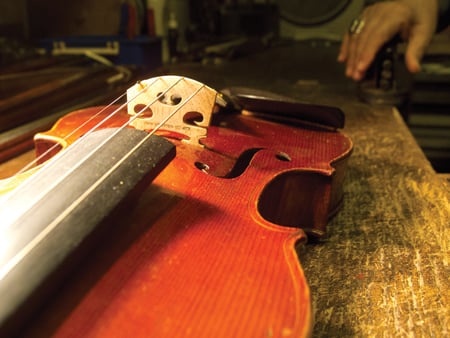 One day, Amnon Weinstein, who has devoted more than a decade to rescuing these instruments from the Holocaust, found himself in his shop in Israel, scraping away black gunk from a violin. "What is this?" he wondered, before his research uncovered the truth. The violin had been played by a prisoner in the orchestra at Auschwitz, near the gas chambers and the chimneys. The black gunk was ashes.
When they go on display in April at UNC Charlotte's new Center City Building, these resurrected violins will honor the memory of 6 million Jews and five million others who died in the ghettos and Nazi camps. The audience will listen as they are played in Charlotte's prettiest concert halls and sanctuaries, imagining what it must have been like for the inmate musicians forced to play Mozart as men, women, and children spilled out of cattle cars, destined to die. Those who come to the exhibits and programs in the early spring will learn the stories behind the eighteen violins and affirm with their presence the power of music to outlast madness, humanity to outlive evil.
Violins of Hope, they are called, each one telling a story …
Those involved in this work speak of the violins as if they are alive.
Weinstein, seventy-two, born and living still in Tel Aviv, talks of the constancy of the instrument in a world forever changing. Nearly nothing is like it was in Hitler's time in 1945, he says—except for these violins. When they are played in Belk Theater and other Charlotte venues, they will tell us how they sounded in the Warsaw ghetto and other centers of Jewish life and death during that time. Tombstones, he calls them, able in a sense to bring the dead to life. Weinstein's wife, Assi, a writer, says the violins remind her of a person crying—a vivid image when recalling the Jews of Eastern Europe. When asked why so many Jews play the violin, legendary violinist Isaac Stern was said to have responded, "It was the instrument easiest to pick up and run away with."
UNC Charlotte violin professor David Russell has been captivated by the sound of the violin since he first picked one up at age eleven in Pensacola, Florida. "It sounded like the human voice," he says. An accomplished performer and teacher whose arrival at UNC Charlotte in 2009 was considered a musical coup, Russell has tennis elbow from carrying his violin all over the world. Russell's long friendship with Weinstein is partly why this exhibit is making its U.S. debut in Charlotte rather than, say, New York or Los Angeles. They first met in 1995, when Russell taught at the Cleveland Institute of Music. The passion they shared for the violin sparked a friendship that deepened in 2002, when Russell traveled to a kibbutz in Israel to help Weinstein at his violin workshop. As the two made plans for Violins of Hope in person and by Skype, Weinstein would kiddingly ask Russell, "You are sure you're not Jewish?" (He grew up Lutheran.) Weinstein, Russell says, is in some spiritual sense trying to rescue his family, or at least their memory, by buying and restoring these instruments one by one.
If so, Weinstein has more work to do, scouring the internet for clues, chasing leads, talking to survivors' descendants, tracking down old violins in attics and closets like a detective in search of lost souls. Weinstein tried once to come up with the number of relatives he lost in the Holocaust and stopped counting at 360 to 380. "Cousins," he says, "from here to eternity."
Eighteen violins coming to Charlotte, each one telling a story …
One was played morning and night in the men's orchestra at Auschwitz, behind the infamous sign reading Arbeit Macht Frei ("Work will set you free"), as if the sound of the strings could calm the frightened masses as the Nazis intended. Some of the violinists who survived the camp never played again. The violin coming to Charlotte made its way to the Davidovitz family in 1946, when the survivor who had played it at Auschwitz sold it to Abraham Davidovitz for $50. The man needed cash. Davidovitz wanted his younger brother to learn to play. Years later, the family had this inscribed on the label: "This violin is dedicated to the memory of our parents Abraham and Manya Davidovitz by their children Deborah, Fredi and Shmuel. Israel, June 1st, 2010." Aware of Weinstein's crusade, Shmuel added this apart from the initial dedication: "The violin continues to play for all those who did not live to make music."
The violin that belonged to Shimon Krongold wound up in the hands of his niece, Edna Rosen, in Jerusalem, after World War II. Wrapped in an old blanket, it was sold to the Krongold family by a man who told Rosen that her uncle left him the instrument before dying of typhus in Uzbekistan. Krongold fled there, with his violin, after the German occupation of Warsaw. "It was 1946," Rosen wrote, "and since then the violin is our treasure, our only inheritance and memory of our lost uncle." They gave the violin to Weinstein so he could restore it, and share it. Rosen has said she hopes it can serve as "a trigger to other people who may have such instruments and stories."
There are still more stories: several violins are believed to have belonged to some of the thousands of klezmer musicians across Eastern Europe who played the traditional Jewish folk music. Many of these violins are inscribed with the Star of David. Another Holocaust survivor: klezmer music is played today in synagogues, festivals, and elsewhere. The label on the violin reads, in Hebrew: "Dedicated with love to all klezmers who continued the Jewish musical tradition."
It seems right that one of the violins coming to Charlotte is silent. Having been played outside at one of the camps, it is beyond repair, unable to make music. "A complete loss," Weinstein writes. "The deck must have been soaked in rain while being played in pouring rains again and again. That is why it has a gray color, unlike all the other violins. Inside the instrument there's a lot of black dirt, unlike any violin I have ever seen. … We decided to leave it in this condition so that it can bear witness to the many instruments we found in a similar state."
Eighteen violins coming to Charlotte, each one bearing witness, each one telling a story …
"To me, violins and music are like the victory of the good," Weinstein says. "The good ones win, finally. I hope people will listen to the music and be touched and elated and life is good and maybe for a minute think about people who are gone, who didn't survive."