Visions of Gingerbread, Champagne, and Pastries
There's plenty to choose from when it comes to food this weekend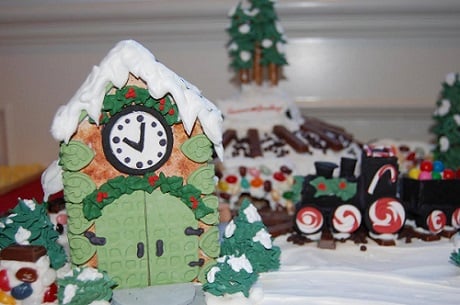 When it comes to food events this weekend and next week, there are lots, and lots, and then a lot more. Christmas classes, gingerbread houses, wine dinners, and more are all on the agenda this week.
The Ballantyne Hotel: Head down to Ballantyne for the ever-popular Gingerbread Lane, featuring masterpieces created by gingerbread artists – all competing for top honors. Visit the hotel starting today, Thursday, December 10, through Sunday, December 27 to sneak a peek at the tasty creations. Attendees may vote on their favorite entries with $1 minimum donation per vote. All proceeds will benefit Levine Children's Hospital. Santa may stop by, too!
________________________
Foxcroft Wine Co.: Today, Thursday, December 10, head to BAKU for the Anderson Conn Valley Wine Dinner, beginning at 6:30 p.m. with a Champagne reception. At 7 p.m., the six course dinner will begin, including dishes like espresso shoyu with chai spiced lamb shanks and forbidden rice; Kind Salmon with black cherry teriyaki; and panna cotta with burnt yuzu peel and pickled bing cherry. Call BAKU to make your reservations: 704-817-7173.
________________________
Blue Restaurant & Bar: Head to Blue in uptown tonight, Thursday, December 10, for a Moet & Chandon Bubbles and Food Pairing event. Beginning with a reception at 6:30 p.m., diners will head in for dishes including mini lobster rolls with with truffle duck fries; pan-seared pheasant breast stuffed with melted leeks over foie gras potato puree; and much more. Cost is $75 per person, excluding tax and gratuity. Call 704-927-2583 for your spot – be sure to reference the event when you call for a reservation.
________________________
Olde Mecklenburg Brewery: The Christmas market continues this weekend: tomorrow, Friday, December 11, and Saturday, December 12. Head to OMB for the 6th Annual Weihnachtsmarket – the brewery's version of a traditional, German-inspired "Christmas Market" with open-air booths selling gifts and baked goods from local Charlotte vendors. Winter seasonal beers will be on tap, too.
________________________
Greek Pastry Sale: The Ladies Philoptochos Society of St. Nektarios Greek Orthodox Church will hold its 2nd annual Greek Pastry Sale on Saturdays during the holiday season across from the farmer's market in downtown Matthews. Keep an eye out for the white tent, then stop by for sweet Mediterranean desserts. Baklava is $12 for 6 pieces; Melomakarona is $8 for 6 pieces; Kourambethes is $8 for 6 pieces; Koulourakia is $7 for 12 pieces; and assorted boxes are also available.
________________________
Passion8: Join Chef Luca on Saturday, December 12, starting at 11 a.m. for a class dedicated to the fine art of braising meat. The unique learning experience plus three courses highlighting the juicy, tender, braised delicacies costs $45 per person and will conclude at 1 p.m. Reserve your spot by calling 704-910-3161.
________________________
Earl's Grocery: Mixologist Bob Peters will be back at Earl's Grocery on Saturday, December 12, starting at 2:30 p.m. for a class dedicated to holiday cocktails. All of the drinks will be made with Monkey Shoulder Scotch. During the hour-long class, guests will learn to use not only the lively spirit, but, also, shrubs and syrups to mix up a seasonal sipper.
________________________
Cocoa Lab: There are plenty of new holiday-themed classes popping up on the Cocoa Lab calendar. On Sunday, December 13, from 11:30 a.m. to 3 p.m., guests will learn how to make classic holiday desserts such as chocolate spice cake, pear cranberry crisp, sweet potato pound cake, and more. Cost for the class is $100 per person. Can't make it? Reserve your spot for the Lab's classes on Thursday, December 17, and Friday, December 18, both from 6:45 to 9:30 p.m. Thursday's class will focus on traditional holiday cookies like the cherry pecan bar, cinnamon hot chocolate, and chocolate walnut cookies. Friday's class will let guests hone in on the art of gingerbread house construction. Both classes are $90 per person. Space is very limited, so reserve your spot now by calling 704-972-4397.
________________________
Bistro La Bon: On Tuesday, December 15 from 7 to 10 p.m., head to Bistro La Bon for a collaboration between Bistro chef Majid, Chef Luca of Passion8, and Chef Suppa of Vivace. Liberate Your Palate, as the event is being called, will offer guests six full size signature cocktails and delicious amuse-bouche from all three chefs. There will also be a jazz band. Tickets are $50 per person and cocktail attire is required. Visit the website for more information.
________________________
Heirloom: Bar Manager Kelly Minton will host a cocktail class at the restaurant on Saturday, December 19, at 1 p.m. Cost is $50 per guest or $90 per couple and will include small bites and cocktails and cocktails made with exclusively NC products. Muddy River Rum's Caroline and Robby will also be on hand as guest speakers. For more information or to reserve spots in the class, call 704-595-7710 or book online at www.heirloomrestaurantnc.com