Visiting Morganton
Hike in the mornings, have a beer in the afternoon, and, at night, watch the lights dance on the mountaintops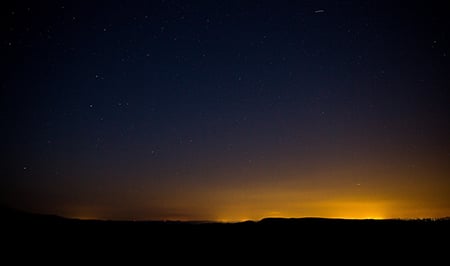 BEFORE THE brewery, there was the town.
Fonta Flora Brewery in downtown Morganton opened two years ago. But its story goes back to the early 1900s, to a farming village in the nearby Linville River Valley. Surrounded by mountains named Table Rock, Hawksbill, and Shortoff, the people of Fonta Flora made their lives here farming the fields, shopping at the community store, pitching in to raise barns and harvest crops. Then Southern Power Company, today known as Duke Energy, upended their lives when it needed more power. From 1916 to 1923, dams blocked the Catawba River and two tributaries, Paddy's Creek and Linville River. The people moved. Water filled the valley. Their farms flooded. And Fonta Flora sank below Lake James.
Few people inside Fonta Flora Brewery on this Friday evening know that story. They're much more concerned with narrowing down a dozen beer options to a five-glass flight. There are beers made with carrots, oysters, dandelions, and even loblolly pine. The brewery fits the local-food trend: North Carolina ingredients, custom metal tap handles forged by the local Oak Hill Iron Works, a chalkboard menu, customers who drive from Charlotte and Asheville to take a few sips, snap a few pictures, and check in on social media.
These customers don't have to know the story, though. After decades of silence in dusty history books, city records, and old ledgers, the name Fonta Flora is spoken again, and that means something.
***
MORGANTON IS a mountain town, yet it's not quite in the mountains. It's hillier than the Piedmont yet flatter than the High Country. It lies at the foot of the Blue Ridge Mountains about an hour and 20 minutes from Charlotte. It's suffered the typical textile- and furniture-mill woes of many Carolina towns. And like others, it's chosen a niche to rebuild upon, something to bring in new people, who in turn support breweries, wineries, restaurants, art galleries, and other local businesses.
Today, people come to Morganton for the outdoors.
That lake that once displaced a community of farmers is now one of Morganton's best qualities. The North Carolina General Assembly established Lake James State Park in 1987. The North Carolina Division of Parks and Recreation named it North Carolina 2014 State Park of the Year. The park encompasses more than 3,500 acres. You can swim or boat, hike or bike. You can even spend the night here. This past July, the park opened 30 boat-in campsites. For $10 a night, you get a grill, a graded area to pitch your tent, and a locker to protect your belongings from bears. For those who prefer a shower, $7 more reserves a spot at 20 walk-in campsites.
Lake James' accommodations are ritzy compared to Justin Costner and Curt Teague's idea of camping. Costner and Teague run HikeMore Adventures, a guide service based in Morganton that provides everything from a backpack and sleeping bag to an expert who'll show you down the trail. They're a bit of a novelty around town, driving a car fully wrapped in a colorful advertisement. They have beards and strong builds. If they ask you to trust them, you will. And you should.
Hiking isn't just a business for them. It's daily life.
On a recent Saturday morning, Costner and Teague lead a group up to the Chimneys, which jut into the sky beside Table Rock Mountain, about 25 miles northwest of Morganton. They bring the group up a skinny, steep trail to a cave. This is where they make camp. A circle of rocks marks the spot of a recent campfire. They point down below to the Linville Gorge Wilderness Area. People get lost down there. They think they can go in and trace their way right back out. But they can't.
The unpredictability of the wilderness keeps Costner and Teague in business. They're hard-core campers who sometimes pitch a tent with a foot of snow on the ground or debate the best technique for riding out lightning storms. But they don't scoff at beginning hikers. They offer four-hour picnic hikes with olives, cheese, and a bottle of wine, and mountaintop yoga on Hawksbill's summit. They just want you to enjoy the woods, to delight in finding a bunch of wild blueberries, to stand on the top of a mountain and draw the deepest breath you've taken in months.
***
BACK DOWN in town, a group gathers around the bar at Brown Mountain Bottleworks. Keith Suttles pours samples of craft beer, hard cider, and wine. The back of his T-shirt reads, "Home Grown & Handcrafted." His sons, Kory and Collin, run the place. They grew up here, moved off, and decided to come back.
Bottled and canned beer lines the left wall. Many of the labels are from North Carolina— Fullsteam in Durham, Mystery in Hillsborough, Mother Earth in Kinston. North Carolina labels dot the draft list, too. The names Granite Falls, Olde Hickory, and Birdsong hang from chalkboard placards.
A local artist's interpretation of the surrounding mountains stretches behind the bar. Light flickers through pinholes in the wooden structure, a nod to the local legend of the Brown Mountain Lights.
These lights appear at night around the top of Brown Mountain, a long ridge north of Morganton. Descriptions vary. Some say they see star-size twinkles. Others say they see balls of light as big as the moon. The lights' color has been called white, red, yellow, blue. They drift. They flash. They shoot like rockets. Possible explanations include locomotive headlights, Native American spirits, reflections from nearby towns, and reflections from area moonshine stills.
Some say the lights are just a mirage. But people come to see them. They come from all over. They talk about the lights and study them. They name businesses after them and write books about them. No matter how fleeting they may be, the Brown Mountain Lights have become a symbol of this place. And that means something, too.
---
IF YOU GO
EAT
Root & Vine
Located in downtown Morganton, this farm-to-table restaurant is known for its wood-fired grill. From a head of romaine lettuce to a Cheerwine barbecue burger, look for anything on the menu that includes "grilled" in the description. 139 W. Union St., 828-433-1540.
Farm to Fork Eatery at Silver Fork Vineyard & Winery
With a sweeping view of the South Mountains, a rustic yet elegant tasting room, and Bordeaux-style wines, Silver Fork couldn't get much better. Then it added the Farm to Fork Eatery on Saturday and Sunday. The luxury food truck serves salads and sandwiches paired with Silver Fork wines. Try the Cuban panini with a glass of Cabernet Franc. 5000 Patton Rd., 828-391-8783
STAY
The recently renovated Inn at Glen Alpine is a four-bedroom bed-and-breakfast. The 1913 home has a wide front porch, original hardwood floors, and two hosts with Northern accents and plenty of Southern hospitality. 105 Davis St., Glen Alpine, 828-584-9264.