Visual Interest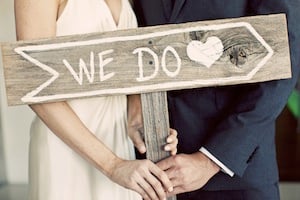 When it comes to wedding decor, no detail should be overlooked–and that includes adorable signage to direct guests. And while we've all seen our fair share of plaques and banners, there's most certainly no shortage of new designs being churned out in the creative world. So after a lengthy perusing of Pinterest, I've rounded up my top five favorites. Whether it's captivating in its simplicity or technology-centered for the social media butterfly bride, there's a sign for everyone. Just keep in mind that it should reflect the overall aesthetic or theme of your event. (top photo source)
Paper Goods
This gorgeous paper pinwheel gathering makes for a most beautiful backdrop to a simple greeting for guests.
Winning Design
I just love the simplicity of this wooden standing sign… Perfect for a rustic or low country soirée.
Hashtag Please
Start a catchphrase trend on social media with this adorable play-on-words Instagram sign.
Crystal Clear
How elegant is this ornate frame and pretty script message on plain glass? Plus the bit of green totally completes the look.
Destination 'I Do'
This cheeky sign couldn't be more fitting for beachfront nuptials. I'm in love.