Viva Vivace
The city's trendiest new restaurant is serving sophisticated Italian fare—and some seriously good pizza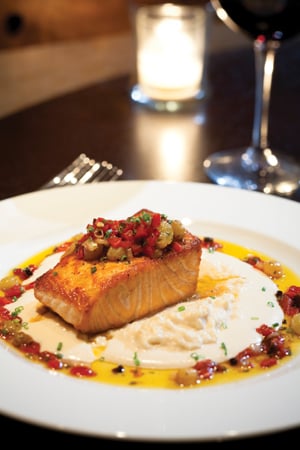 If it weren't for its of-the-moment, gluten-free selections, a trip to the new Vivace restaurant in midtown would feel like a trip back to 2007. With its sophisticated menu, contemporary interior by an award-winning firm, and upscale touches like an upstairs bar with a skyline view and a meat-and-cheese-curing room, this is the kind of restaurant that Charlotte might have expected to open in the days when wallets were fatter and trendy drew crowds.
But apparently Vivace didn't get the recession memo, and, as it turns out in this case, neither did Charlotte diners. On a Friday evening, the restaurant is packed with crowds of young couples at the downstairs bar and tables full of stylish groups under the dining area's giant, glowing orange lights—it's already living up to its name, the Italian word for lively. Try a slice of one of the wood-oven-baked pizzas or a bite of one of the house-made pastas and you'll see why you need a reservation for dinner.
When you make your reservation and even when you arrive for a table, expect to be asked if you have any food allergies. Vivace offers gluten-free and vegetarian menus. The staff is very knowledgeable about both, as well as the regular menu and wine list. The servers, who can offer information like the regions in Italy where the artisanal cheese on your pizza is from or what wines will pair best with an entrée, are smart about the food without being pretentious.
The menu is seasonal, with twists applied to traditional dishes like a winter caprese salad that tops creamy buffalo mozzarella with oven-roasted, rather than fresh, tomatoes. This makes the typically light salad rich and hearty—perfect for pairing with the warm house-made bread.
Before you get around to ordering one of the flavorful salads, do yourself a favor and select a few of the appetizers for your table. The house-made sweet potato gnocchi are perfectly cooked plump dumplings paired with rich pork belly and a sage pesto sauce. This is the kind of thing you'll want to order an additional serving of before you've even finished the first. Other great selections include the house-cured prosciutto with melon and arugula, which is a perfect mix of salty and sweet, or the pickled vegetables, ideal for nibbling on as you peruse the menu.
The pizzas might be the best things here —a surprise at a spot that offers dishes like veal saltimbocca or pan-roasted swordfish picatta. Each pie is ten inches of thin crust expertly baked in the wood-fired ovens and served on a slab of wood. The four-cheese pizza will reduce every other version of a cheese pizza you've tasted to the status of boring. It features semisweet caramelized onions and delicate portobello mushrooms, complemented by the hot, melted mix of mozzarella, ricotta, provolone, and piave cheeses. The prosciutto de Parma and Gorgonzola pizza comes with a sweet fig purée and peppery arugula, combining four distinct ingredients into a dish that is almost overwhelming in its rush of flavors.
The pastas are not your predictable heaping plates of carbs—Vivace has a version of spaghetti and meatballs, but it also has tagliatelle served with braised oxtail and a pappardelle with bolognese and goat cheese cream sauce, which, by the way, is just as decadent as it sounds. Meat entrées include a pleasantly varied selection of chicken, fish, and beef. Again, the menu is seasonal, and this winter dishes like the filling wood-grilled hanger steak with potato purée in a red wine reduction sauce are perfect for sating your comfort-food cravings.
The wine list is predictably dominated by Italian selections, and close to twenty are available by the glass. The cocktail list is where you can really have fun here. All the specialty cocktails are based on the house-made cellos, sweet Italian drink mixers—and thank goodness these aren't seasonal. Cozy up to the bar and transport yourself to a warm day in Tuscany as you sip on a traditional icy bellini with peach purée or an Italian version of a mojito, made with limecello and fresh mint.
Vivace also offers lunch, featuring many of the same items from the dinner menu at a reduced price as well as a more extensive list of fresh salads. And there are several Italian paninis; the braised short rib with Gorgonzola and caramelized onions is a standout. However, don't expect quite the convivial atmosphere at lunch that carries the restaurant at dinner. It hasn't caught on quite yet with the midday crowd, and the lunch experience is a quieter affair.
This might actually make it the best time to check out this new restaurant. It's the perfect chance to soak up the design (rustic Italian meets urban contemporary) by Atlanta's James Beard Award-winning restaurant design group, Johnson Studio. Plus, fewer crowds means less of a wait for those pizzas.
E-mail: editor@charlottemagazine.com. All of the author's visits are anonymous.