Wake Up Call: The Story Behind Undercurrent Coffee
After a life-changing diagnosis, Todd and Erin Huber share their passion for coffee from the ground up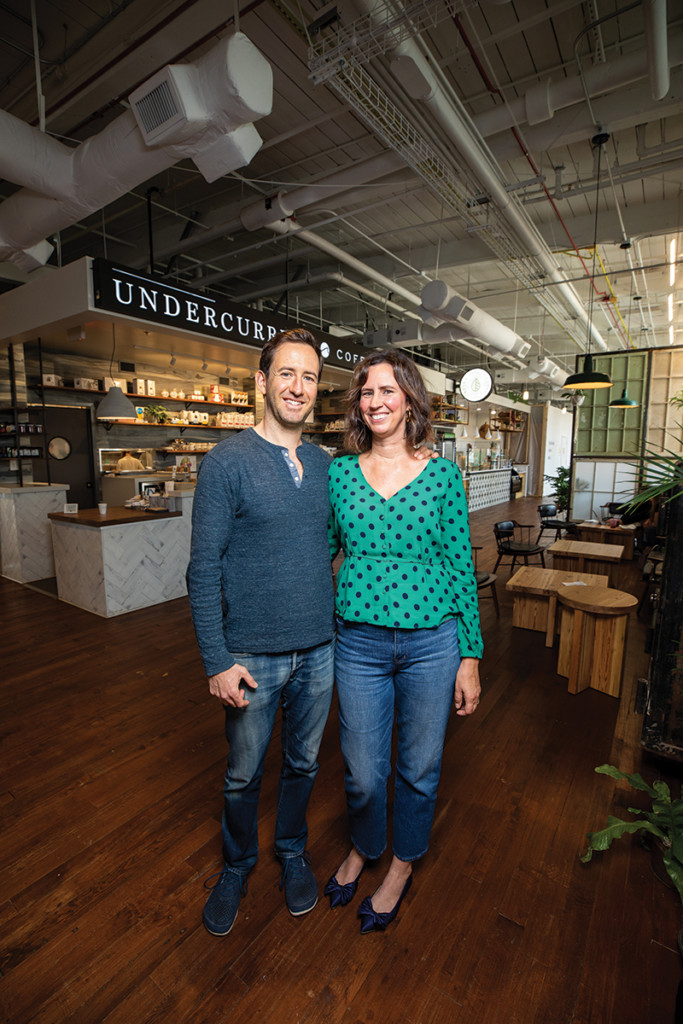 SIX YEARS after he moved to Charlotte, Todd Huber still needed a map to get to Park Road Shopping Center. An investment banker who regularly worked 60 or more hours a week, Huber rarely veered from the route between his uptown office at Wells Fargo and his home in Plaza Midwood, where he lived with his wife, Erin, and their two children.
Despite the long hours, Huber enjoyed his job, especially his coworkers. His only regret was that he couldn't be at home with his family more often. Then, in late June 2015, Todd's life turned upside down.
A CAT scan and MRI revealed a growing mass on Erin's lung that had spread to her lymph nodes and collarbone. All signs pointed to advanced lung cancer. Erin was confronted with the possibility that she may have just months—or weeks—to live. After 14 years without taking five consecutive days off, Todd immediately left work and didn't return for five weeks. While they waited for more information, the couple pretended everything was OK around their children, aged three and six at the time. Todd took drives to cry. Erin retreated behind closed doors. In darker moments, she planned her suicide to spare her children the pain of watching her deteriorate.
In July, Todd and Erin traveled to the Mayo Clinic in Minnesota for a biopsy and treatment advice. Even though the circumstances were grim, their uninterrupted time together was a gift. On a Friday later that month, impatient for test results that should have come earlier in the week, Todd called the clinic. "Oh, did they not call you?" he remembers the woman asking.
Erin didn't have lung cancer after all. She was diagnosed with Hodgkin's lymphoma. After he hung up, Todd frantically searched the condition online. It was still serious, he found, but even at stage four, the five-year survival rate was much higher: 65 percent, compared to almost certain death with stage four lung cancer. When Erin pulled into the driveway after a spiritual retreat with a friend, Todd rushed outside, crying. Before she even got out of the car, he pushed the phone into his wife's face. "This is what you have," he explained. Todd, Erin, and her friend hugged and jumped up and down on the front lawn for the whole neighborhood to see. "It was the most amazing thing in my life," Todd says.
He and Erin, both 43, tell me this story from across a polished stainless steel table in the lab of their Plaza Midwood coffee shop, Undercurrent Coffee. Todd, wearing a little scruff and a T-shirt, no longer looks the part of an investment banker. He and his wife take turns talking as the ice melts in Erin's latte. Four years later, Todd still tears up describing the fear and pain he felt at the prospect of losing Erin, and she reaches over to tenderly rub his shoulder. She had what she hopes will be her final regular scan the day before our interview.
In the months that followed Erin's diagnosis, Todd took a three-month sabbatical and considered jobs that would allow him to spend more time with his family. As 2015 drew to a close, opening a neighborhood coffee shop seemed more and more realistic. There was a growing demand for independent coffee shops in Charlotte, and despite new options like Central Coffee, which opened in 2009, the Hubers had long bemoaned the lack of coffee spots near their home. (When they moved to Plaza Midwood in 2007, Erin wrote to Starbucks more than once, practically begging them to open a location in the neighborhood.) By April 2016, the couple had picked a name for their business and signed the lease.
Todd started drinking coffee in 1993. He used to cut class at his high school in DeLand, Florida, and go to the coffee shop instead. The same year, he and his friends put together an underground magazine full of art, poetry, and political commentary. "It was one of the most creative things I'd been a part of," Todd says. As they mulled over names for the business, Erin wondered if the magazine might be a source of inspiration. They dug out a copy from a box, and Todd flipped to the first page. It was an article he'd written, titled "Coffee." The name of the magazine? Undercurrent.
Erin has realized—and she believes our society is beginning to realize—that creative expression is fundamental to a full life. "I didn't necessarily … consider him creative," she says, glancing over at Todd. "Now, not only is he, but he needs that in order to feel fulfilled."
Both invested their creative energy in Undercurrent Coffee. While Todd helped develop the logo and business plan, Erin transformed the Plaza Midwood space into a Pinterest-worthy haven, where inviting shades of blue and white evoke the ocean in the Hubers' native Florida. Behind the bar and in the lab, where they train employees and host guest trainings for the public, baristas learn to put their own spin on coffee classics. The tables, barstools, and sofas are usually full of customers, likely working on creative projects of their own.
The Hubers are quick to admit that getting the business off the ground was no easy feat. After investing their savings, the family's lifestyle is considerably different. And they have to be on guard against the temptation to compromise their quality standards in an industry with high costs and low profit margins. But the venture has paid off; a second location opened in Optimist Hall in August. Now, Todd knows how to get all over town. He still works long hours, but from his new office at home, he can hear his wife and children just outside the door as they happily go about life as usual.
---
Keep Current and Chill
Local shops like Undercurrent Coffee are often on the cutting edge of coffee culture. Stay current with these latest trends
Nitro: An entirely new innovation, nitro coffee is infused with nitrogen. Unlike regular carbonation, nitrogen provides a beer-like foamy texture and a sweetness that elevates flavor—no sugar required. Nitro coffee is served from a tap or in cans, which you can purchase to drink at home.
Cold Brew: Over the last few years, Americans have begun ordering more cold brew than iced coffee—but what's the difference? Unlike traditional espresso and ground coffee, which are brewed with hot water, cold brew is brewed in cold water for much longer. Coffee snobs are divided on whether cold brew improves flavor. Find out for yourself by trying both cold brew and traditional iced coffee. As an alternative to cold brew, Todd Huber recommends an iced Americano: espresso brewed hot, mixed with cold water, and served over ice.
Responsible Sourcing: Because the climate isn't suitable for cultivating coffee, American shops acquire beans from around the world. Chains like Starbucks have committed to serving sustainably harvested coffee, and independent shops often go a step further by using single-origin beans, which are easier to trace. Visiting local coffee shops and talking with baristas "adds a bit more substantive meaning to your routine," Todd Huber says, "and a lot more appreciation for the fact that this isn't just a drink that came out of nowhere."