Warm and Toasty
Toast Café offers a huge sampling of all things brunch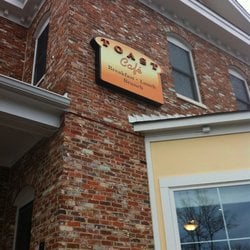 A lot of restaurants offer brunch and breakfast, but fewer offer it every day. Toast Café, does just that and does it well. A recent trip proved that this eatery (whose Ballantyne location is right around the corner from my apartment) will be a stop on weekends for a relaxed and delicious kick off to my morning.
I often (and by often I mean every weekend) see the dancing toast on the corner near the Toast Café and have been meaning to see what all the fuss (and awesome dance moves) were about. I finally had my chance this weekend. The first bit of good news: no need to dress up. In fact, on our way out the door, my date for the morning asked if he could wear sweats. I took a moment to think before saying, "They have a dancing piece of toast on the corner; I think you'll be okay." So off we went.
I was a little nervous about the LINE of people outside, but it turned out the wait was only about 10 minutes – no biggie. Once we sat down, I tried their signature bloody Mary. Although I've always preferred the Worcestershire sauce heavy vs the horseradish heavy version (which Toast's is), this was a very delicious concoction — full of celery, lime, and olives. Yum.
I ordered a special for the day – an avocado benny. A ripe avocado, split and pitted, then an egg is put into each half, topped with jack cheese, and baked. It was served alongside fresh fruit and pico de gallo. I've seen this recipe a million times on Pinterest, and I definitely understand the hype now. Toast pulled this off very well, and all of the produce was extremely fresh. Plus, the eggs were perfectly over-easy. My date got the New Yorker — an egg scramble with smoked salmon and onions — which he loved. Even the side of toasted sourdough was delicious.
Toast has a TON to choose from, whether you want breakfast, brunch, lunch, or dessert. They have locations in Ballantyne, Dilworth, and Davidson. Follow the dancing toast.