Warren-Green in Westminster Abbey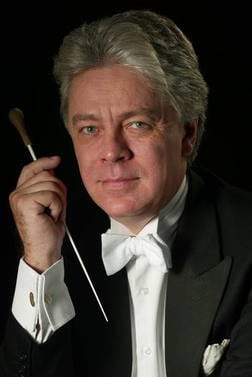 Chances are, you've already caught the Tweet trickle-down about Charlotte Symphony Orchestra's Christopher Warren-Green being announced as the official royal maestro at the fairytale nuptials of Kate Middleton and Prince Wiliam. While Warren-Green calls Charlotte home, now, he's actually a native of England, and has held the position of music director for the London Chamber Orchestra since 1988. At the Royal Wedding, he'll lead that ensemble as well as The Choir of Westminster Abbey, The Chapel Royal Choir, and The Fanfare Team from the Central Band of the Royal Air Force.
All very enchanted, indeed, but don't despair over missing the festivities across the pond—Warren-Green and the CSO have plenty on board for the spring, before the director's royal duties call. Here's where you can catch him:
Light My Fire at Knight Theater, March 25, 7:30 p.m.
In tribute to the Bechtler's new Niki de St. Phalle exhibit, opening in the museum and on The Green on March 18th, and in honor of her beloved Firebird sculpture in front of the Knight, Warren-Green and the CSO will perform a program of entirely fire-inspired works. With vocals by soprano Carla Dirlikov (she performed Mercedes in Opera Carolian's production of Carmen last year), you'll hear Handel's "Music for Royal Fireworks," Haydn's "Symphony No. 59 in A Minor, 'Fire'," De Falla's "Ritual Fire Dance," selections from Bizet's "Carmen," and, of course, selections from Stravinsky's "The Firebird."
Classics 9 at Belk Theater, April 1-2, 8 p.m.
In the ninth performance of their Classics series, the CSO is pointing their bows toward Deutschland. It's a four-number tribute to Brahms, conducted by Warren-Green and sung by the Oratorio Singers of Charlotte. Selections include: "Academic Festival Overture," "Nänie," "Song of Destiny," and "Symphony No. 1."
Cassics 10 at Belk Theater, May 6-7, 8 p.m.
Last Classics series concert of the year! Warren-Green, again, will conduct, with time to recover from his jet lag. Pianist Stephen Hough is the featured performer at this show, which will include two numbers by Norwegian composer Edvard Grieg, a musical staple of the Romantic period. You'll hear his "Peer Gynt Suite No. 1" (intended to accompany Henrik Ibsen's play), and his "Piano Concerto in A Minor." Ending the performance will be Jean Sibelius' "Symphony No. 2." Sibelius was a contemporary of Grieg, but spent his career in Finland.