Watch Them Run
In 2017, women filled the streets of uptown carrying neon posters and wearing pink knit hats. Two years later, more women than ever before ran for and won positions in public office, and now they're settling into their roles as representatives, senators, council members, and commissioners. After the so-called Year of the Woman, will the shift yield change?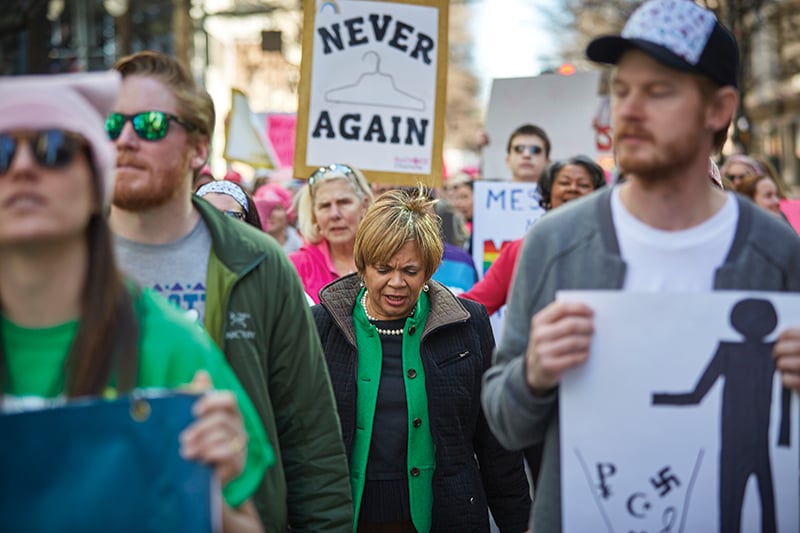 "THE STAGE isn't big enough!" A woman in the crowd yells out as more than two dozen women—all former, current, or newly elected officials—squeeze together on the stage at the Levine Museum of the New South. Some lift their arms in the air like runners crossing the finish line while others wrap their arms around each other's waists to make room on the stage. They hold the tight pose and smile as a photographer's camera flashes and audience members hold up their smartphones to capture the moment.
About 180 people gather at the December evening reception. Roughly 80 percent are women. They hug and lean against each other as conversations echo in the hallways. They "clink" their plastic cups of beer and wine and toast their accomplishments: the close races of November's election, the long nights, and the work still to come.
As the program starts in the glass-roofed atrium, guests on the second-floor balcony wave at their friends below. Others fill the hallway behind the main room, standing on their tiptoes and straining their necks to get a better view. At the center of the room, new North Carolina House members Carolyn Logan and Rachel Hunt join current N.C. Representatives Mary Belk and Beverly Earle, one of the state's longest-serving lawmakers, around a tall cocktail table decorated with poinsettias. City Council member Braxton Winston holds one of his young daughters up as Cozzie Watkins of the Black Women's Caucus of Charlotte-Mecklenburg lifts a microphone.
"We are not going to try to put cracks in that glass ceiling," Watkins shouts, pointing her index finger at the cheering crowd. "We are gonna take it down!"
***
THE "PINK WAVE" that ran through the nation—a record number of women ran for office and won—also swept through Mecklenburg County. The December event at the Levine Museum honored the 25 local women elected to office in 2018, to positions ranging from Soil and Water Conservation Board to the N.C. Supreme Court to the U.S. House of Representatives.
But women in and around Charlotte didn't just run for office. They led campaigns. They organized hundreds of volunteers. They knocked on doors, filled mailboxes with voter postcards, and dialed the numbers of thousands of undecided voters. Women who wanted to get politically involved found candidates they could support, candidates who could win—candidates who were women, too.
Their main catalyst was the election of President Donald Trump, whose open disrespect for women is well-established and who defeated the first major-party female nominee for the office. But his victory didn't suddenly turn passivity into participation. Locally and nationwide, women have been doing crucial political work for generations. Many of the women who won, and who helped the winners, used Trump's election as fuel for their efforts and often their candidacies. But they emphasize that commitment to public service involves far more than enraged opposition to Trump.
"I first ask them why they want to run … and then my next question is, 'What have you been doing in the community?'" says Tonya Jameson, a former newspaper reporter who has managed several successful local campaigns. "Because if they're like, 'Well, I haven't really been doing anything, I just got so pissed off at Trump that I just decided I had to go run,' that's not a good enough reason."
Women in both parties have run for and won office in Charlotte before, though never on this scale. Their challenge now is to sustain the success and motivation while grasping a basic fact: Even their unprecedented progress in 2018 has made only a modest dent in what remain huge male majorities on public bodies from the City Council to Congress. Women who have held elected office across generations say they have reason to hope—that women understand the importance of what they've done and the magnitude of what they still need to do.
"It absolutely is the Year of the Woman. What's different about this is that women are seeing that it's the Year of the Woman," U.S. Representative Alma Adams tells me over the phone in early December. "The fact that so many women ran for office, so many were elected, I think that has helped women realize that we can do this, too. When women run, women win."
Adams, a 72-year-old Democrat known for her vast collection of stylish hats, has represented North Carolina's 12th Congressional District in the U.S. House since 2014, when she was elected after 20 years in the N.C. House. Her political career, like those of so many women who ran for office in 2018, was born of frustration.
Adams, the first black woman ever elected to the school board in Greensboro, ran because the city was closing schools, including her daughter's, in the black community. She taught art history at the historically black women's school Bennett College for four decades, and education has always been the focus of her public service: She has advocated for increases in funding for historically black colleges and universities. She's also pushed for increasing the minimum wage, winning a $1 increase for the state as a legislator in 2006.
"I was an angry parent, and today I'm an angry grandparent," she says, pointing to her own example of using dissatisfaction to accomplish specific policy goals. As we speak, I hear footsteps and shuffling paper in the background, but she remains focused. "Men just need to prepare to move over and share the table, because we're gonna take our seats." To the women new to elected office, she advises: "Just stay angry."
***
IN WINTER COATS and pink hats, thousands of marchers filled North Tryon Street from sidewalk to sidewalk, slowly making their way to Romare Bearden Park. They carried neon poster boards that stood out under the overcast January sky with messages like "I Can't Believe We Still Have To Protest This Shit" and "Love Always Wins." The crowd was so much larger than expected—estimated at around 10,000—that police had to close streets to ensure the marchers' safety, causing traffic backups. The marchers chanted and sang as they claimed the streets of uptown, at least for a little while.
The Charlotte march was one of many inspired by the national Women's March in Washington, D.C., the day after Trump's inauguration in 2017. Together, the marches lit a fuse. Many of the women who ran, worked, and volunteered in 2018 point to them as catalysts.
Betty Chafin Rash traveled to the D.C. march in a chartered bus with dozens of women she barely knew. During the six-and-a-half-hour drive, they drank mimosas, watched the Lily Tomlin/Jane Fonda/Dolly Parton movie 9 to 5, and enjoyed cookies from Suarez Bakery printed with the Women's March logo.
But when they arrived in D.C. for the march, the women got serious. Rash says she was overcome at the sight of the hundreds of thousands of women and men who showed up to support each other—most estimates place the crowd between 500,000 and one million, the largest single-day protest in U.S. history. "The march," Rash tells me, "was literally a high point of my life."
Rash has worked in Charlotte politics for decades. In the early 1970s, she and Liz Hair founded the Charlotte Women's Political Caucus to help women run for office. In 1975, Rash was the third woman ever elected to the City Council, where she served three terms. She was also the first woman to serve as mayor pro tem, a distinction given to the council member who receives the most votes.
The Women's Caucus no longer exists. But in its time, it developed a system for matching qualified women with seats on public boards. The caucus helped get the first women appointed to the Charlotte-Mecklenburg Planning Commission, the Airport Authority, and the board that oversaw the old Charlotte Coliseum on Tyvola Road. The group also helped connect volunteers to campaigns and encouraged advocacy for women's and children's issues. "We put women in places where they could exercise some real impact on public policy," Rash says.
But these days, in the absence of a local caucus, women often have to rely on their own energy and ability to organize. Holly Wood, a mother with a background in social work, attended the D.C. march with her then-12-year-old daughter. "It finally felt like I was involved in doing something with my grief," Wood says. Once she returned home to the Lake Norman area, she began joining rallies outside U.S. Senator Thom Tillis's Charlotte office, where, she says, "we would scream some more." She wrote letters and made phone calls to Congress. "While all of that was cathartic," she says, "it didn't feel proactive to me."
Wood turned to Swing Left, a national progressive group created after the 2016 election to help volunteers find their closest U.S. House districts with competitive races and to support Democratic candidates. Wood became the leader of about 150 campaign volunteers who canvassed and worked phone banks in support of Kathy Manning, a Democrat challenging first-term incumbent Republican Ted Budd in the 13th Congressional District, which runs from the Lake Norman area to Greensboro. She created her own list of 300 potentially pivotal voters and sent volunteers to knock on doors for 18 months, a year longer than in a typical campaign.
"It's tiring sludge work, but I just get tired of throwing money," says Wood, whose calm, quiet voice disguises a fierce energy. "I can't stand going to cocktail parties where all we get to say is, 'We gave a lot of money to the candidate,' and not being able to go out there and do the physical work of it."
Manning lost. But she earned 45.5 percent of the vote, an improvement over 2016, when Democrat Bruce Davis won less than 44 percent. Wood says she's proud of making the district more competitive—and she gained leadership experience and a bank of motivated volunteers to run the ground game in the next election.
In general, the shock and anger that followed Trump's election inspired a stronger response from women than the historic achievement of Hillary Clinton's nomination, says Susan Roberts, a professor of political science at Davidson College. But a growing number of women are waking up to their potential as holders of office, she says, not just as their managers and assistants. "More women are feeling empowered to run," Roberts says, "because they think they can win, and they think they're qualified."
***
VI LYLES SITS before a wall of windows in the mayor's office, which occupies a corner on the 15th floor of the Government Center. Behind her, uptown's skyscrapers descend to the shorter, boxier buildings of south and west Charlotte.
Lyles is the city's first black female mayor, a fact that gained her national attention when she won the office in 2017. She acknowledges the significance but adds, "The best thing about that significance is that it's done, and people can see that they can do it right now. And I hope others will."
Several women who won office in 2018 did some kind of public service before they ran for office. Carolyn Logan, who will replace Beverly Earle as the representative for N.C. House District 101, was the state's first black female trooper and the first woman to retire from the Highway Patrol after the required 30 years of service. Joining her in the state House will be Christy Clark, who for two years led the North Carolina Chapter of Moms Demand Action, a gun control advocacy group.
The mayor followed a similar path, spending nearly 30 years as a city administrator beginning in the 1980s. She ran for an at-large City Council seat in 2013 and won, viewing her position as an extension of her service to the city. "It's hard for me to separate the idea of community and politics," she says.
Part of the importance of community engagement is to build a group of women who support each other—Lyles calls them "board members," the people who can recommend you for opportunities when you aren't in the room. "Because there are spaces you're never gonna get into," she explains. "You have to have that person in there that knows you, that's in the room speaking up for you to be part of that discussion or the work that's being done." Without groups like the Charlotte Women's Caucus, women need to find other ways to collaborate. One useful route runs through national programs like Lillian's List and EMILY's List, which train women to run campaigns and run for office. Tonya Jameson, for example, has learned from Lillian's List and the North Carolina Institute of Political Leadership.
The key, Lyles says, is for women to find ways to work together and support each other, however they can. "People that have had power are really worried about sharing that power," Lyles says, "whereas I think most women aren't worried about sharing that power at all."
***
EVEN WITH HISTORIC WINS by women, the glass ceiling is only cracked, nowhere near shattered. In North Carolina, women ran for five of the state's 13 U.S. House seats in 2018 and won only two. Both of the state's U.S. senators are men, which means only two women—Adams and Republican Virginia Foxx—represent North Carolina in the 116th Congress, where women make up 30 percent of the House and 25 percent of the Senate. The 2019 N.C. General Assembly is only 25 percent female, and in Charlotte, eight of the 11 City Council members are men.
Jameson's recent victorious candidates are men: Larken Egleston for City Council, Spencer Merriweather for district attorney, and Brandon Lofton for the N.C. House. All three were also active with community boards, nonprofits, or local initiatives. Jameson says she expects more women with similar experience to run for office—especially after witnessing women's political success in 2018.
"Black women have always been strong candidates in Charlotte, but I think we're going to see even more succeed," says Jameson, a black woman. "More white women are going to be stepping up and jumping in to run for political office as well."
One of those, Susan Harden, worked for the Charlotte-Mecklenburg Library system for four years before becoming a professor at UNC Charlotte, where she runs a curriculum in which students participate in "service learning" by working in nonprofits and schools across the city. She was talking to her students about how important it is to participate in democracy—to vote, to be engaged on issues, to work for a stronger community—and they finally challenged her.
"Why don't you run for office, Dr. Harden?" Harden recalls them asking. She realized they had a point. She ran for the District 5 seat on the county Board of Commissioners and unseated incumbent Republican Matthew Ridenour.
Harden, who ran mainly on education issues, tells me the policy results of more women in office will "be much more nuanced and interesting than anybody has predicted." She leans forward in her chair as we talk. "We're not a monolith. I'm a lot of things in addition to being a woman."
She is, for one thing, a newly installed public official. "It's not up to everybody else," she says. "Democracy doesn't work unless people like you and me decide to run for office."
EMILY ETHRIDGE is a native Charlottean who moved back after nine years as a reporter in Washington, D.C. You can follow her @EmilyVEthridge and get in touch at emilyve@gmail.com.