Way Out: Staycation
Exploring the city we think we know, in ways we never imagined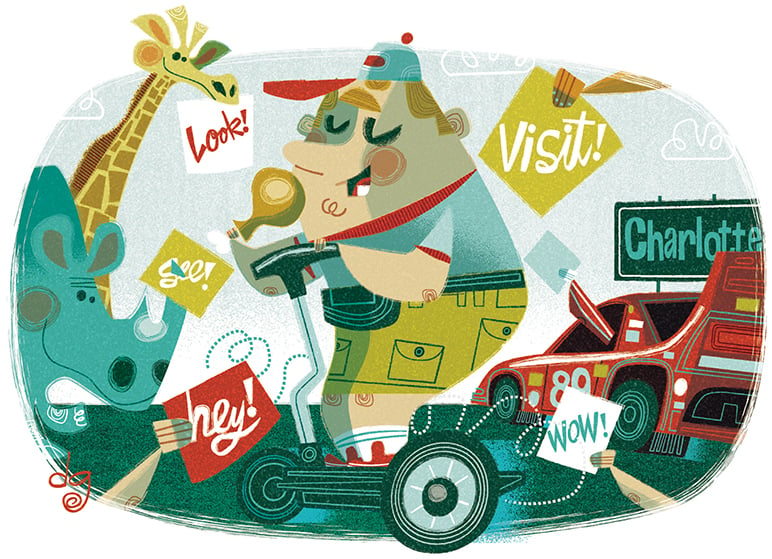 I'm not big on feeling like a tourist. But for some reason, I went on a mini-vacation to Gatlinburg, Tennessee, a few years ago. Some people like Gatlinburg. I found it to be a schlocky collection of cheeseball revues and cowboy-boot outlets. My lasting memory of the place is of a guy swindling me out of a parking space outside a pancake house.
That's probably the reason I've never taken a Segway tour of Charlotte before. I think because I live here, I know all there is to know. I don't want to be a visitor in my own town.
I've only had that sensation once. Back when my wife used to work uptown, I met her for lunch at the Wells Fargo Atrium, and we took a walk through the Overstreet Mall, among the bankers and white-collared types who were running errands on their lunch break. I'd never been there at lunch before. I walked around slack-jawed that day, gawking at the majesty of this corporate catacomb I'd discovered. "This is amazing," I said. "I'm here every day," my wife replied, wearily.
So, no, the Overstreet Mall is not one of the places we funnel tourists. To find those places, you can stop by the city's visitor center on the corner of South Tryon and MLK Boulevard uptown. There, you can see a Charlotte you never get to see. There are brochures and kindly volunteers to tell you how to get to the Whitewater Center (exciting!), the Hezekiah Alexander Homesite (a homesite!), the James K. Polk Historic Site (another homesite!), and the EpiCentre (a sight, Holmes!). You can also pick up a copy of the official visitors' guide. Inside, you can see where they shot stuff from Homeland before (sniffle) it moved production to South Africa. It also points out "ten areas to know," such as Dilworth, Plaza Midwood, South End, and many other parts of town that tend to vote Republican. Nowhere in there is, say, Derita (we have a tractor shop that's now a bar!) or Westinghouse Boulevard (our warehouses are so close to fireworks stands!).
Looking through the guide, it's funny to realize how many Charlotte institutions I've simply skipped over during my time here, figuring I was going to be here for a while so I don't have to go see them now. I've never gone on a tour of the NASCAR Hall of Fame. I've never been up to the Lazy 5 Ranch. I've only been to Price's Chicken Coop once. It's funny how we do that. We scurry around on the forest floor, and sometimes we forget to stop and look up at the big trees we're among every day.
I'm not taking a big vacation this summer, so I'm going to try to see the parts of my city that people talk about. Maybe a Segway tour is in order. It may not be as relaxing as a week in the mountains or at the beach. But at least it's not Gatlinburg.