We Asked 7 Charlotte Pastry Chefs One Question: What Dessert Best Represents You?
Once an afterthought, desserts are starting to be taken seriously in Charlotte. To get to know the pastry chefs driving that change, we asked them that simple question, with no explanation.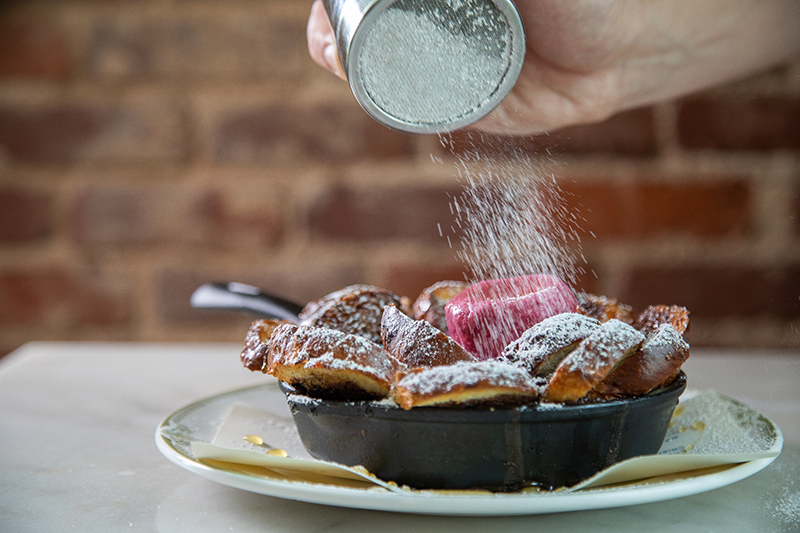 Jossie Lukacik​
Owner and pastry chef, Sweet Affairs and Sweet Spot Studio
What is your baking style?
I like really clean flavors—clean, bold flavors. I think it's really important for things to be beautiful, but if it's beautiful and doesn't taste good, then what's the point?
What did you make?
Sinful chocolate cake.
Why does this represent you?
Growing up, the Silver Diner (in Rockville, Maryland) had this chocolate cake that my dad would order when we got to-go food from there, and we would always eat the whole thing before he could get any. For me, a good piece of chocolate cake is the ultimate comfort food, and I always think back to that cake when I'm having a chocolate craving. And I always have to have a glass of milk with it. You can't have a good piece of chocolate cake without a glass of milk.
Who is your pastry hero?
The first chef I worked for was at Clyde's of Chevy Chase (Maryland). Her name is Marion Pitcher. She had such a calming presence in the kitchen, and everything she made was just so simple and wonderful. It was my first job where I was testing out to see if I wanted to work in the industry, and she just made me fall in love with it, and I wanted to be just like her. I try to model how I act in the kitchen off of how she acted in the kitchen. And (this cake) is her recipe.
---
Ashley Boyd
Pastry chef and co-owner, 300 East (300 East Blvd., 704-332-6507)
What is your baking style?
I work more like a savory chef would as far as running around and throwing things together as they work. I plan, usually. I'll map out my flavors, but then when I get into the kitchen, I play. It's not always, OK, we're going to do this, this, and this, and it's all mapped out to the minute. I'll see what works and tweak as I get closer to having a final plate. I'm more interested in working with produce than chocolate and sugar, usually. I'm doing a lot of exploring and seeing the different ways I can process and use produce and cheeses and herbs and things like that.
What did you make?
Buttermilk trés leches cake with a melon gelée, cantaloupe sorbet, black mint gel, melon salad, and buttermilk crumb, garnished with black mint.
Why does this represent you?
I think that my most fun or most memorable dishes come from this moment where I'm sort of making a list of flavors and something just clicks and sounds really good, like the buttermilk and the melon and mint aligned. I remember thinking how well that would click together. I had never really used melons in a way I thought was original or different or that I really liked, and I really wanted to do a dessert with melons, because they're a short season, and there are so many different varieties, and they have an elusive flavor, too, that's hard to capture.
Who is your pastry hero?
Michael Laiskonis.
---
Sam Allen
Pastry chef, The Fig Tree (1601 E. 7th St., 704-332-3322), and owner, Wentworth & Fenn​ (704-291-0388)
What is your baking style?
I would say old-school; I'm not a molecular pastry chef. I like to dabble in odd flavor combinations, definitely sweet and spicy and salty and sweet.
What did you make?
Blackberry buttercream and jalapeño jam macarons.
Why does this represent you?
I always knew what I wanted to make for Wentworth & Fenn, but I think I've finally gotten my niche down. I want pastries that taste like home, but have a very boutique-y and intricate look. I think, especially on the camper (a mobile bakery launching this month), we'll have a whole rack of custom macarons that are all painted and will have a similar look. I think these will be a defining pastry for Wentworth & Fenn.
Who is your pastry hero?
Emily Luchetti and Cedric Grolet.
---
Miranda Brown
Pastry Chef, The Asbury (235 N Tryon St., 704-342-1193)
What is your baking style?
When I make a plated dessert, the first thing I do is think about what's in season, what will sell, and something that is really cool and really fun. If it's not something I want to spend time on doing or if it's boring to me, I won't do it. Mostly it's me not trying to be repetitive and try something new. Even if it's simple, like I'm making a hummingbird cake, I want it to be something new that I haven't seen.
What did you make?
A sweet corn popsicle with lime curd, salt cream, corn milk powder, corn meringues, milk crumb, and lemon basil microgreens.
Why does this represent you?
I'm obsessed with corn. It's my favorite. It's hard for me to get excited about desserts when I have to think about it all the time… This one was really different; I haven't ever done a popsicle before. It's kind of like me, it's fun, it's a little different, it's weird to some people.
Who is your pastry hero?
Rebekah Coté, Brian Mercury, and Nancy Silverton.
---
Brigitte Oger
Cake artist and owner, Craft Cakes CLT (1600 Fulton Ave.)
What is your baking style?
It's authentic from scratch and fresh. Everything is baked within three to four days of it being consumed, and it's all very small batch (using) gentle baking techniques… I wanted to make cakes with a lot more variety in ingredients other than eggs, milk, and dairy, and I felt that if I could make cake batters that used applesauce as a base rather than eggs, I could add a lot more natural sweetness and complexity to the overall cake layers, and then use full-fat butter and local eggs to make the creams and the buttercream outside. So you have a very light cake in mouth texture and then have a super creamy frosting that goes with it. I wanted to bring the finesse of what you get at high-end restaurants with pastry chefs into the cake world.
What did you make?
I made layers of vanilla bean, chocolate espresso, and coconut, and fillings comprised of cream cheese frosting, cherries, and salted caramel pecans.
Why does this represent you?
It's all the flavors that I like, and I've always enjoyed cakes with two different layers of different flavors, rather than just one tier, one flavor. I enjoy things that aren't too sweet, sometimes even on the bitter side, like caramels that are more bitter or cream cheese frosting that's not very sweet; you can still really taste the tanginess. Cherries are in season now; I like to work with things that are in season.
Who is your pastry hero?
Ina Garten and Jacques Torres.
---
Justin Burke-Samson
Executive pastry chef, Kindred (131 N. Main St., Davidson, 980-231-5000) and Hello Sailor (20210 Henderson Rd., Cornelius 704-997-5365)
What is your baking style?
I definitely think I'm American comfort, that's the core of it—just classic American comfort.
What did you make?
I did milkbread skillet French toast with blackberry ice cream. It's going to go on the menu at Kindred, because it was so good.
Why does this represent you?
It's simple, but beautiful, which is my approach to any dessert. I'm not big on plating; I'm not obsessive over it. I care about it, but I don't go mad thinking about it. I think of the dessert itself and how the dessert can look beautiful. A simple piece of pie can still look beautiful. This is beautiful, dark milkbread that is soaked in a dark chocolate custard, so the salt just pops from the milkbread, and there are cocoa nibs and pecans. It's simple, but a really bold, bitter flavor. I love savory in my desserts. I dial back the sweetness in everything that I do, and there's sorghum in there, so you get a little bit of smokiness. It's served hot with honey and powdered sugar and a scoop of blackberry ice cream, so it's kind of messy, but super indulgent and nostalgic. It's fun.
Who is your pastry hero?
Joanne Chang.
---
Gabija Vecci
Owner and head baker, La Piccola Gabbia (224 E. 7th St., in 7th Street Public Market, 704-401-4476)
What is your baking style?
The main thing we're trying to do here is to have less sweet, smaller sizes, and more balanced flavors, because when I moved over here from Lithuania, I felt like everything was super gigantic and super sweet. I thought that there have to be people that would like a little snack, something more balanced. It's not even necessarily about the exact pastries we make; it's about flavor, and it's about quality and the balance in it.
What did you make?
Tinginys, or "lazy cake," a traditional Lithuanian dessert.
Why does this represent you?
It is called lazy because it is just mixing cookies with some butter, cocoa powder, and condensed milk. Honestly, it is my comfort dessert, something I grew up on. It showcases who I am—a Lithuanian—and also the fact that I just opened a pastry shop and don't have time for something super crazy.
Who is your pastry hero?
You know, honestly, I could go far, but I don't have to go far in Charlotte. Jossie, Brigitte, Sam, Ashley, all these girls are just doing amazing jobs and building their brands and providing quality niche products, so I would just say them.